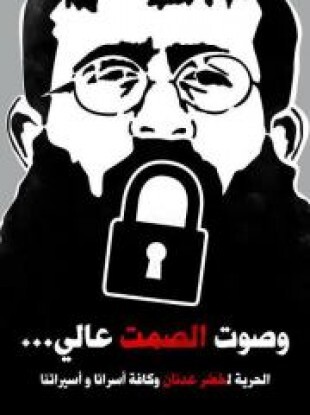 Palestinian prisoner Khader Adnan has entered his 55th day of hunger strike. He has long passed the critical stage and is in danger of organ failure any moment now. In other words, Khader Adnan is dying.
The silence from international media is deafening. Much of the publicity highlighting Adnan's case came from social media via Twitter and blogs.
Does a young father of two arrested in the dead of night from his home, held under illegal administrative detention i.e. no charges have been brought against him, beaten and tortured during his interrogation, hunger striking since December 18th—a day after his arrest—not warrant headlines?
Does his identity as spokesperson for the Islamic Jihad cloud the editors' judgments? Does his long beard — most of which has now fallen out due to the effects of starvation — not make for sexy media attention?

Yesterday a group of Palestinians called up Al Jazeera's Jerusalem Bureau, demanding to know the reason for the bureau's nonexistent coverage regarding Khader Adnan. Why Al Jazeera English? Why not the myopic BBC—who've recently proclaimed their censorship of the word "Palestine" from their music programmes—or The Guardian or CNN? (The last one was a joke.)

As an Arab news source with a bureau based in Jerusalem, Al Jazeera English holds the responsibility to report what is happening to Palestinians.  Not only are they not covering the bombings in Gaza, but they are ignoring the ethnic cleansing happening under their noses in Jerusalem. They have also completely ignored the weekly, daily popular protests in Palestine, while at the same time attempting to present themselves as the voice of the people who are revolting against oppression in the Middle East.

The litany of crimes that Israel commits on a daily basis against Palestinians is long and ranges from land theft, ethnic cleansing, violence against men, women, and children, bi or tri-weekly bombing campaigns on the besieged people of Gaza, political arrests of dozens of Palestinians on a weekly basis including children as young as 13 years of age and institutionalized racism and discrimination that Palestinians face every day which prohibits them from living anything resembling a normal life.  As a result many of us turn to blogs and twitter to find out what is happening which begs the question, what exactly is AJE correspondent Cal Perry being paid to report on in Palestine?

Furthermore, while all political prisoners are a shame to the countries imprisoning them, what was the criteria that Al Jazeera used to determine that a self professed Egyptian Zionist, Maikel Nabil, was more worthy of coverage than a Palestinian anti-Zionist? 

Coverage of Maikel Nabil from Al Jazeera English:
Al Jazeera simply cannot state that Khader Adnan's hunger strike is not news worthy as international human rights organizations have expressed alarm and condemnation over his detention and concern for his deteriorating health.

The following conversation took place between one caller and a woman from Al Jazeera English Jerusalem office, in response to that caller's question about why Khader Adnan has been receiving so little exposure from Al Jazeera English.
"But there are other important stories we're covering."

"But Khader Adnan has been on hunger strike for 54 days in administrative detention and he's dying."

"But there are people dying everywhere."

The caller was then directed to the editor, who said:

"With all due respect, it's not up to you to tell us what to cover. I'm only accountable to my superiors in Doha."

The editor continued to say that there will be a story on the website today so perhaps "you should wait before passing judgments." 
Did that mean that the caller should wait until Khader Adnan dies before he can get decent coverage? 
The caller then asked why there had been no TV reports, features, etc. The editor replied that there were more important stories around.
Another caller had this conversation:
"Hello, I'm wondering why Al Jazeera English hasn't given the Palestinian prisoner Khader Adnan who's been hunger striking for 54 days any coverage?"

"Who is this?"

"It doesn't matter. I want to know-"

"WHO ARE YOU? I've been getting calls every five minutes from people asking about the same subject."

"Why does that matter? I-"

"I need to know if I should make a list of people calling. I need to know if something is wrong."

"Of course there's something wrong. Your coverage of Khader Adnan has largely been nonexistent."

[Speaking to someone in the room] "It's another one of them, asking about Adnan." [Addressing the caller] "You need to tell me who you are."

"Consider me a viewer of your network."

"Listen, you can't do this. Who are you?"

"Why are you getting defensive? I'm only asking why Khader Adnan hasn't been getting any attention-"

"Who are you? Tell me your name."

"So you're interested in my name but not in Khader Adnan's? The man has been on hunger strike for 54 days and-"

A man took over the phone. "Hello, who is this?"

"I'd rather remain anonymous. I want to know-"

"Look, why should we bother to answer you if you won't even give us your name? Ok, thank you." [The line went dead.]
The disrespect and arrogance that Al Jazeera English has shown to Palestinians with the lack of coverage has been nothing short of shocking. If Al Jazeera cannot commit itself to doing actual reporting about the cruelty of the Israeli occupation on a daily basis against Palestinians then it would be best for them to move their office to Tel Aviv or head back home to Qatar.
Tags