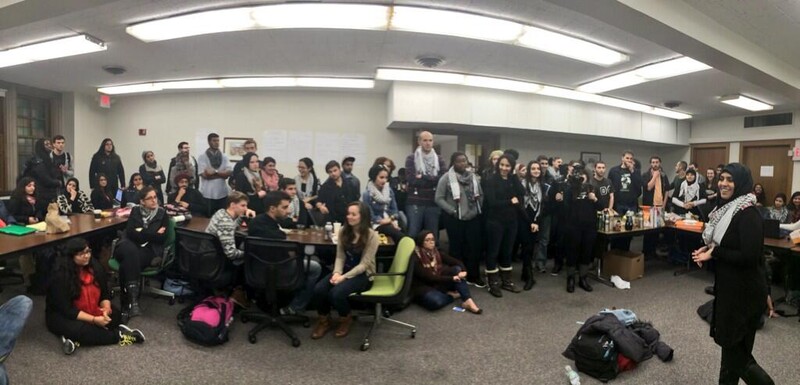 On Tuesday, 18 March, Students Allied for Freedom and Equality (SAFE) at the University of Michigan's Ann Arbor campus sought to bring a divestment resolution to the Central Student Government (CSG).
Students mobilized by SAFE turned out en masse to support the resolution and amplify the voices of the Palestinian students speaking in favor of a divest vote. The CSG instead passed a motion to postpone the resolution indefinitely.
Students are preparing to take their demands to another CSG meeting scheduled for tonight.
Sit-in
In response to the 18 March vote, students shut down the rest of the meeting and launched a sit-in and took over the CSG chambers. This is one of several campus divestment efforts coming to the fore in recent weeks including at Loyola University Chicago, San Diego State University and elsewhere.
The resolution was the latest step in a longer effort to educate CSG representatives and the broader student body about Palestinian liberation and boycott, divestment and sanctions (BDS).
SAFE and its allies organized public events in support of divestment hosting Omar Barghouti, Ali Abunimah and organizing a divestment teach-in. SAFE organizers personally invited all CSG representatives to the events and reached out further through with an op-ed in The Michigan Daily co-signed by 36 student organizations including the Black Student Union, Sister2Sister, the Pakistani Student Union, United Students Against Sweatshops and the Vietnamese Student Union.
Refusing to be silenced
The sit-in was launched to demand accountability from the CSG for silencing Palestinian students while simultaneously keeping focus on the divestment resolution itself and Palestinian liberation.
Organizer Suha Najjar, a senior majoring in international studies and history, said: "We initially went to CSG to raise a divestment resolution to investigate the University of Michigan's [investment] holdings. But with the CSG deciding to table the resolution this became about silencing. This is not the first or only time Palestinains have been silenced on campus or elsewhere. Yet we haven't forgotten why we're here, for the people in Palestine."
Safe space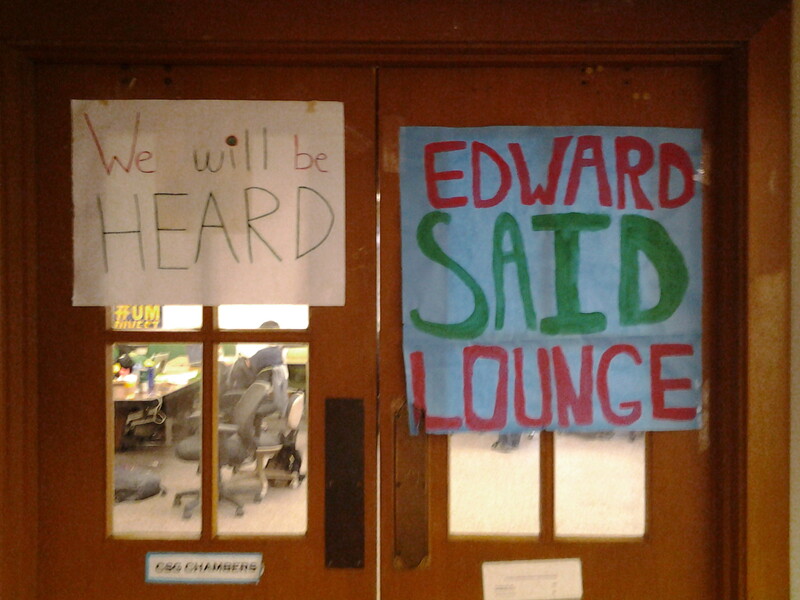 Najjar connected the CSG's silencing of Palestinian voices to a longer history of denying space to Palestinian students. "There is no safe space on this campus and we asked the administration for an Arab Lounge similar to what other campus populations have achieved. This is something students on this campus have been trying to get the ball rolling for six years."
To this end the students created this space as part of the sit-in, instituting the "Edward Said Lounge" in place of the CSG chambers.
In the week since the sit-in began students have organized meals, teach-ins, strategy sessions, dabke dances, art projects, dialogues, self-care work and more.
All of this is organized using a base of anti-oppression to center marginalized voices and, according to Najjar, "to assure that this type of silencing doesn't happen again to Palestinian students, all students, and especially people of color."
The university attempted to pressure the students to abandon the sit-in including with the threat of arrest.
SAFE's sit-in and mobilization has led to increased campus awareness of Palestine.
Najjar notes that "newcomers walking into the room see the blatant discrimination and injustice. Many students have approached me and said they're appalled and disappointed by how much we're silenced by many different forces and how much we're at risk and and unsafe."
She noted how anti-Arab and Islamophobic bigotry has escalated since the protest began: "What's going to leave a lasting hurt is the slander, the articles that say anti-Isael students are doing this or that and putting our names out there."
Demand for accountability
SAFE's sit-in calls for five measures of accountability at the CSG meeting tonight including repeal of the resolution indefinitely postponing considering of divestment; opening up discussion of community concerns for more than 30 minutes; that CSG representatives attend a teach-in on BDS and that CSG issue an apology for silencing Palestinian students, SAFE and their allies.
Several of these demands have been at least partially achieved, Najjar believes and she sees more to come: "I think what happened here is extremely powerful. It's going to leave a lasting impact on this university, in terms of SAFE, in terms of coalition building, in terms of the silencing of students on campus."
Track #UMDivest on Twitter for more on the CSG meeting, divestment effort and sit-in. @SAFEUmich, @bint_huj, @ThatAlgerian and @farahtweets_ are some of the accounts most active in support of the divestment resolution. The CSG meeting will also be livestreamed here beginning at 8pm, Eastern Standard Time (GMT+5).
Tags