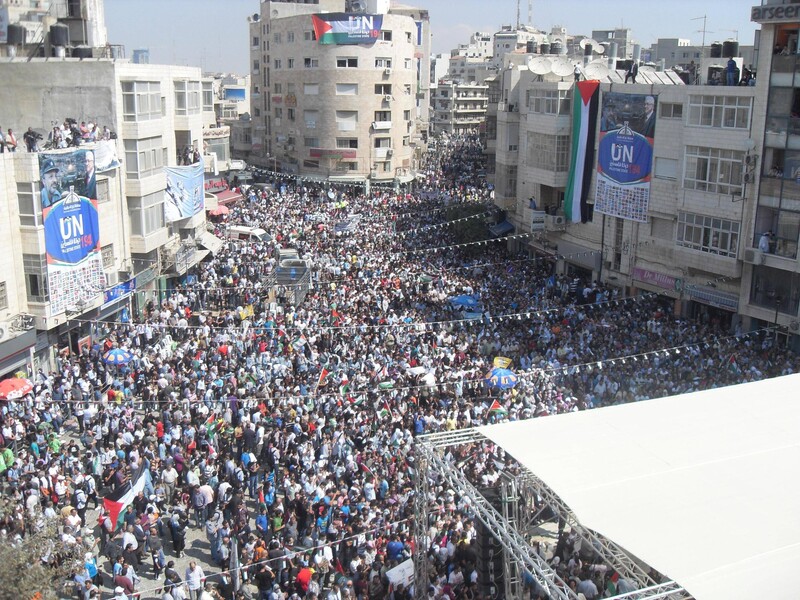 While Palestinians are defenseless and under attack in villages and cities around the West Bank, thousands of Palestinians took to the streets in Ramallah, Nablus, Bethlehem, and Hebron to show support for the United Nations bid for Statehood and express their full support for their leader, Mahmoud Abbas.
It worth noting that this rally was probably the biggest rally held in Ramallah since the death of Yassir Arafat, it also unified people from different political affiliations. The crowd carried mostly Palestinian flags, not flags associated with political parties.
There were many speakers today in Ramallah who took to the stage to speak for the Statehood bid, out of the most prominent figures were the Ramallah governor Laila Ghannam, and the PA's secretary general Tayyeb abdul Rahim.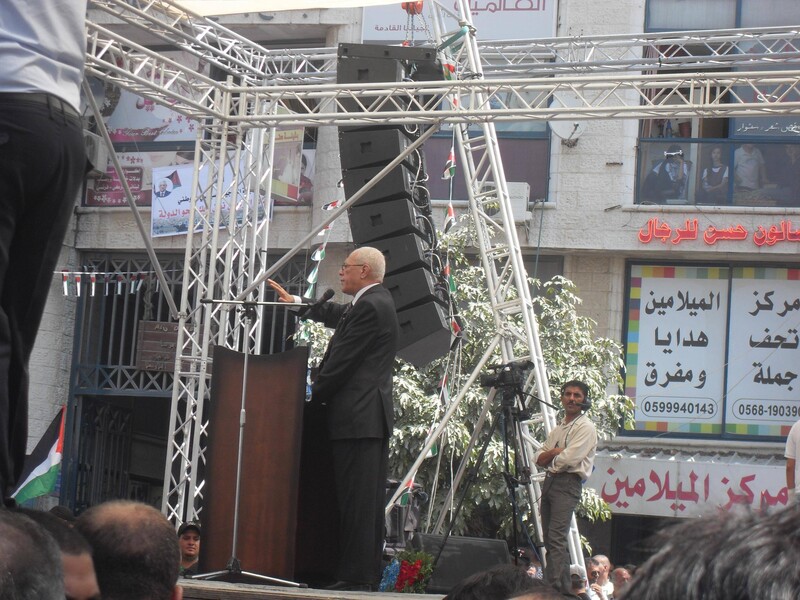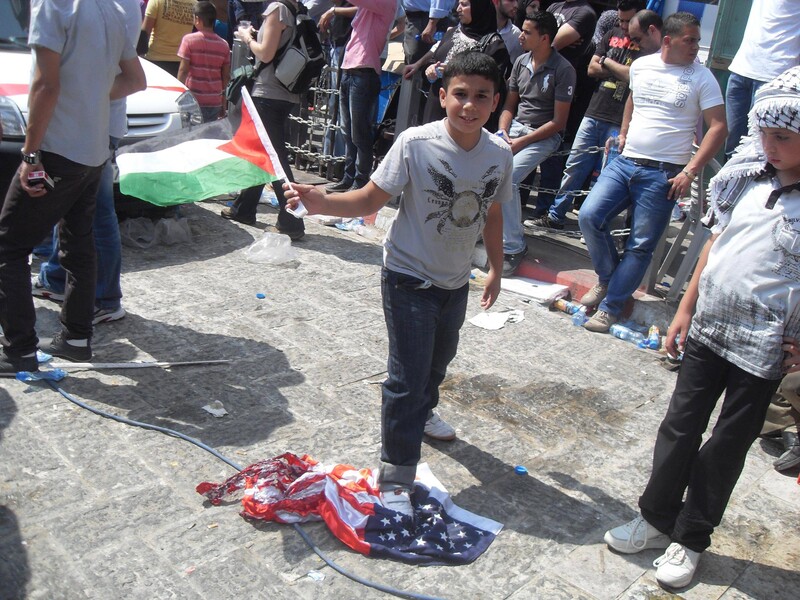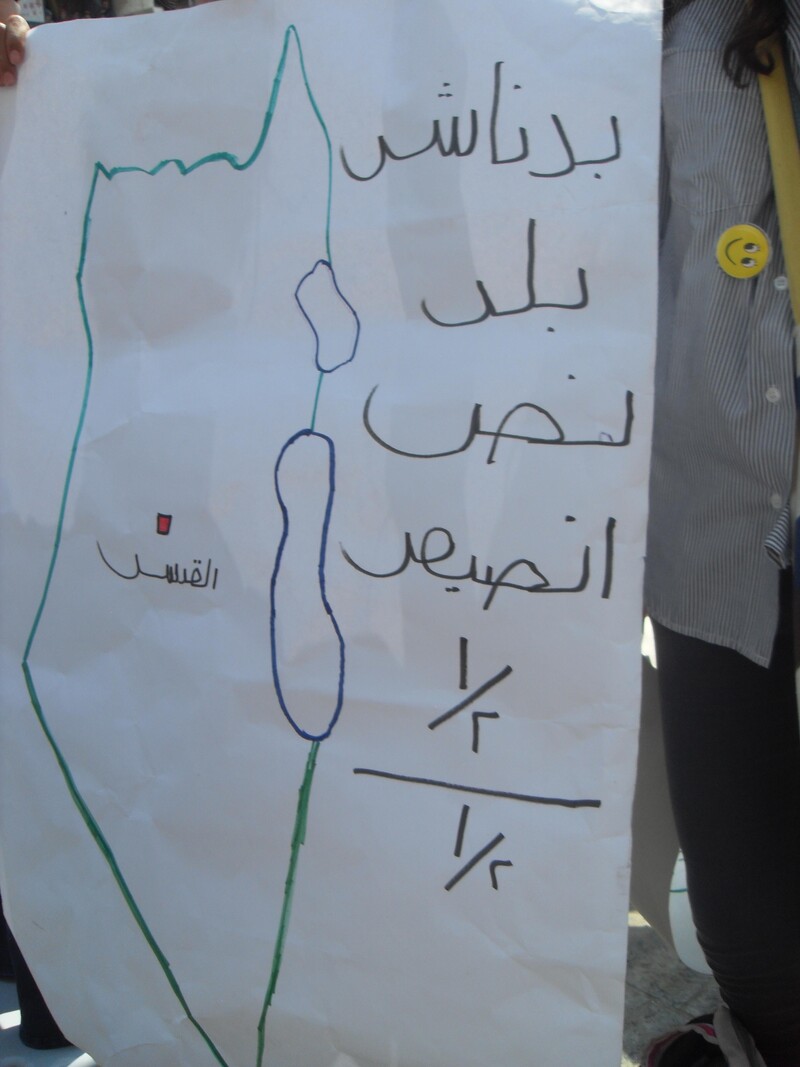 My favorite placard held by one of my school mates, it reads: "We don't want tiny bits of our land to call state"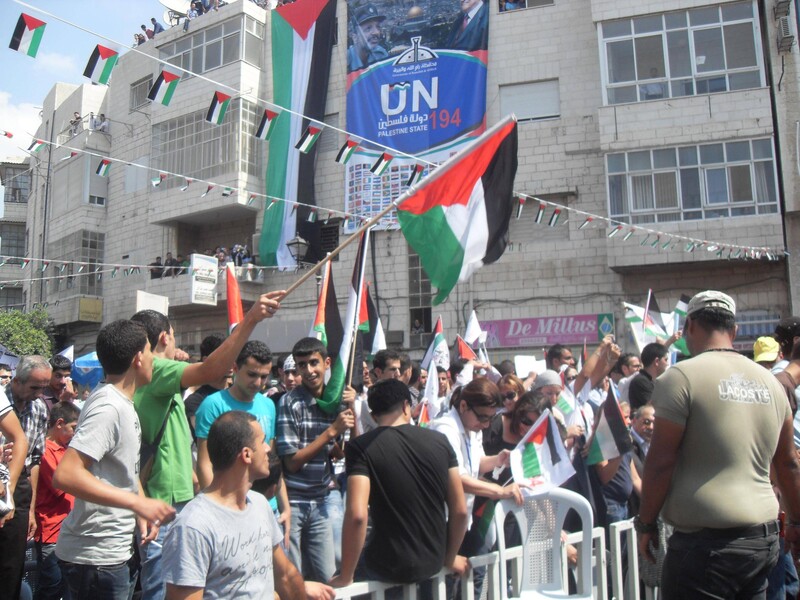 People in Ramallah came in full power to support Mahmoud Abbas's plan to deform the Palestinian struggle. If the UN bid for statehood succeeds, our struggle will no more be a struggle between occupied people - who seek justice, equality, and dignity on the land of Palestine - and an occupier/colonizer, rather it will become a struggle between two states where each supposedly has its own "sovereignty." The Palestinian Authority has no sovereignty over anything, but it is still moving forward in its plan to terminate the Palestinian Liberation Organization's hard-earned legal status in the United Nations, and replace it with a nonexistent state.
Meanwhile at Qalandia checkpoint near Ramallah, youth clashed with Israeli soldiers after the checkpoint was closed down and traffic piled up. Protestors complained that Israelis used a new kind of toxic gas that doesn't give the people time to run away and they keel over, as this report says. Also, Israeli soldiers used, and for the first time, a sonic weapon dubbed "The Scream" which caused severe headache to protestors before they fell to the ground. This prevented journalists from being present at the scene. One guy lost an eye due to a direct hit with a high velocity tear gas canister. UPDATE: correction sent by Brendan Work who was reporting for PNN at Qalandia and later edited the article that was written and linked to here.
"The Scream" did not make anyone fall down, nor did the new type of tear gas make people keel over–those were claims translated >from a Wafa article which were later proved false. Also the kid (who was 15) lost his eye when he was shot with a rubber-coated steel >bullet, though high-velocity tear gas canisters were flying as well.
In the statehood rally in Nablus, Palestinians were joined by 30 activists from the anti-Zionist Jewish group Neturei Karta. In Karta's speech, they said that they wish Palestine will be the UN's 193 country, replacing Israel.
Yesterday in Assira al Qibliya, hundreds of Settlers attacked the village, immediatly a volunteer "settler-attack watchdog" arrived as soon as Israeli soldiers invaded the village and started shooting tear gas and bullets at residents for standing out against invading armed settlers. Several people were injured including a Palestinian journalist and a 14 year old boy who were sent to the nearest hospital. Video of the Israeli raid on the village:
Photos in this article are taken by Jalal Abukhater
Tags