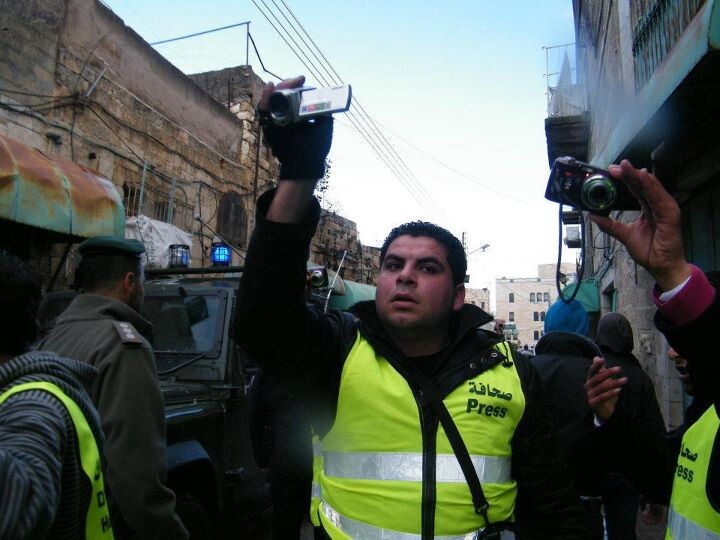 Palestinian Preventive Security forces arrested youth activist Mohammad Zughayar in Hebron last Tuesday, 28 February. Zughayar is the spokesperson of the Hebron-based Youth Against Settlements activist group.
Youth Against Settlements define themselves as a national Palestinian non-partisan activist group which seeks to end Israeli colonization activities in Palestine (building and expanding settlements) through non-violent popular struggle and civil disobedience. This group co-organized the "Open Shuhada Street" protests last weekend in Hebron.
Issa Amro, coordinator of Youth Against Settlements, said today that Hebron's Preventive Security didn't give any reason for arresting Mohammad Zughayar. He also said that Zughayar stood trial today but wasn't given any clear charge. After court session today, Zughayar's detention was extended for five more days, and "more interrogation" was the reason given. Zughayar was treated like a security threat and criminal during court today, as Issa Amro has described it.
Issa Amro insisted that this arrest was baseless and serves nothing but Palestinian division and entrenching the occupation. He also said that there are various PA officials working to get Zughayar released, which signals internal conflict within different PA security divisions.
If Zughayar, an activist who dedicates his work to popular struggle against settlements, is arrested by Palestinian security forces and put under detention, what does that say about the purpose of Palestinian security forces?
Youth Against Settlements are already organizing a protest at Hebron's Preventive Security compound to protest the arrest of Mahmoud Zughayar. Palestinians are yet again disgusted that their own security forces are assisting in suppressing Palestinian popular resistance; the call for Mohamad's release is becoming stronger by the minute.
Worth noting too, about a month ago, Palestinian security forces arrested Rami Samara, a Palestinian journalist working for Wafa, and kept him under questioning for three hours for posting a Facebook status mocking the PA's meetings with the Israeli delegation in Jordan.
Tags