This is not the Wild West, this is happening here in Palestine.
Not one day did the two liberated Palestinian prisoners Khuweiled and Nizar Ramadan enjoy being out of prison. A Jewish settler family from the illegal settlement Yitzahar has declared that it will reward $100,000 to whoever murders Khuweiled or Nizar. The ad for this ugly bounty has appeared on the Hebrew daily Maariv.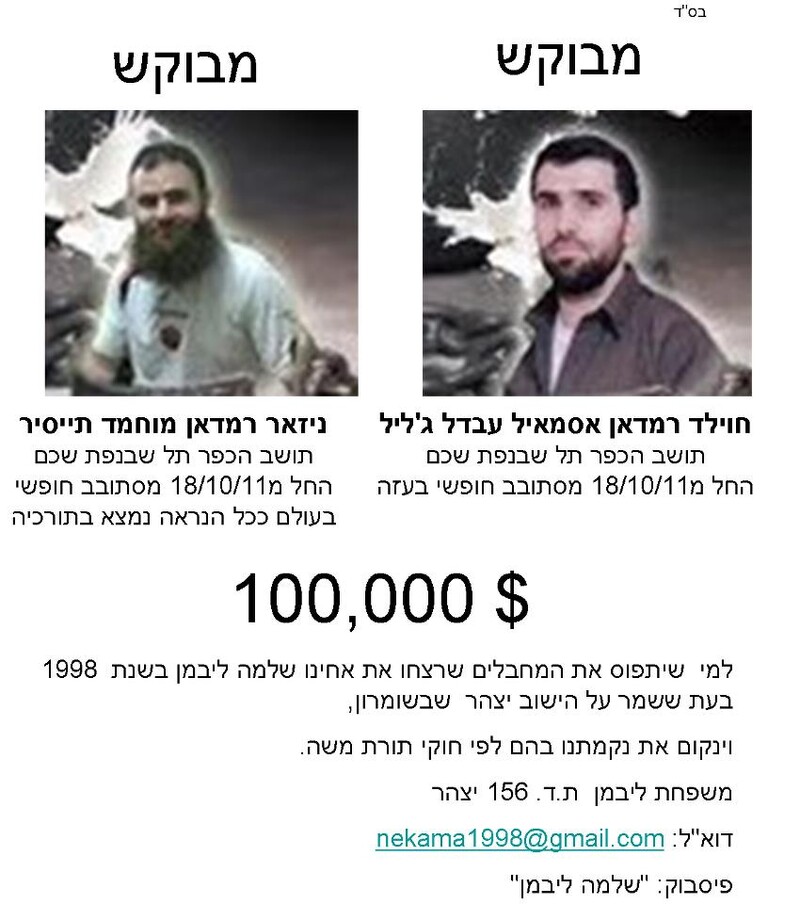 This ad has appeared on various Jewish settler sites in Hebrew, English, Arabic and Turkish. Khuwailed and Nizar are accused of killing a Kahanist Yitzahar settlement guard in a shooting incident back in 1998.
In the illegal settlement of Kiryat Arba near Hebron, a $100,000 bounty was placed on the head of freed prisoner Mostafa Moslimani from Tubas. Mostafa is accused of killing Binyamin Kahaneh and his wife. Binyamin Kahane is the son of the notorious extremist anti-Arab and recognized terrorist Meir Kahane.
Jewish extremist settlers and fanatics are committing savagery in this lawless land. The Israeli government might condemn such actions in words, but it supports those settlers financially and morally. Settlers are being supplied with weapons and are being encouraged to move into settlements by the current Israeli government.
In response to those ugly bounties by extremist settlers, Saudi Cleric Dr. Awad al-Qarni offered $100,000 in reward to any Palestinian who kidnaps an Israeli soldier. Later, Jewish groups announced rewards for whoever kills al-Qarni.  A bounty of $1,000,000 was offered by one group of Jewish settlers for al-Qarni's head.
In a second response Saudi Prince Khaled bin Talal Abdulaziz al-Saud has offered $900,000 to match the previous $100,000 reward offered by al-Qarni for the capture of any Israeli soldier. The total reward of $1 million is to be a response to similar offers by Israeli settlers for the capture or murder of freed Palestinian prisoners.
The Palestinian Wattan TV has quoted  Prince Khaled saying:
"Al-Qurni offered $100,000 for whoever kidnaps a soldier, then [unnamed Israeli groups] offered $1 million to kill al-Qarni, and now I'm saying to al-Qarni that I'm supporting you by offering another $900,000, which will make it a million for whoever kidnaps a soldier."
Another event of harassment against Palestinian freed prisoners in the news this morning, al-Quds news paper's front page (Arabic):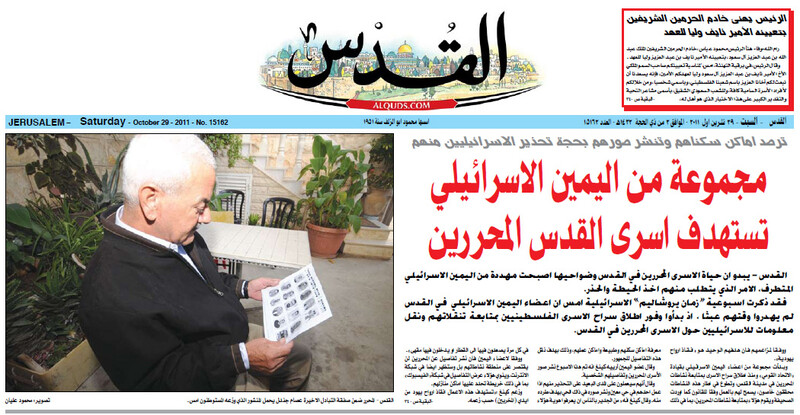 A publication has been distributed throughout Jerusalem by extremist Jewish groups to warn people of the prisoners that were released, the publications includes pictures and home address of freed prisoners. Extremist settlers are stalking the freed prisoners and reporting every move. There are fears for the safety of those prisoners now as extremist Jewish groups have vowed to take revenge.
Tags