At the Palestinian New Year's festival at Arafat Square in Ramallah, musician Basel Zayed and his group Turab were prevented from completing their music concert by the Palestinian police because the group sang "El-Doleh" ; a satirical song about the Palestinian promised state. The police issued a statement (quoted in Arabic in al-Ayyam newspaper) regarding preventing Basel Zayed's group from continuing their concert, the statement says that the police reacted in order to maintain security because the song has provoked the feelings of the audience. Basel Zayed has strictly denied that his song has provoked anyone's feelings; rather he said that the audience were happy and large crowds were enjoying the concert.
Basel Zayed's group, along with many other Palestinian artists, musicians, and dance troupes, were part of the Palestinian public New Year's festival held in Ramallah. This festival was entirely organized on a short notice by Palestinian youth as a response to some New Year's parties hosting Israeli singers and performers in Ramallah. This first-of-a-kind event was a success and has attracted many Palestinians who came to celebrate, dance, enjoy the music, reject normalization, and confirm their commitment to maintain the struggle for their full rights as Palestinians.
I have known Basel Zayed since I was 6 years old; he was my music teacher in elementary school and was my musical mentor when I used to play the Clarinet in oriental music groups at the Edward Said National Conservatory of Music. After yesterday's event, I got in touch with Basel to ask him for more details of why the police have interrupted his concert. Basel said that he believes the police initially reacted this way because they misunderstood the song to be against the police and the government, but he continued saying "but in fact, the song is really saying that we want a country with a strong police and army, not just figures who have no power and no real authority."
Refuting the official statement issued by the police, Basel said that audience were happy and unprovoked at all by his song, he is used to sing this song at many concerts and no one has ever had any issue with it.
The song "Doleh", as Basel puts it, is a sarcastic commentary about the state promised for the Palestinian people. It is also a message to the Palestinian leadership and the world that Palestinians don't want half states and half solutions anymore. He continues to say that the song also raises the issues of freedom of speech and questions the kind of a state that is being negotiated on the Palestinians' behalf by people who do not officially represent the Palestinian people.
It is an issue of an artist's right of freedom of expression. Basel wants to challenge people to look critically at oppression and injustice, not only from the occupation but from their own society and government as well. He hopes that the police who have taken this action would reconsider what they have done and listen to what the song really says.
Palestinian artist Hafez Omar has created the following artworks protesting the authorities' attempt to silence artists.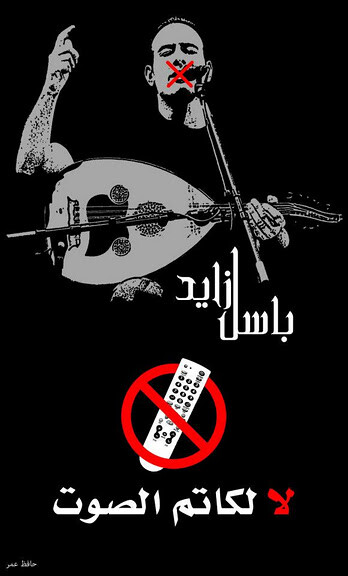 Tags