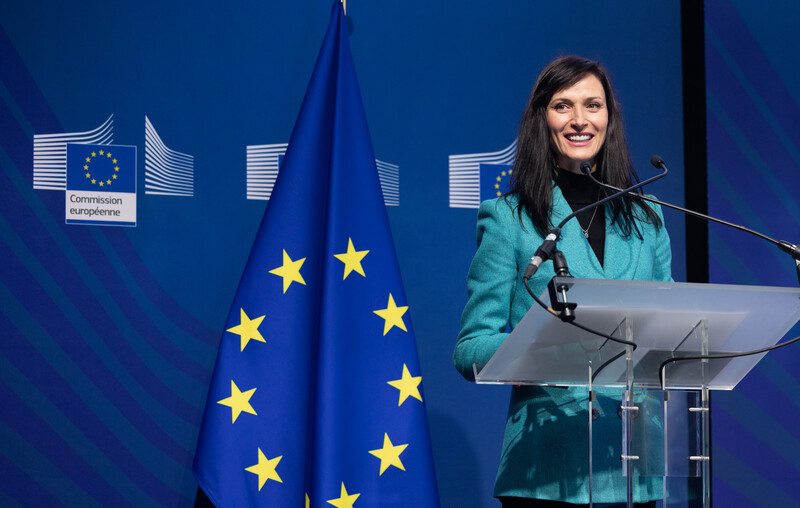 No tightrope walker has ever maintained as much balance as a European Union official working on the Middle East "peace process."

Determined to usher in a new era of prosperity and stability, these public servants are equally friendly towards Israelis and Palestinians. The thought of taking sides would never occur to them.

Or so they would have us believe.

After a little analysis, it emerges that the claims of balance are pure baloney.

One particularly diligent producer of baloney is Sven Koopmans, the EU's Middle East envoy.

He is constantly having "productive" discussions on "reviving" the "peace process."

A discussion he held earlier this year focused on "science diplomacy" and whether it could be used as "an instrument of soft power."

I obtained an internal document based on that discussion following a freedom of information request.

Despite being censored by the European Commission (the EU's executive), it demolishes the myth – no doubt inadvertently – that Brussels is a paragon of balance.

For many years, I have heard EU officials "justify" their approval of research grants to Israel by pointing out that Arabs also receive such grants.

Data contained in the internal document – see below – demonstrates that all such attempts at justification are misleading. Compared to Israel, the sum Palestinians get from the EU's science budget is a pittance.

In total, Palestinians received only $330,000 in EU funding under Horizon 2020, a science program that ran from 2014 to 2020.

How much did Israel get under the same program? More than $1.3 billion.

While Palestinians are now receiving less than they did under a previous EU program, Israel is getting more.
Bringing out the best?
The $1.3 billion Israel received under Horizon 2020 is a substantial increase on the approximately $950 million it drew down from the EU's previous research program between 2007 and 2013.
The internal document was prepared for Mariya Gabriel, the EU's commissioner for scientific research, who took part in the aforementioned discussion on "science diplomacy" with Koopmans.
While the data clearly show that the EU is throwing money at the aggressor – Israel – the paper seeks to portray Brussels as benevolent.
The EU's research initiatives, it says, "have been enabling closer research, education and cultural cooperation in the Middle East, contributing thereby to advance the peace and normalization dialogues."
"Science can bring the best out of the human cooperation," the paper adds.
In trying to illustrate that point, the paper actually shows how EU-funded science can benefit some of the worst human rights abusers.
Mekorot is Israel's main water company. In flagrant violation of international law, the firm steals water from Palestinians and diverts it to Israeli settlements in the occupied West Bank.
The paper for Gabriel nonetheless boasts of how Mekorot and the Palestinian Authority have "cooperated efficiently" in an EU-funded energy project. Getting the PA to partner with an Israeli water thief is evidently regarded as a success story in Brussels.
Speaking of partners, the paper points to "collaboration" on "new science and innovation diplomacy initiatives" between EU diplomats in Tel Aviv and Start-Up Nation Central.
It neglects to point out that Start-Up Nation Central – nominally a group that "nurtures business growth" – is, to all intents and purposes, part of Israel's war machine. Avi Hasson, the group's CEO, is a graduate of Unit 8200, the cyber warfare division in Israel's military.
Marketing oppression
The ethos of Hasson and his colleagues is set out in a book titled Start-Up Nation. It contends that Israel's military fosters an entrepreneurial culture.
The same military subjugates Palestinians every single day and weapons and spying equipment have proven to be lucrative exports for Israel. In other words, Israel has turned oppression into a marketable commodity.
A report published recently by the European Coordination of Committees and Associations for Palestine (ECCP) outlines how the Brussels bureaucracy is still approving science grants to Israeli firms and institutions that are "deeply involved in human rights abuses and international law violations."
The report examines Horizon Europe, the EU's latest research program.
Among the Israeli firms to have been allocated funding under this program are Sightec. It supplies drone analytics to the Israeli police – a force based in occupied East Jerusalem and with a network of stations elsewhere in the West Bank.
Israel's police has a long and ignominious record of extrajudicial executions and torture, including of children, the ECCP points out in its report.
The report outlines how firms directly complicit in Israel's crimes have received handsome amounts of EU funding. For example, IBM Israel has soaked up more than $5.6 million in Horizon Europe grants so far.
IBM Israel operates the state's population registry database. The registry is one of the most important tools in administering an apartheid system.
Using the registry, Israel decides on such matters as whether Palestinians in the West Bank and Gaza may or may not travel for medical treatment. The registry, therefore, helps Israel dictate which Palestinians – all of whom are treated as inferior to Jews – may live and which ones may die.
European Union officials cannot plead ignorance. They have been told time and again that research grants approved in Brussels go to firms and institutions which help oppress Palestinians.
To their shame, Sven Koopmans and Mariya Gabriel won't even admit there is a problem. Robotically, they mouth platitudes about how science can bring out the best in people – even when it does the exact opposite.
Tags