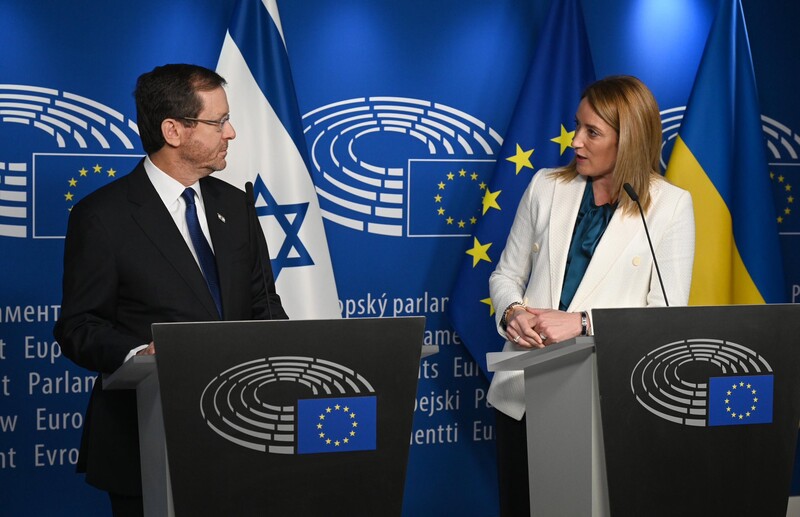 Scandals are like sunny days in Brussels: rare enough that it would be a shame not to enjoy them.

For the past few months, gossip mongers have been continuously entertained by Qatargate. There is much speculation about who could be arrested next.

Some elected representatives and their staff are undoubtedly nervous.

A former member of the European Parliament (MEP) – in detention and awaiting trial over claims that he arranged bribes – has accepted a plea deal on the condition that he spills the beans on his collaborators.

Evidence found in police raids indicates that Qatar gave bags of cash and other gifts to MEPs. The lawmakers implicated in the controversy had offered a defense of the country's record on workers' rights as it prepared to host the World Cup.

The official response of the European Parliament has been to feign shock. During December, it approved a resolution denouncing Qatar's alleged attempts to influence MEPs as "serious foreign interference in the EU's democratic processes."

Some types of foreign interference are evidently more worthy of denunciation than others.

Mere hours after Israel killed nine people in the occupied West Bank city of Jenin on Thursday morning, Isaac Herzog, the state's president, stepped on the European Parliament's red carpet. Herzog was in town for a "solemn sitting" to mark Holocaust Remembrance Day.

By receiving the head of a state that had just carried out a massacre, the European Parliament insulted not only Palestinians but also the Nazis' victims.

Israel constantly exploits crimes committed against Europe's Jews to try and justify its relentless oppression of Palestinians. It is disgraceful that the European Parliament lends legitimacy to that exploitation.
Dodgy dozen
So far Israel and its supporters have not been caught rewarding friendly MEPs with cash. Yet there is ample proof that Israel resorts to the kind of "foreign influence" which the European Parliament nominally abhors.
In total, 38 MEPs have joined the grouping Transatlantic Friends of Israel. Of that number, 12 have made declarations showing how they have taken part in trips funded by the pro-Israel lobby since they were elected in 2019.
The Greek lawmaker Anna-Michelle Asimakopoulou is among the dodgy dozen.
She has declared participation in three trips organized by pro-Israel lobby groups between 2019 and 2022.
As well as those three trips, she took part in a visit to the United Arab Emirates. The itinerary for that trip included a chat with Israel's ambassador in Abu Dhabi on the Abraham Accords – the normalization deals between Israel and several Arab countries.
One of the three junkets arranged by the Israel lobby occurred in late October and early November last year. It was not cheap.
Assimakopoulou's declaration indicates that she was booked into Tel Aviv's five-star Royal Beach Hotel for three nights. She stayed for a further night at Jerusalem's Orient Hotel – a place offering "unparalleled elegance amid the bustling cosmopolitan city," if its owners are to be believed.
The bill for the sojourn was footed by the European Leadership Network, an outfit that applauds Israeli aggression towards Palestinians in the famously cosmopolitan Jerusalem.
Another trip in which she participated was hosted by the American Jewish Committee. It featured a tour of an Israeli settlement in the occupied West Bank, as well as a briefing about Israel's settlement policies.
The tacit aim of such exercises is to persuade MEPs that they should reject official European Union policies. The EU's governments – along with every state in the world bar Israel – views the construction and expansion of settlements in the West Bank, including East Jerusalem, as illegal.
That trip took place in October 2019. A few weeks later, the European Court of Justice ruled that food exports from Israel's settlements must be labeled accurately.
Assimakopoulou and some of the European Parliament reacted to the verdict by signing a Transatlantic Friends of Israel statement. "Within the context of growing anti-Semitism and hatred towards Israel, we are concerned that labeling plays into the hands of those who seek to demonize and isolate the only Jewish state," it read.
Fluent
Lukas Mandl, an Austrian MEP, went on the same 2019 trip as Assimakopoulou.
He evidently returned with a fluent command of Israeli talking points. When the European Parliament held a debate on the colonization of the West Bank in late November 2019, Mandl claimed that the "if we isolate the question of settlements from everything else, this would mean violating the peace process" as "it is only one aspect among many aspects."
Transatlantic Friends of Israel is not a moderate grouping by any stretch of the imagination.
Bringing together members of various elected assemblies, it includes Avigdor Lieberman, who has previously held the defense and foreign affairs portfolios in the Israeli government. He has called for Palestinian citizens of Israel to be decapitated and authorized the mass killings of demonstrators in Gaza.
Transatlantic Friends of Israel has no qualms either about embracing European politicians with a decidedly illiberal outlook.
Among its adherents is the Dutch MEP Bert-Jan Ruissen. He is a leading figure in the Reformed Political Party, which was formed in opposition to female suffrage.
Ruissen has declared that he went on two junkets financed by the Israel Allies Foundation. That outfit was set up by the late Binyamin Elon, a fanatical settler (and sometime government minister) who was directly involved in attempts to force Palestinians out of Sheikh Jarrah, an East Jerusalem neighborhood.
Back in Brussels, Ruissen has enthusiastically welcomed visits by the Israeli settler leader Yossi Dagan. Ruissen himself is on record saying that "Israel has the right to demand Judea and Samaria [the West Bank]."
Israel has no such right.
The military occupation which began in June 1967 involves daily abuses of international law. The building of colonies in the West Bank is a war crime under the Fourth Geneva Convention.
Lobbying to downplay the significance of war crimes constitutes foreign interference in the EU's work. Yet – with Brussels being a capital of hypocrisy – foreign interference is only denounced when certain states practice it.
Politicians who accepted gifts from Qatar are now at risk of being put in jail. Politicians who accept gifts from Israel will probably be allowed to continue living it up in five-star hotels.
Tags