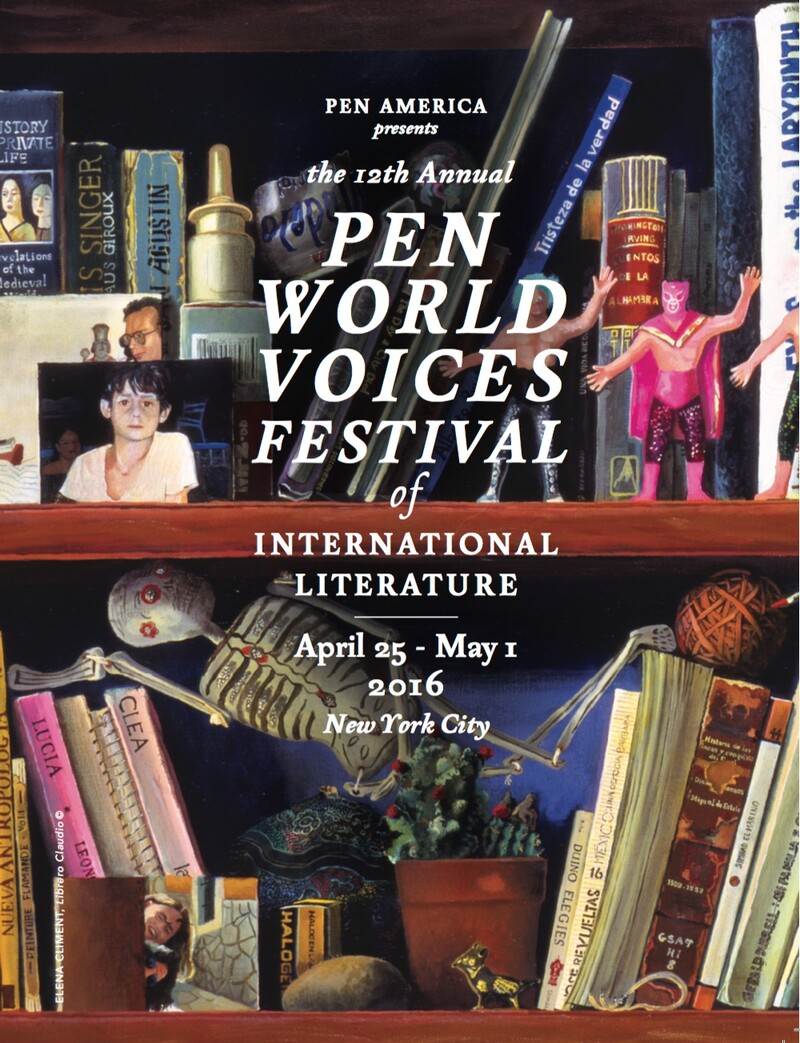 A letter signed by more than 100 writers, including Junot Díaz, Richard Ford, Eileen Myles and Rachel Kushner, calls on PEN American Center to reject support from the Israeli government for its annual World Voices Festival, scheduled for later this month in New York City.
The letter, which was first sent privately by the campaign group Adalah-NY to festival organizers, was published online on 5 April.
Since its publication, the list of signatories has grown. Organizers say they hope writers will continue to add their names.
Referring to several instances since 2011 when PEN International condemned Israel's acts against writers and journalists – including the arbitrary detention of Palestinian writer Ahmad Qatamesh, the administrative detention of journalists like Muhammad al-Qiq and the deliberate targeted killings of journalists and media workers in Gaza in 2014 – the letter asks PEN American Center to fortify its criticisms by declinining sponsorship from the Israeli government.
The letter emphasizes that in recent months Palestinian and Israeli journalists and writers have faced "heightened levels of repression by the Israeli government."
PEN International, founded in 1921, identifies itself as both a human rights and literary organization. It says it was the "first organization to point out that freedom of expression and literature are inseparable."
But its US affiliate, PEN American Center, has staunchly defended its relationship with the Israeli government.
Weak defense
In a letter disseminated to its members, World Voices Festival chair Colm Tóibín and director Jakab Orsos write, "PEN's mission centers on the defense of creative freedom and the promotion of dialogue that transcends political, social and cultural boundaries, with the goal of sustaining vital connections between the US and the world."
The organization "must always fall on the side of maximum protections for free expression," the letter adds.
According to PEN American Center, the funds from the Israeli consulate in New York go only towards travel expenses for Israeli writers who participate in the festival. The Israeli consulate has sponsored individual writers on and off since 2006, PEN American spokesperson Sarah Edkins told The Electronic Intifada.
PEN's letter reiterates the organization's opposition to cultural boycotts, which it first established in 2007, writing that boycotts "impede individual free expression."
Two translators, Omar Berrada and Jen Hofer, withdrew their participation from the festival following PEN American Center's response.
Alex Zucker, a translator of Czech literature and a member of PEN American Center, told The Electronic Intifada that it was only after he read the response from Tóibín and Orsos that he decided to sign the letter.
"The official public response from PEN American Center failed to engage the questions that Adalah-NY was raising," Zucker said.
"Instead, they just presented a sort of blanket statement against cultural boycott because it impedes individual expression – but Adalah-NY's letter didn't call for that," Zucker said. "The letter was a request for PEN not to take Israeli government money to support the participation of Israeli writers. PEN did not respond to that request."
"I think maximizing freedom of expression would be not taking money from an entity that has participated overtly in suppressing freedom of expression," John Oakes, co-publisher of OR Books, told The Electronic Intifada.
"I think that it's great that the boycott movement called this to the attention of the literary community, and it's up to us to act on it. We can bring Israeli writers and we can do it without the money of a bigoted government," added Oakes, who emphasized that the World Voices Festival is a valuable institution.
"To be able to call yourself a sponsor of the festival is a privilege," Oakes said. "The question is does PEN want to give the Israeli government that badge of honor? I think with just a little reflection people will see it's not a good idea."
The Palestinian Campaign for the Academic and Cultural Boycott of Israel (PACBI) specifically targets cultural products and events that are directly funded by official Israeli bodies and that serve to rebrand Israel's image abroad.
It does not call for a boycott of cultural producers just for being Israeli.
In 2005, the Israeli government launched the Brand Israel campaign in an aggressive attempt to burnish the country's image by promoting its cultural, technological and consumer exports.
When Israel's public image suffered in 2009 after its invasion of Gaza that left more than 1,400 Palestinians dead, Arye Mekel, the deputy director general for cultural affairs at Israel's foreign ministry, told The New York Times, "We will send well-known novelists and writers overseas, theater companies, exhibits… This way you show Israel's prettier face, so we are not thought of purely in the context of war."
Israel advocacy
Executive director of PEN American Center Suzanne Nossel and president Andrew Solomon sent another letter to the signatories thanking them for their opinions.
After directing them to PEN American Center's 2007 statement against cultural boycotts, they wrote, "We can never hope to achieve unanimity across our ranks, and always welcome dissent and debate."
Nossel began her tenure as executive director of PEN American Center in 2013, after completing stints at the US State Department and Amnesty International USA.
During those years she established herself as a stalwart advocate for Israel and US militarism in Afghanistan and Iraq.
Shortly after she stepped down from her position as deputy assistant secretary of state under Hillary Clinton from 2009 to 2011, Nossel spoke at the Jacob Blaustein Institute for the Advancement of Human Rights, where she discussed how she worked to normalize Israel within the UN Human Rights Council.
Nossel boasted, for instance, that during her two-year tenure the number of resolutions criticizing Israel was reduced from 56 percent of the country-specific resolutions to 30 percent, and sessions focusing on Israel were eliminated altogether.
Nossel also claimed responsibility for winning the appointment of an Israeli academic to the Human Rights Council's consultative group.
"We have worked very closely with Israel on the 'positive agenda,'" Nossel said.
"That means bringing Israel's skills, values and know-how to the UN system in all kinds of positive ways," Nossel explained, citing Israel's supposed prowess in agriculture and technology.
"It was our view that this was part of the normalization process as well and was a piece that could proceed even at a difficult and challenging political moment," Nossel added.
"On their side"
Novelist Ru Freeman, who helped collect signatures, believes PEN American Center's close alignment with governments for funding purposes is not appropriate for a literary organization with a mission to promote freedom of expression.
"PEN makes it sound like we're opposed to Israeli writers, but we're not," said Freeman, who recently edited a collection of essays on Palestine by American writers. "We're on their side. They have to toe a certain line."
In 2015, the Israeli government implemented a law that bars government funding to individuals or organizations who support a boycott of Israel and makes those who do potentially liable for damages.
The Israeli anti-boycott law has already had a marked chilling effect on the free expression of Israeli citizens.
Editor's note: this story has been updated since original publication to correct that Omar Berrada and Jen Hofer are translators not writers and that John Oakes is a co-publisher of OR Books.
Tags