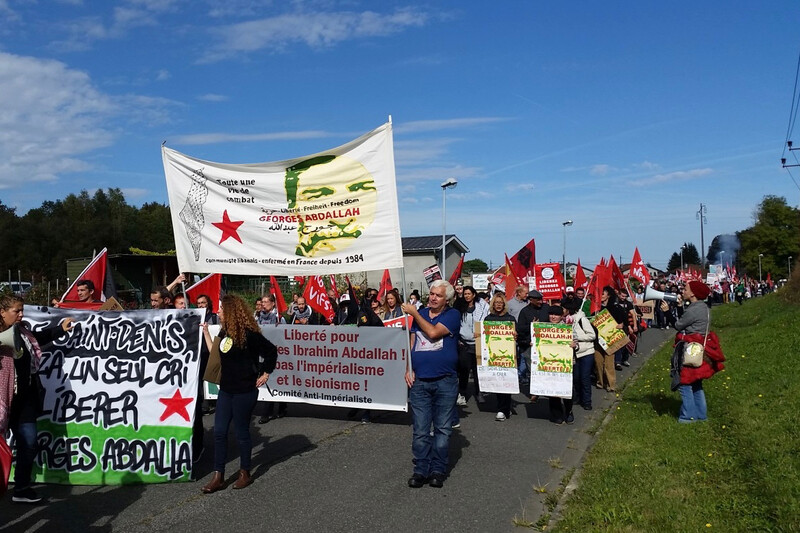 A week of coordinated actions around the world in solidarity with Lebanese prisoner Georges Ibrahim Abdallah has highlighted the active role the US government has played in keeping Abdallah imprisoned in France.
Actions in solidarity with Abdallah, who is currently serving a life sentence at Lannemezan prison in the south of France, took place in New York, Chicago, France, Turkey, present-day Israel, the occupied West Bank and Gaza Strip and throughout Europe.
The week of action coincided with the 32nd anniversary of his arrest.
A website supporting his release claims that Abdallah is the "longest held political prisoner of the European continent," and possibly the world.
And while Abdallah, at age 65, has reportedly been suffering from ailing health since 2007, the US government, including the State Department under Hillary Clinton, has repeatedly intervened to ensure he does not receive parole.
Who is Georges Ibrahim Abdallah?
On 24 October 1984, Abdallah entered a police station in Lyon seeking protection from two men trailing him who he suspected were part of the Israeli secret service.
In fact, they were members of France's domestic surveillance organization which had been monitoring Abdallah for some time.
Abdallah was a member of the Popular Front for the Liberation of Palestine (PFLP) and the Lebanese Armed Revolutionary Faction (LARF).
LARF had claimed responsibility for coordinating seven attacks in France, including the assassinations of American military attaché Charles Ray in January 1982, and Israeli diplomat Yacov Barsimantov in April 1982.
LARF was also accused of attempting to kill a US diplomat in Strasbourg, Consul-General Robert Homme, who survived his injuries.
Though Abdallah was considered a high-profile leader in LARF, an anti-Zionist, Marxist group that sought to expel French troops from Lebanon, the only evidence the French authorities had against him was the possession of false travel documents.
With little evidence to prosecute him for a more serious crime, French authorities negotiated a deal to release Abdallah in exchange for a French diplomat held hostage by Abdallah's supporters in Lebanon.
However, just after the diplomat was released in April 1985, French authorities reportedly found the pistol used to kill Ray and Barsimantov, along with a quantity of explosives, in an apartment where Abdallah was believed to have stayed, leading them to renege on their promises to release him.
Between December 1985 and March 1986, following the breakdown of the agreement, groups supporting Abdallah set off a series of bombs in Paris, that killed two people.
In July 1986, Abdallah was given his first sentence of four years in prison for using false papers and possessing weapons. The sentence drew criticism from the US embassy in Paris for being too light.
In February 1987, Abdallah stood trial a second time before a special French court for suspects of terrorism. Using the newly acquired evidence of the murder weapon, French prosecutors charged Abdallah with complicity in the murders of Ray and Barsimantov.
The US government and the widow of Charles Ray were civil plaintiffs in the trial.
Abdallah, who refused to attend part of his trial, denied any involvement in the killings.
French police argued that Abdallah was the founder and leader of LARF. However, during the trial, senior French intelligence officials cast doubt on the significance of Abdallah's role in the organization.
On 28 February 1987 Abdallah was convicted of complicity in the two assassinations.
Despite the French prosecutor and government urging the court to sentence him to a maximum of 10 years, the court gave him a life sentence, which in France typically means 15-20 years.
Double standard
His prosecution was riddled with scandal. A member of his defense team, Isabelle Coutant-Peyre claimed the evidence of the murder weapon "was fabricated later to convict him retroactively."
In 2001, 17 years after his conviction, Abdallah's former lawyer Jean Paul Mazurier revealed that he had been recruited by the French intelligence agency to spy on his client.
In his memoir, published in the late 1990s, the former director of French intelligence, Yves Bonnet, called France's prosecution of Abdallah an illegal intelligence conspiracy.
Bonnet has been a prominent voice calling for Abdallah's release. "I find it abnormal and scandalous to keep Georges Ibrahim Abdallah in prison," Bonnet told media in 2012. Bonnet contrasted the refusal to grant parole to Abdallah with French authorities' release of Maurice Papon.
Papon had been convicted of crimes against humanity in 1998 for his participation in the arrest and deportation of more than 1,600 Jews, including more than 200 children, to a Nazi concentration camp during the Second World War. Papon was jailed in 1999 and released in 2002, on grounds of ill health.
Before his conviction, Papon had spent years as a high-ranking official in post-war France, serving as the Paris police chief and later a cabinet minister. On 17 October 1961, while he was in charge, Paris police carried out the notorious massacre of up to 200 Algerians demonstrating against the French war in their country. Dozens were reportedly drowned in the Seine River.
Bonnet also noted that French authorities granted parole to Ali Vakili Rad, who was sentenced to life in prison in 1994 for the murder of Shapour Bakhtiar, the exiled former prime minister of Iran under the Shah.
Rad, an Iranian government agent, and two accomplices, entered Bakhtiar's home in a Paris suburb in August 1991, where they stabbed the former prime minister and an aide to death. While the two other men escaped, Rad was arrested in Switzerland and extradited to France. A free man, he returned to Iran in 2010.
US pressure
Despite such precedents, US and French authorities have strenuously objected to granting parole to Abdallah since he became eligible in 1999.
He was granted parole for the first time in 2005, but that decision was overturned by a higher court.
Diplomatic cables released by Wikileaks show the US and French governments discussing Abdallah's request for parole in 2007 and expressing fear that his worsening health may improve his chances of release. He was refused later that year.
Abdallah wasn't granted parole again until late 2012. However, pressure from the US and French governments ensured a court of appeals reversed the ruling.
As secretary of state in January 2013, Hillary Clinton personally called French foreign minister Laurent Fabius, and urged the French authorities to find a way to overturn the judicial decision to release Abdallah.
Notes for Clinton's call with Fabius state, "Although the French government has no legal authority to overturn the court of appeal's January 10 decision, we hope French officials might find another basis to challenge the decision's legality."
The notes were delivered to Clinton's personal email account and have since been published by the State Department.
His parole was eventually annulled by a higher court.
Abdallah was denied parole again in 2015.
Tags