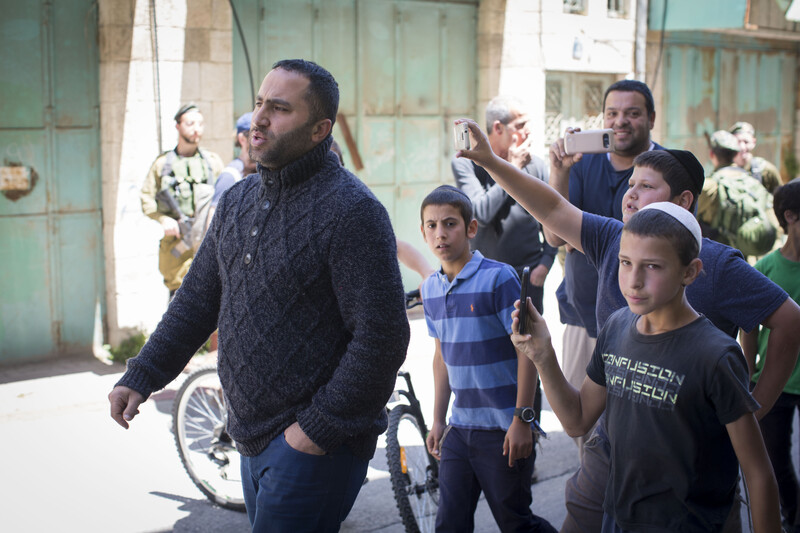 Supporters of Palestinian activist Issa Amro filled the Ofer military courtroom in the occupied West Bank on Wednesday, the first day of his trial on a number of accusations related to his nonviolent political organizing in Hebron.
Amro, 36, is the founder of Youth Against Settlements, a group that organizes demonstrations and direct actions against the violent settler encampments in Hebron in the southern West Bank.
He is facing a lengthy list of charges, some stemming from incidents more than six years old.
At the hearing, Amro's lawyer Gaby Lasky asked the military court to dismiss 14 of the 18 charges on the basis that they refer to incidents that are several years old and in some cases were already investigated and closed without indictment.
Lasky said it was very unusual for the Israeli army to reopen cases that have been closed, as it has done against Amro.
Representatives from the the embassies and consulates of the United States, United Kingdom, Belgium, Finland, Germany, Spain, Sweden and Switzerland attended Wednesday's hearing. Also in attendance were representatives from the UN High Commissioner for Human Rights, Human Rights Watch and other international organizations.
Eran Efrati, the executive director of the International Committee Against House Demolitions-USA, spoke to Amro on the phone after the hearing. Efrati told The Electronic Intifada that Amro was pleased the court saw the international support he receives.
Efrati believes the army is trying "to put a serious case against him."
"They want to do it the right way, to really put him away," Efrati added.
A sustained campaign of harassment
Amnesty International has demanded that the Israeli military drop all charges against Amro, and rather investigate the beatings he sustained while in custody and physical abuse by settlers.

The human rights organization accuses Israeli authorities of prosecuting Amro to "silence him and stifle his human rights work."

"Issa Amro has faced a sustained campaign of harassment and assault at the hands of the Israeli military and settlers because of his activism," said Magdalena Mughrabi, a deputy regional director for Amnesty International.

"We believe that he is facing trial solely for the peaceful exercise of his rights to freedom of expression and assembly. Imprisoning Issa Amro would be a travesty of justice and would silence yet another important critical voice in the occupied Palestinian territories."

Amro is charged with several counts of incitement, which Israel defines as trying "to influence public opinion in the area in a manner that might harm the public safety or public order."

In one count, Amro is alleged to have called on a group of protesters in 2010 to defy the Israeli army by yelling "we are not going back."

In another incident from 2012, Amro is alleged to have used a loudspeaker to direct a crowd not to obey the orders of soldiers.

He is also charged with multiple counts of participating in a march without a permit. At a protest in 2013 to coincide with US President Barack Obama's visit to the region, protesters wore shirts with the words "I have a dream" printed on them.

Amro is also charged with taking part "in a rally with a political goal or a rally that could be perceived to have a political goal, and that [sic] without obtaining a license from the military commander."

Amro has also been charged with breaking a settler's camera during a protest. However, a video from the incident shows clearly that Amro, who is wearing a bright yellow vest, is not responsible for breaking the camera.

Other charges include insulting a soldier in March 2013 and entering a "closed military zone" in February this year.

In addition to running Youth Against Settlements, Amro documents violations in Hebron and is a point person for international travellers, journalists and diplomats who visit Hebron to learn about the attacks Palestinians endure from settlers, who are enabled by Israeli soldiers.

His international stature is reflected in the massive show of support for Amro on social media.

Activist group CODEPINK is circulating a letter addressed to US Secretary of State John Kerry, urging him to call on the Israeli government to drop all charges against Amro.

The letter notes that Israeli military courts have a 99 percent conviction rate.
Tags