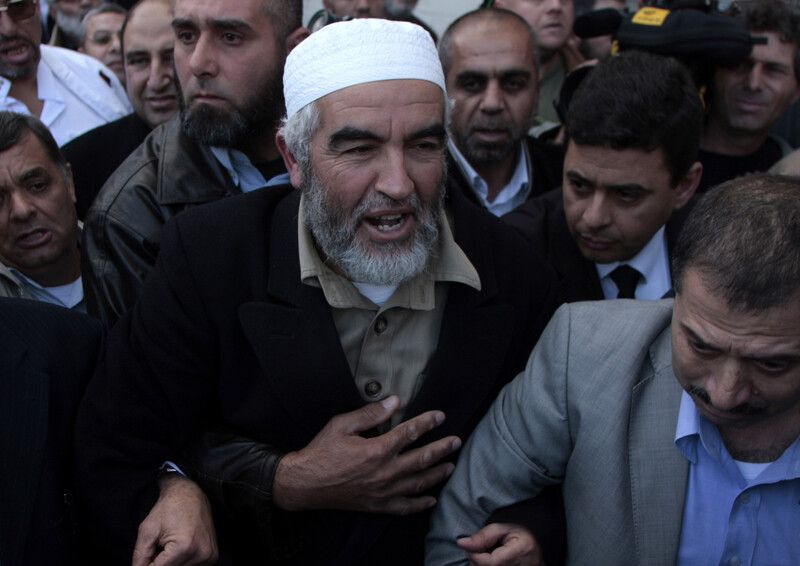 A Palestinian political leader long targeted by Israel is on hunger strike in protest of his solitary confinement and alleged mistreatment by Israeli prison authorities, his lawyer announced on Sunday.
Sheikh Raed Salah, leader of the Northern Branch of the Islamic Movement, a political party in Israel, refused all meals on Monday.
Guards raided his prison cell and removed food and electrical devices, including his television set and radio. Also confiscated were his writings, which Salah has said are part of a book he is working on.
In late October 2015, Salah was convicted of "inciting violence and terrorism" in a sermon he delivered in a mosque in occupied East Jerusalem in 2007. Salah allegedly called on Muslims to protect Jerusalem's al-Aqsa mosque from infiltrating Jewish settlers and members of Israel's parliament, the Knesset.
Salah began serving a reduced nine-month prison sentence last May. He was placed in solitary confinement soon after his imprisonment, according to the Ma'an News Agency.
His conviction coincided with a wave of deadly confrontations between Palestinians and Israeli forces that began late last year.
In the wake of Salah's trial, Ahmed Tibi, a Palestinian member of the Knesset, said the court had been "influenced by the impassioned public atmosphere."
Tibi stated that the Israeli government was "seeking to transfer responsibility for the current violence to other parties, including the Islamic Movement."
Shortly after Salah was convicted, Israel's prime minister, Benjamin Netanyahu, banned his political party, shutting down its offices and community operations.
Late last month, an Israeli court rejected an appeal to end Salah's isolation.
According to Samidoun, a Palestinian prisoner solidarity group, Salah has been denied books sent by his family as well as visits from Palestinian leaders in Israel, including Knesset member and Balad party head Jamal Zahalka.
50 days on hunger strike
Another Palestinian hunger striker, 20-year-old Anas Ibrahim Shadid, has suffered memory loss and is at high risk of paralysis, the Palestinian Authority committee on prisoners' affairs warned on Saturday.
Shadid, from the Hebron-area village of Dura in the occupied West Bank, was arrested on 2 August during a raid of his home and has since been detained without charge or trial, a practice known as administrative detention. On hunger strike since 25 September, he is being treated at a hospital in Tel Aviv.
On Monday, Israel's high court denied an appeal to end Shadid's detention.
A military court has also refused to end the administrative detention of another Palestinian prisoner, Ahmad Abu Fara, who also began a hunger strike on 25 September.
Abu Fara, 29, reportedly suffers from shortness of breath, severe pains throughout his body, weakening sight and constant vomiting.
An Israeli military court recommended to "freeze" Abu Fara's administrative detention order until his health improves.
Journalist to be released
Israel is expected to release a Palestinian journalist who has spent eight months in prison for alleged "incitement" on social media.
Sami Said al-Saee, 37, works for Sawt al-Quds (Voice of Jerusalem) radio and New Dawn TV. He was arrested in March.
Another journalist, Khalid Maali, was ordered released by an Israeli military court on condition that he shuts down his Facebook account and turns in his laptop, in addition to paying a fine of $1,700.
Samidoun stated that Maali, 48, was arrested from his home in the West Bank village of Salfit last week as part of a wave of arrests targeting Palestinians over social media posts.
In the trial of a Palestinian professor of astrophysics, military court prosecutors reportedly reportedly entered into evidence the number of "likes" and "shares" his Facebook posts criticizing Palestinian politics and the Israeli occupation received.
The Palestinian Center for Development and Media Freedoms, known as MADA, recorded a 17 percent increase in Israeli violation of Palestinian press freedoms in the first half of 2016.
The watchdog stated that the most common offenses committed by Israel were physical assault, arrest and detention, confiscation of equipment and prevention of coverage.
Tags