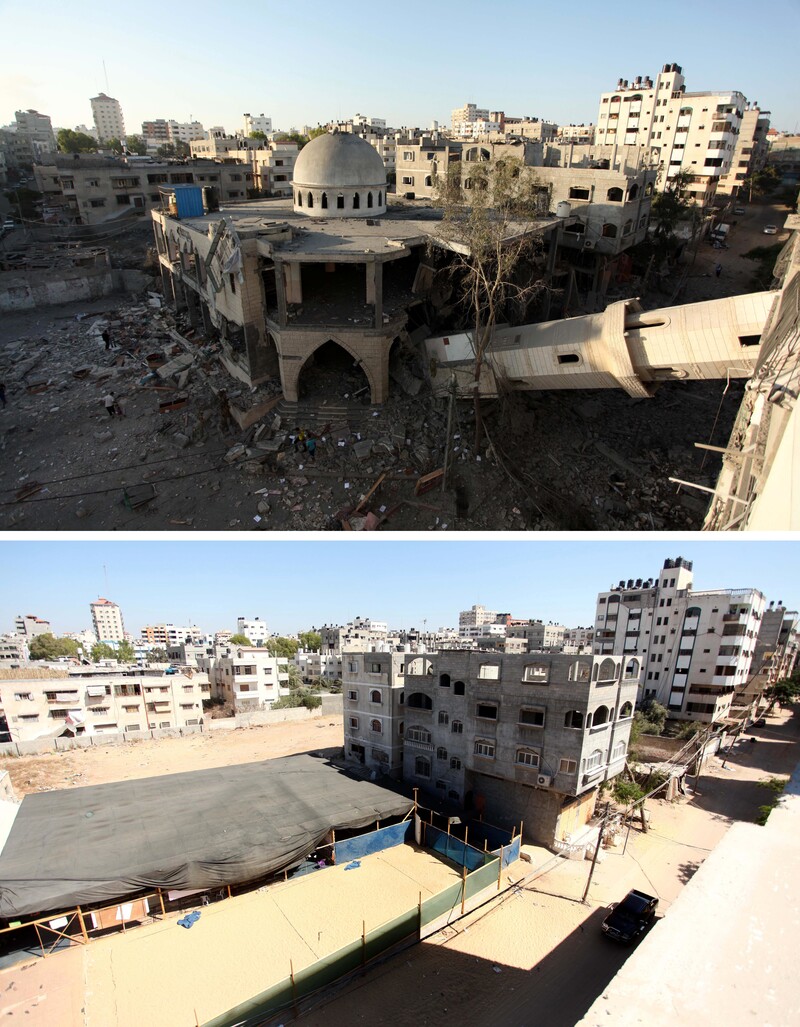 One year ago yesterday, Israel began an assault on the Gaza Strip which would last 51 days.
While a permanent ceasefire was brokered between Hamas and Israel on 26 August 2014, physical safety and freedom of movement continues to be denied to the people of Gaza. Gaza's already rapidly deteriorating economy and infrastructure was only hastened by the seven weeks of aerial bombardment.
As of May 2015, 80 percent of the population in Gaza relied on international aid, mostly just to put food on the table. 
Throughout the Gaza Strip, over 100,000 people whose homes were destroyed or made uninhabitable have become homeless as they wait for the slow trickle of building materials to reach them. Families are crammed into sweltering caravans or temporary apartments that many cannot afford.
The massive displacement of people in Gaza coincides with a shortfall in funding for UNRWA, the UN agency responsible for Palestinian refugees. The group's resources have been stretched to meet the massive surge in humanitarian need caused by violent conflicts throughout the region. In June 2015, UNRWA was forced to close its shelters in Gaza and has been unable to fulfill many of its promises of cash allotments to internally displaced families there. 
A recent report by an independent commission work for the UN Human Rights Council found ample evidence of possible war crimes committed by Israel, and the council voted to adopt the report and condemn Israel's actions in Gaza last summer. But there is no indication that Israel will be held accountable for the devastation it wrought on Gaza, which it continues to impose through its blockade in place since 2007.
The terms of the ceasefire last August were never made available to the public. But, as Israel has agreed to in the past, it reportedly promised an easing of the closure of Gaza's borders and the naval blockade on Gaza's sea.
Statistics compiled by the UN Office for the Coordination of Humanitarian Affairs (OCHA) and Oxfam suggest that a slight easing of the closures has been realized, and Israeli organization Gisha has noted that senior Israeli officials (including Prime Minister Benjamin Netanyahu, former and current chiefs of staff Benny Gantz, Gadi Eizenkot and Major General Yoav Mordechai) have publicly acknowledged the need to allow Gaza to rebuild in order to maintain stability. 
However, these gestures do nothing to address Gaza's pressing needs that are rooted in its total subjugation to Israel's whims.
Here is a brief breakdown of the state of Gaza, one year on from the war.
Movement and trade
Figures reflect an overall easing of the crossings with Israel, but following some attacks on Israelis by Palestinians in the West Bank and recent violence in northern Sinai, Israel curbed all transit through the Kerem Shalom commercial crossing and canceled many permits to cross through Erez checkpoint, demonstrating that Palestinians are collectively punished for that which they have no control over.
Gaza exports of produce and some furniture have seen an increase from last year, but still remain at around seven percent of pre-blockade rates. After barring all produce from exiting Gaza for the last eight years, at the end of 2014 Israel allowed limited shipments to reach Israel and West Bank markets. Moreover, the cost of exporting is prohibitively high for many of the small-scale farmers in Gaza.
The rate of movement through Israel's Erez crossing has doubled from last year. However, that figure represents a mere two percent of the number of Palestinians who were permitted to cross into Israel before the second intifada. OCHA reports an overall increase in the number of medical patients being allowed access to hospital facilities in the West Bank and Israel, but also notes the number of rejections has also increased. 
Gisha documents that Israel has increased the quota for merchants permitted to pass through Erez checkpoint, notably making this group the largest to be allowed entry through Erez. However, the Palestinian Centre for Human Rights has documented that these merchants are frequently subject to detention and interrogation.
Decades to rebuild
Since March, the number of trucks carrying essential reconstruction materials allowed into Gaza has increased. But Oxfam says this amount is still only a quarter of what was permitted before the blockade was imposed in 2007. Of note, Gisha states that half of the building materials that were allowed in were dedicated to building a road financed by the Qatari government that connects Rafah to Gaza City. 
At the current rate, the Shelter Cluster estimates it will take 19 years to rebuild the 19,075 homes that were destroyed during the war. Of those homes, 12,620 were totally destroyed, not a single one of which has begun to be reconstructed. But building material is also needed to accommodate the growing population of Gaza that has been denied the necessary materials for eight years. In reality, only one percent of the materials needed is entering the Strip — leading Shelter Cluster to estimate it will actually take 76 years to rebuild the tiny piece of land.
Finally, not one of the 20 schools that were destroyed by Israel has been repaired. Gaza has prioritized the reconstruction of destroyed hospitals and water and sanitation systems, but these efforts are also significantly delayed and inadequate.
Infrastructural ruin
Israel damaged Gaza's already deficient water and waste water systems, effecting up to 30 percent of the population's access to running water. While a large portion of the water system has been repaired in the last year, the fixes were quick and short-term, according to OCHA. One hundred and twenty thousand people across the Gaza Strip now have no access to the municipal supply of water. 
Daily firing into Gaza
Finally, there has been no respite for Palestinians in Gaza from violence or the threat of violence from Israeli forces. The Israeli military and naval forces have fired into Gaza and on Palestinian fisherman at least 739 times since last August. Fishermen are fired on within six nautical miles of Gaza's shore more than once a day, on average, as are Palestinians farmers and residents near to the boundary. In recent months, 23 airstrikes have been carried out on Gaza; and Israeli military vehicles have made 23 incursions into the border area. 
Tags