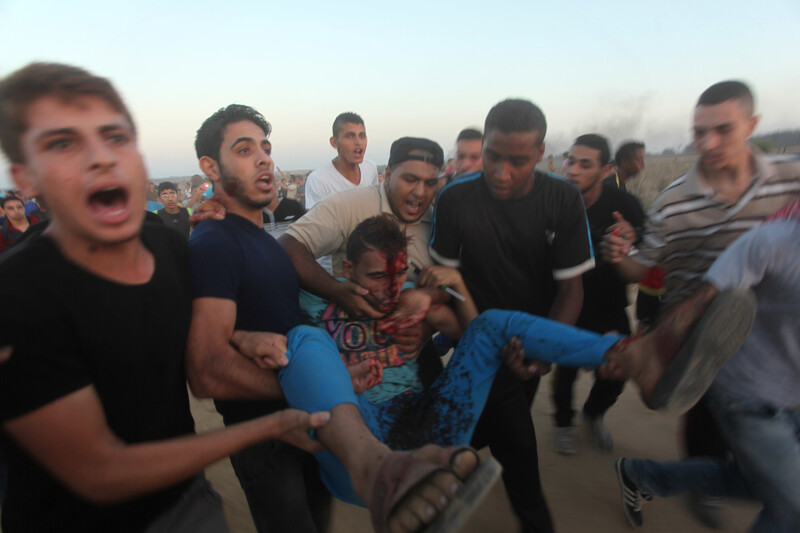 Warning: This article contains graphic images of violence.
Five more Palestinians were killed Friday as Israel's crackdown against anti-occupation protests continued.
Israeli forces shot dead three Palestinians at protests in the occupied West Bank and Gaza Strip, while one Palestinian was summarily executed after he attacked an Israeli soldier with a knife.
Shawiq Jabr Obeid, 37, who was critically injured by Israeli fire in Gaza last week, succumbed to his wounds.
The latest deaths came as US President Barack Obama offered unqualified support for Israel's "right to maintain basic law and order and protect its citizens from knife attacks and violence on the streets."
Obama's comments at a press conference Friday appear to walk back the timid criticisms offered by the State Department earlier this week over Israel's use of "excessive force" against Palestinians.
Thirty-seven Palestinians have been killed since 1 October, and hundreds more have been seriously injured by Israeli forces firing live ammunition at demonstrators.
Seven Israelis have died in recent attacks.
Israel has arrested hundreds of Palestinians and occupied East Jerusalem remains on lockdown.
Israel's apparent policy of extrajudicial executions of Palestinians allegedly involved in knife attacks continues to receive criticism from international human rights organizations.
One victim of the policy encouraging Israelis to shoot first and ask questions later may have been Israa Abed.
The 30-year-old Palestinian citizen of Israel was shot six times and severely injured by police at a bus station in Afula, a city in the north of present-day Israel, a week ago.
Abed was a medical researcher at an Israeli hospital and the daughter of a Muslim leader in the Galilee known for his interfaith reconciliation efforts, according to Times of Israel
While officials claimed she was brandishing a knife, video shows she posed no threat: she was shot while her hands were raised.
Now, according to Times of Israel, police say they believe she had mental health issues to help explain why Abed would carry a knife but not perpetrate any attack on her bus ride from Nazareth to Afula.
Police drew their guns on Abed after a security guard at the bus terminal allegedly saw her pull a knife out of her purse.
Given the threat Palestinians face amid escalating anti-Arab incitement, some may carry knives for self-defense, a possibility not apparently considered by Israeli police.
"Day of Rage"
Yahya Abdulqadir Farahat, 24, was shot in the head while protesting in northern Gaza near the Erez crossing on Friday, Ma'an News Agency reported.
And in central Gaza, Mahmoud Hatim Hmeid, 22, was shot dead while protesting near Shujaiya, an eastern neighborhood of Gaza City.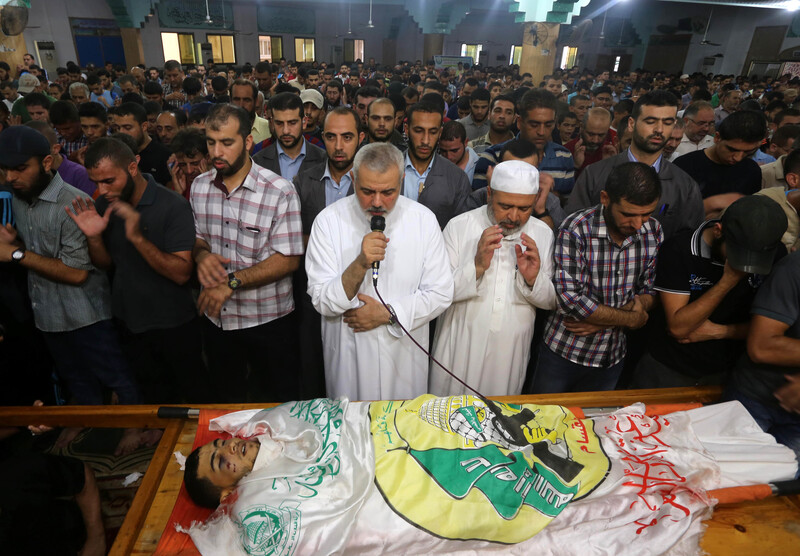 More than 100 Palestinians were injured as demonstrations continued along the besieged territory's boundary with Israel.

At least 11 Palestinians were injured in Gaza by Israeli live fire, according to the Palestinian health ministry in the territory, Ma'an News Agency said.

While Hamas has called for protests throughout the West Bank, reports say that the movement's security officials in Gaza have tried to prevent protesters from reaching the border area.
West Bank
A Palestinian man was shot and killed after reportedly stabbing an Israeli soldier at a checkpoint for Kiryat Arba, a Jewish-only settlement near Hebron.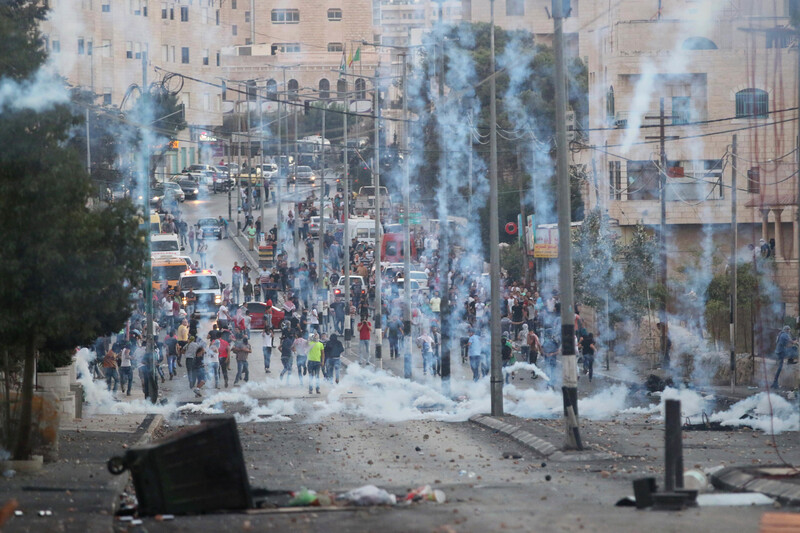 Eyad Khalil Awawdeh, 26, was photographed wearing a yellow vest and T-shirt marked with the word "PRESS" when he attacked and moderately injured the soldier.

On Friday evening, 19-year-old Ehab Hanani was shot dead while protesting at a checkpoint near Nablus.

Early Friday, reports emerged that Palestinians had set fire to Joseph's Tomb, an archaeological site in the city frequently visited by Israeli settlers.

According to Middle East Eye, Palestinian journalists distributed a press release claiming the activists had targeted the former site of Od Yosef Chai, a Jewish religious school run by settlers.

Rabbi Yitzhak Shapira, the head of the school, which has now been moved to the West Bank settlement of Yitzhar, published The King's Torah, a notorious tract justifying the murder of non-Jewish babies.

While Palestinian Authority public safety personnel extinguished the fire, Dore Gold, the director general of Israel's foreign ministry, claimed "only Israel can protect the holy places of all religions in Jerusalem."

Israeli forces continued to occupy Joseph's Tomb even after they withdrew from the rest of Nablus under the 1993 Oslo accords. In September 1996, the site was the scene of bloody fighting after Israeli Prime Minister Benjamin Netanyahu opened a tunnel under the al-Aqsa mosque compound in Jerusalem.

Palestinian Authority forces won control of Joseph's Tomb in battle, thus briefly liberating all of Nablus from the Israeli army, but later handed it back to Israel.

Israel withdrew its occupation forces from the site during the second intifada in the early 2000s, but the army continues to accompany large groups of settlers during their regular visits.

The Palestinian Journalists Syndicate said that Awawdeh was not a media worker and was not affiliated with any outlet. The Foreign Press Association in Israel condemned the misuse of press identification while warning media workers to "operate with heightened caution in the West Bank and East Jerusalem."

The association noted that on Wednesday night Israeli Border Police kicked a camera operator for the France 2 network to the ground and beat him severely.
East Jerusalem lockdown
Occupied East Jerusalem remains on lockdown as Israel's paramilitary Border Police have closed off the entrances to Palestinian neighborhoods and intensified searches of Palestinian drivers and pedestrians.
Israel has also maintained its tight restrictions on Palestinians praying at the al-Aqsa mosque, banning men under 40 from attending Friday prayers.

Adalah, a legal rights group for Palestinians citizens of Israel, has condemned the closures as illegal collective punishment. Israel's public security minister Gilad Erdan is proposing to allow police to conduct random body searches of people on the streets of East Jerusalem – without having to prove "reasonable suspicion."
Demolitions
Following through on promises to fast-track the demolition of the family homes of Palestinians who allegedly attack Israeli Jews, Israel issued demolition orders to the families of several men accused of killing two Israeli settlers in the West Bank earlier this month.
The families have just 72 hours to appeal the order and leave their homes.
Seven similar demolition orders have been issued in recent days, according to Israeli human rights group Hamoked.
United Nations Assistant Secretary General for Political Affairs Tayé-Brook Zerihoun stated Friday that "collective punishments, including house demolitions, are counterproductive and contravene international law." He urged Israel to "cease this damaging practice."
There was no indication, however, that the UN would do anything more than offer its customary criticism.
Arrest campaign
Israeli forces have continued their night raids, arresting Palestinians across the West Bank. Last Saturday, the Palestinian Authority Committee for Prisoners' Affairs reported that 650 Palestinians had been detained since the beginning of October, noting that most were younger than 20.
Arrests and beatings are also taking place during protests, including by Israeli agents disguised as Palestinians.
Palestinians have also reported being beaten during their detention.
The Palestinian Authority is conducting its own arrest campaigns against alleged Hamas members. Over the last few days, at least 19 members of Hamas have been arrested by PA forces, which are reportedly monitoring social media.
The efforts have met with the approval of Israeli authorities, who "confirmed that Palestinian security forces are making a massive effort to calm tensions in the West Bank," The Times of Israel reported.
Call for international presence
Protests have spread to Jordan, where demonstrators denounced Israel's actions in Jerusalem, particularly its restrictions on access to the al-Aqsa mosque.

At Jordan's request, the 15-member United Nations Security Council met Friday to discuss the situation.

Riyad Mansour, the Palestinian Authority envoy to the UN, called on the Security Council to provide international protection to the al-Aqsa compound.

Other member states condemned what they called Israel's excessive use of force.

Jordan, which currently holds a seat on the Security Council, endorsed the PA demand for international protection.

Despite routine calls of this kind, the UN has never taken any action to rein Israel in.

US Secretary of State John Kerry is planning a trip to the region to find ways to "restore calm," Haaretz reported.

That would mean, in practice, restoring a status quo in which the US guarantees Israel's ability to occupy and colonize Palestinian land undisturbed.

Ali Abunimah contributed reporting and Dena Shunra provided translation.
Tags