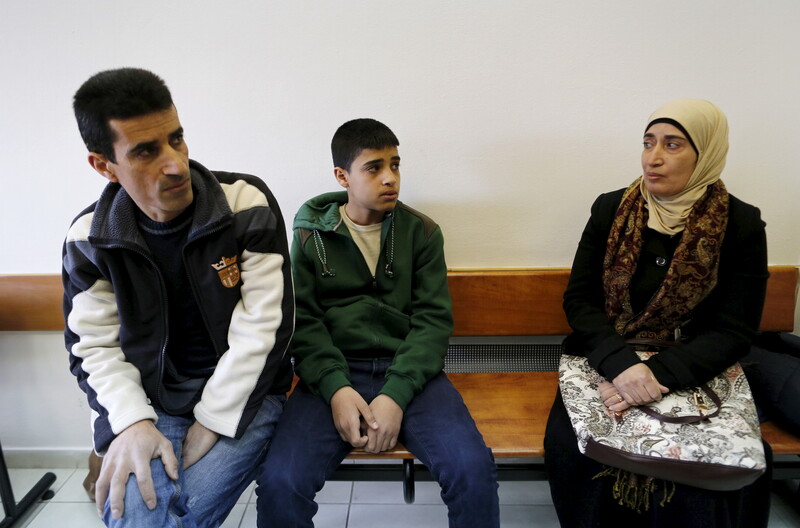 An Israeli court convicted 14-year-old Ahmad Manasra of two counts of attempted murder on Tuesday, paving the way for the boy who was 13 at the time of the incident to be sentenced to the maximum 20 years in prison.
Ahmad is alleged to have helped his 15-year-old cousin Hasan Manasra attack a teenager and a man in an Israeli settlement in occupied East Jerusalem last October. Hasan was immediately shot dead by Israeli police, while Ahmad was run over by a car and critically injured.
An Israeli passerby uploaded a harrowing video of Ahmad lying on the ground while others crowded around him shouting obscenities in Hebrew at the gravely injured child.
Ahmad was represented by veteran Israeli attorney Lea Tsemel, who called the conviction "surprising, unbalanced and problematic."
Tsemel claims it was Hasan who carried out the stabbings that left a 13-year-old Israeli teen seriously injured and another man wounded. According to the Times of Israel, Tsemel also argued that neither of the boys had intended to kill anyone when they committed the attack.
Tsemel told The New York Times she plans to appeal the conviction. Israeli prosecutors waited until January, when Ahmad turned 14, the age of criminal responsibility under Israeli law, to file an indictment against him.
Since his arrest Ahmad has been held at a closed facility in the Galilee region of present-day Israel.
Prosecutor Yuval Kedar told the media that "The fact that the defendant is a minor is irrelevant."
"We want to prosecute him to the fullest extent of the law and ensure that he is punished severely," he added.
Implying that he hopes to make an example of Ahmad, Kedar said, "The defendant's actions come in the midst of this ongoing wave of terrorism, which has already claimed so many victims, where the attacks are oftentimes carried out by minors."
Torture
Nearly a month after his arrest on 12 October 2015, a video of Ahmad's interrogation was leaked to Palestinian media.
The video shows the Israeli interrogator shouting at a crying Ahmad, who visibly breaks down during the 10-minute video, and eventually utters a confession. Ahmad later recanted his confession.
Brad Parker, attorney and international advocacy officer at Defense for Children International- Palestine, told Mondoweiss that considering the age of Ahmad at the time, his treatment "may amount to torture."
"Israeli interrogators are seen relying on verbal abuse, intimidation and threats to apparently inflict mental suffering for the purpose of obtaining a confession," Parker added, noting such ill treatment and torture of Palestinian children in Israeli custody is "widespread and systematic."
Ahmad's sentencing is scheduled for July, according to The New York Times.
Under Israel's two-tier justice system, Palestinians are often punished more harshly than Israeli Jews: relatives of Palestinians accused by Israel face collective punishment in the form of the punitive demolitions of their homes.
In the wake of Manasra's case, the Israeli justice ministry drafted a bill that would allow children as young as 12 to be sentenced to jail if they are convicted of "nationalistic-motivated" offenses.
In November 2015, Israel's parliament, the Knesset, instituted harsh mandatory minimum sentences for children accused of throwing stones.
Over the last year, the number of incarcerated Palestinian children has more than doubled.
Gaza minor indicted
On Tuesday, an Israeli court in the southern city of Bir al-Saba (Beer Sheva) indicted a Palestinian minor from the occupied Gaza Strip who was detained last month after allegedly crossing into present-day Israel.
Israel's Government Press Office announced that the minor, detained on 6 April, is one of several Palestinians currently in Israeli custody who are supplying the Shin Bet intelligence agency with information about Hamas' military operations, in particular its tunnel infrastructure.
Israel claims the minor, who it did not name, is a member of Hamas who has assisted in resistance operations targeting Israeli military forces.
But since Israel's 2014 assault on Gaza that killed more than 2,200 people and deepened the economic depression in the besieged territory, there has been a sharp increase in the number of Palestinians from Gaza, often young, trying to enter Israel to seek work.
Though under occupation, Palestinians from Gaza are subject to Israeli civilian prosecution, not military courts like their counterparts in the occupied West Bank.
But the government press release said the minor was being "investigated" by the Shin Bet, which is notorious for its pervasive use of torture.
Last week, Israel launched a series of attacks in the Gaza Strip under the pretext of destroying tunnels Israel says it discovered based on information obtained from a captured member of Hamas.
Tags