Israel is targeting journalists in the Gaza Strip like it did during its last two major attacks on the 1.8 million Palestinians there.
Since the current assault began on 7 July, Israel has killed at least seven Palestinian journalists and media workers and directly struck at least four media offices. The latest journalist to be killed, Rami Rayyan, was reporting on families going to the market during what they thought was a four-hour ceasefire on Wednesday afternoon when Israel shelled the Shujaiya market.
Attacks on media centers
On Tuesday, 29 July, Israel bombed an Al-Aqsa TV office in the northeast part of Gaza City. Forty-five minutes later, in another part of the city, Israel struck an Al-Aqsa radio office. No one was killed in those attacks, but the offices suffered damage to their media equipment. Both the TV and radio stations resumed broadcasting after brief interruptions.
Last week on 27 July, an Israeli rocket hit another Al-Aqsa TV office, and on 22 July the offices of Al Jazeera were struck.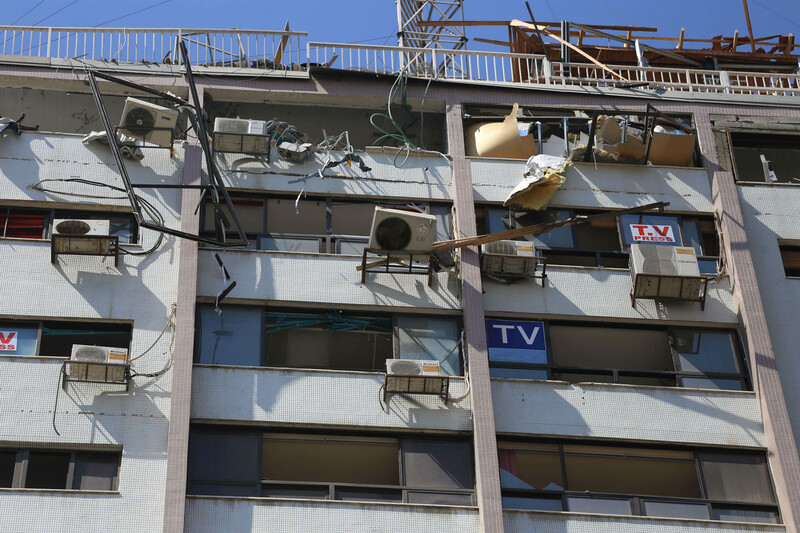 While the Israeli military apologized for firing at Qatar-based Al Jazeera, calling it an "error" and claiming that the military would "investigate" the incident, Israel has not conceded responsibility for hitting the Palestinian broadcasting networks. In an emailed statement, the Israeli military justified the strikes, saying they were aimed at "the propaganda dissemination capabilities used to broadcast the messages of [Hamas'] military wing."
Killing journalists
Also on 29 July, in separate attacks, two media workers were killed.
Israel struck the home of Ezzat Abu Duhair, 23, a correspondent with Al-Huriya Media Network, killing him and four other members of his family. Bha'a al Graieb, 59, the manager of the Hebrew news department of Palestine TV, was also killed by an aerial strike while he was taking his daughter to a hospital in Rafah City.
On 9 July, Israel shelled the car of journalist Hamed Shehab while he was driving home in a car clearly marked as a media vehicle, the word "TV" printed in red on it. Shehab, 27, worked for the Gaza-based outlet Media 24. Shehab was killed in the strike.
Journalist Khaled Hamad was killed in the Shujaiya massacre in eastern Gaza City on 20 July, and on 24 July, media worker Abdurrahman Abu Hina, 28, was killed when Israel shelled his house in the same neighborhood.
And on Wednesday evening, Israel reportedly shelled a market filled with people in Shujaiya, killing at least seventeen, including journalist Rami Rayyan.
War crime
The targeting of journalists is a war crime, including those who are said to work for a regime-run outlet. In a statement issued on Tuesday, Reporters Without Borders asserted:
"The fact that media serve as propaganda organs does not justify making them a military target. An expert committee formed by the International Criminal Court's prosecutor for the former Yugoslavia, to assess the NATO bombing campaign of 1999, specified that a journalist or media organization is not a legitimate target merely because it broadcasts or disseminates propaganda."
But Israel has defended its targeting of Palestinian journalists.
In its previous two massive assaults on Gaza, in winter 2008-09 and November 2012, the military targeted news outlets and killed Palestinian journalists. On 20 November 2012, the Israeli military struck a car in which two Al-Aqsa cameramen were riding, killing both.
A day before the Al-Aqsa media car was struck in 2012, Israel had shelled another media building in which several outlets held offices, injuring eight journalists.
After that attack, Mark Regev, spokesperson for the Israeli prime minister, appeared on Al Jazeera English where he was pressed about Israel's seemingly deliberate attack on the media. Regev defended his state's actions, declaring that journalists working for Al-Aqsa were "not legitimate."
"Just as in other totalitarian regimes, the media is used by the regime for command and control and also for security purposes," Regev stated.
A military investigation into the November 2012 incident was never concluded.
Highlighting the Israeli military's nonchalant attitude toward conducting internal investigations, Israeli media watchdog group Seventh Eye made repeated inquiries to the army throughout 2013 about the investigation's progress, but received no answer. According to an account by Israeli journalist Noam Sheizaf, a military representative finally responded to Seventh Eye's Oren Persico, asking him why he was "so interested" in an incident that happened "about a million years ago."
No consequence
Israeli military impunity benefits from the short memory of the media and so-called international community. The most recent attacks on journalists can be seen as a continuation of this long pattern of committing the crime of targeting journalists with no consequence.
In February 2013, the Committee to Protect Journalists repudiated the Israeli military for failing to investigate killing of Palestinian journalists and then revealed this history:
In 2001, the Board of the Foreign Press Association condemned an IDF [Israeli military] report on the shootings of several journalists in 2000, noting that the investigation took 14 months, and with a single exception turned up no guilty parties. In 2008, we urged Israel to release results of its army investigation into the killing of a Reuters cameraman; in 2009, we condemned the IDF for firing a missile directly at a Gaza City building housing multiple news organizations. In 2010, CPJ protested IDF attacks on several journalists in the West Bank and demanded an investigation, but no explanation has been given.
It must be noted that many more media workers have also been wounded in Gaza and the West Bank. Reporters Without Borders reported that seven Palestinian journalists in the West Bank have been injured by Israeli forces since the Israeli offensive on Gaza began.
Editor's note: this story originally included an interview with journalist Yousef Al-Helou. After we became aware of problems with the way information was presented in the interview, raising doubt about its credibility, it was removed. 
Tags