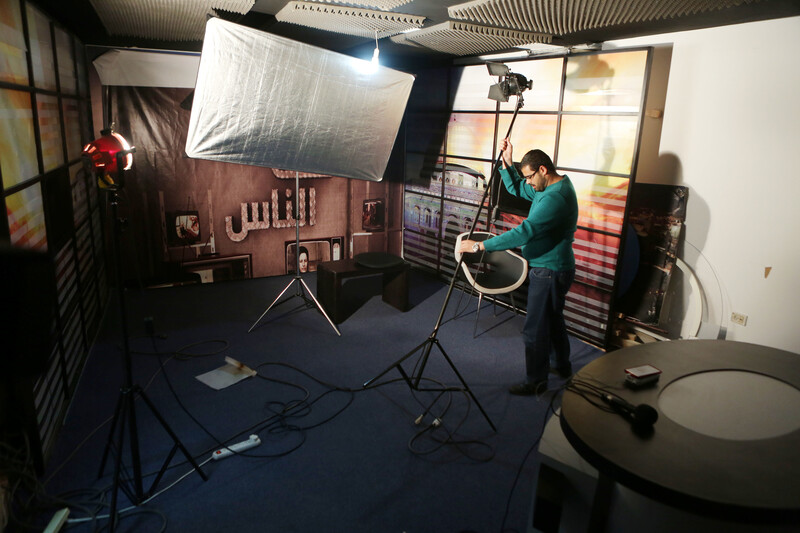 Israel's military and domestic intelligence agency wasted no time implementing a decision by the cabinet last Thursday to sharply intensify the crackdown on Palestinian media.
Before dawn on Friday, agents from the Shin Bet, accompanied by Israeli soldiers, raided the Ramallah offices of Palestine Today, confiscating the TV station's equipment before ordering it closed until futher notice.
During the raid, the soldiers briefly detained two of the station's journalists, Muhammad Amro and Shbeib Shbeib.
A few miles away, soldiers arrested the director of the news station, Farouq Alayat, from his home in Birzeit. Elayyat is still in Israeli custody.
Correspondent Ibrahim Jaradat was arrested on Sunday at an Israeli military checkpoint.
Israeli occupation forces declared the channel to be an illegal organization that the army was closing on the basis of emergency laws introduced by Palestine's British colonial rulers in 1945.
The army said it had heard the station airing "inciting broadcasts" and the Shin Bet said that "incitement to terrorism serves the interests of terrorist organizations."
The army furthermore claimed the outlet was part of Islamic Jihad, a Palestinian political party that Israel has outlawed.
On Friday, the army also shut down the TransMedia Production Company, which provides technical services for the channel.
The move came after Israel's cabinet convened on Thursday to approve a series of measures against Palestinians, including shutting down media outlets.
The International Federation of Journalists (IFJ) sharply condemned the closures.
"We cannot tolerate these continuous attacks from Israeli authorities to muzzle Palestinian press," the group's president Jim Boumelha said. He added that accusations of incitement and the closure of media offices must not occur without due process.
"We call on the UN High Commissioner for Human Rights and the UN Special Rapporteur on the promotion and protection of the right to freedom of opinion and expression to investigate violations of press freedom in Palestine without delay," Boumelha said.
The IFJ's Palestine branch, the Palestinian Journalist Union, said that since 2016 Israel has committed more than 40 violations against journalists and media organizations.
In response to the IFJ statement, a body representing Israeli journalists attacked the world's largest journalism trade union.
Haim Shibi, a member of the foreign relations committee of the National Federation of Israeli Journalists, accused Boumelha of "turning the IFJ into a clear anti-Israel propaganda tool, continually portraying the IDF [Israeli army] as an army that hunts journalists, targets them and kills them."
Chilling trend
In early February, Foreign Press Association secretary Gila Sugarman said that there has been an increase in physical violence against journalists and their equipment by Israeli forces in the last two years.
Reporters Without Borders listed Israel as the second most lethal country in the world for journalists after Syria at the end of 2014.
In November, Israel shut down three Palestinian radio stations in Hebron for six-month periods, also claiming they were engaged in "incitement."
A growing number of Palestinian journalists are being jailed or charged with incitement.
Prisoners rights group Addameer has documented that seven Palestinian journalists have been arrested since the beginning of 2016.
Five of those remain in custody: Samer Abu Aisha, Mujahid al-Saadi, Sami Al-Saai, Farouq Alayat and Ibrahim Jaradat. In total, 22 Palestinian journalists are being held in Israeli prisons, according to Addameer.
On Friday, Prime Minister Benjamin Netanyahu, who also runs Israel's communications ministry, reportedly called French President François Hollande to request that he halt the French satellite company Eutelsat from broadcasting al-Aqsa TV, a Hamas-affiliated channel.
The next day, Eutelsat announced it would no longer air the station.
And while Palestinians have felt the brunt of Israel's crackdown on the media, Israeli and foreign press are not immune.
And journalists at Israel's largest online news platform, Walla, have reported that stories are designed and changed to keep the prime minister happy due to the company's business interests.
Last month, members of the Foreign Press Association were twice summoned before Israel's parliament to be questioned about alleged bias.
In early February, several Israeli politicians suggested that members of the press who showed alleged bias against Israel should enjoy fewer rights.
Yisrael Eichler, a member of the Knesset and a former journalist, said that "objective reporters should be given freedom of action, but reporters who "take a side in the conflict" should be given less access.
Lawmaker Michael Oren, the former Israeli ambassador to Washington, said, "We cannot ignore the fact that the press takes an active, one-sided and tendentious stance in covering the conflict, and therefore, it is part of the game."
Tags