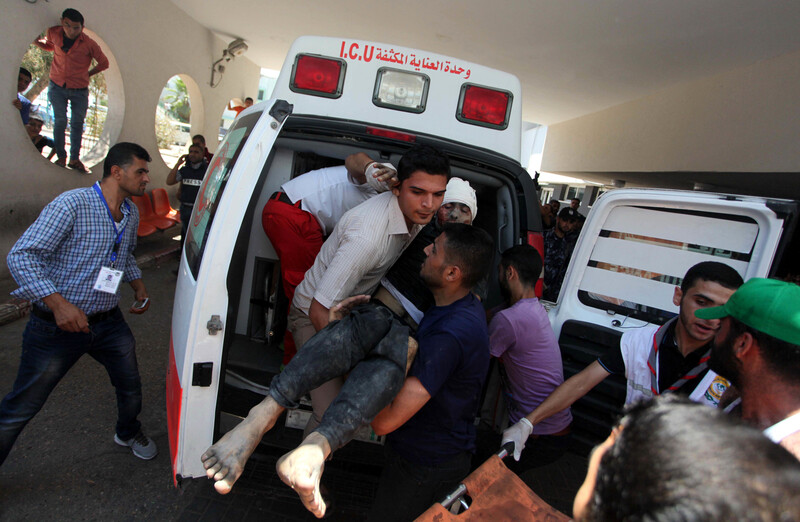 "We were on our way back to Nasser hospital, driving with the lights and sirens on as always. The ambulance was clearly marked as such. The doctor, nurse and I were all wearing medical uniforms. When we reached the Islamic University I heard an explosion right next to us and the front and back windows of the car fell out," Gaza ambulance driver Mohammad Abu Jumiza told Amnesty International about a terrifying 24 July chase between him and Israeli artillery as he was transferring injured people in Khan Younis to the hospital.
"As I was turning another missile hit next to us, and then a third one. When the fourth missile hit, I lost control and we crashed, so we ran out of the car and found shelter in a building. Then there were two more missiles fired and some people were injured."
His case is not unique. The firing on and striking of clearly marked ambulance vehicles with flashing lights and medical workers wearing fluorescent vests while tending to the injured has been documented repeatedly throughout Israel's offensive on Gaza.
After collecting and releasing harrowing testimonies by Palestinian medical workers, Amnesty International has accused the Israeli military of deliberately attacking medical workers and hospitals in Gaza.
Since the military offensive in Gaza began a month ago, Israeli fire has killed at least six ambulance workers and thirteen aid workers while they were attempting to rescue injured people or retrieve the dead, according to the Ministry of Health in Gaza. 
In addition to those killed, 49 doctors, nurses and paramedics and 33 aid workers have been injured while carrying out their duties. Israel has directly struck major hospitals throughout the Gaza Strip and forced five hospitals and 34 medical clinics to shut down due to either extensive damage to their facilities or increasing hostilities in the vicinity.
Amnesty International does not confirm or deny Israeli claims that Palestinian rockets were fired from medical facilities, but emphasizes that in any case, the protected civilian status of hospitals, ambulances and medical facilities must be presumed, in accordance with international humanitarian law.
Israel has failed to substantiate its own claims, which have not been independently verified.
Ambulance crew ambushed
At least two workers from the Palestine Red Crescent Society have been killed and 35 injured, and seventeen PRCS health vehicles put out of service due to attacks by Israel.
Mohammad al-Abadlah, 32, was fired on by Israeli soldiers while attempting to enter the southern Gaza town of al-Qaraqa after having coordinated with the Israeli army through the Red Cross.
Hassan al-Attal, 40, a colleague who was with al-Abadlah at the time, provides a disturbing testimony to Amnesty that suggests Israeli soldiers knew exactly what they were doing when they opened fire on the medical workers.
The two men went to retrieve the injured man in al-Qaraqa at 10pm on 25 July but were unable to enter the village due to blockades on all entrances. As a rule, PRCS always communicates its whereabouts and activities with the Israeli army via the Red Cross. Al-Attal said that while the two men searched for an entry into the village the Israeli army directed them via the Red Cross to enter by foot.
"We got out, we crossed about ten to twelve metres and suddenly we were being fired at directly. My colleague screamed and said 'I've been shot.' The shooting continued everywhere, so I could not pull him away or else I too would have got shot and fallen beside him – so I ran and sat in the ambulance," al-Attal told Amnesty.
Mohammad Ghazi al-Hessy, head of the PRCS's center in Khan Younis, told Amnesty International that the Red Cross had originally received a request from the Israeli army to evacuate the injured person. But merely fifteen minutes after dispatching a PRCS team, they came under Israeli fire.
Once al-Abadlah was struck, al-Hessy mobilized another team of around six workers to rescue al-Abadlah. They managed to get him on a stretcher, but "suddenly we were surrounded by very heavy gunfire from the soldiers in the area," he told Amnesty.
"They were direct shots aimed over our heads, under our feet, so we had to evacuate the area. During that time, Mohammad was bleeding very heavily, he was still alive at that point – his white uniform was completely red. Because of the gunfire we were unable to put him on the stretcher."
Two more PRCS workers eventually returned collect al-Abadlah: "We drove him to Nasser Hospital. He was still alive and breathing. We worked on him at Nasser Hospital, but he died in the intensive care unit."
"He was killed despite assurances we received from the Red Cross that the area was safe for us to work in," Dr. Bashar Murad, head of PRCS's emergency and ambulance unit, told Amnesty International. "Our entrance to the area was checked twice with the army through the Red Cross. His colleagues would also have been killed if they had not found shelter in a house nearby. There was shooting at them. The Red Cross needs to call for accountability in this case."
Burned to death when ambulance shelled
A'ed Al-Bor'i, 28, a volunteer with the PRCS ambulance service, was killed on 25 July while riding in an ambulance with an injured person. The ambulance was shelled and al-Bor'i was burned to death.
This is also not the first time Israel has targeted medical workers in violation of international law. Amnesty notes that the Israeli army attacked health workers during its offensive in 2008-2009 and 2012.
Amnesty states:
The Fourth Geneva Convention relative to the Protection of Civilian Persons in Time of War of 12 August 1949 (Fourth Geneva Convention) obliges states to respect and protect the wounded, to allow the removal from besieged areas of the wounded or sick, and the access of medical personnel to such areas. The deliberate obstruction of medical personnel to prevent the wounded receiving medical attention may constitute "wilfully causing great suffering or serious injury to body or health," a grave breach of the Fourth Geneva Convention, and a war crime.
In addition to the direct attacks on medical workers and facilities, the Israeli offensive has prevented ambulances from reaching areas in dire need and pushed the entirety of Gaza's medical facilities to the brink of collapse. Amnesty reports that hospitals are operating with debilitating shortages in drugs, medicine and water and under threat of power outages due to inadequate supply of fuel.
Call for arms and fuel embargo
On 4 August, Amnesty International called on the US government to immediately stop its transfer of fuel to Israel to be used for the Israeli military. On 11 July, Amnesty had called on the United Nations to impose a comprehensive arms embargo on Israel and all Palestinians armed groups.
In its recent appeal to halt the transfer of fuel for military purposes, Amnesty International reported that the most recent delivery of jet fuel took place on 14 July, soon after the bombardment of Gaza began, by the US Defense Logistics Agency Energy.
Since January 2013, the US government has supplied the Israeli military with a total of 277,000 tons of jet fuel.
Tags