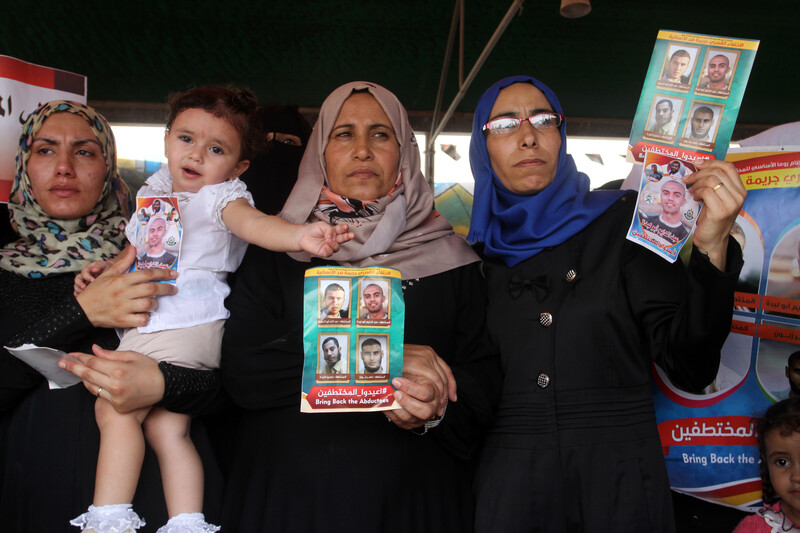 It has been 20 months since four Palestinian young men from the occupied Gaza Strip were mysteriously abducted after entering Egypt's Sinai Peninsula via Rafah crossing.
Egyptian authorities have not released any information about the young men's whereabouts or condition, nor have they confirmed or denied whether the men are in their custody.
But reports over the last year strongly suggest that the Egyptian authorities have information about the men, who were low level members of Hamas' military wing.
"Anguish and suffering"
Human Rights Watch is now demanding that Egyptian authorities release any information they have on the four men, including whether or not the government is holding them.
"Twenty months without contact with the missing men inflicts incalculable anguish and suffering on their families and friends," the group's Middle East director Sarah Leah Whitson said. "Egyptian authorities should come clean and reveal whether these four disappeared Palestinian men from Gaza are in their custody."
In a letter addressed to Egypt's interior minister Magdy Abd al-Ghaffar on 13 April, Human Rights Watch said Egypt is required by its own criminal code and international law to acknowledge if the men are in its custody.
Under international law, refusal to acknowledge that a person has been detained and holding them incommunicado amounts to enforced disappearance, according to Human Rights Watch.
Since the Egyptian military removed President Muhammad Morsi in 2013 and army chief Abdulfattah al-Sisi seized power, thousands of his political opponents have been rounded up and jailed.
The Egyptian Commission for Rights and Freedoms documented the enforced disappearance by Egyptian police of 912 people between August 2015 and August 2016. Fifty-two remain disappeared.
Students and patients
Abdullah Abu Jabin, Abdeldayim Abu Libdah, Hussain al-Zibdah and Yasir Zannoun, all in their twenties and from different cities in the Gaza Strip, legally crossed into Egypt on 19 August 2015.
Once on Egyptian soil in the Sinai Peninsula, they telephoned their families. The men were headed to Cairo International Airport, from where they planned to fly to Turkey. Abu Jabin and Abu Libdah were travelling for school and al-Zibdah and Zannoun for medical care, their families told Human Rights Watch.
Later that night, as their bus drove away from Rafah, six armed men in civilian clothes opened fire on their bus. When they stormed the bus, they seized the four men, leaving dozens of other passengers behind.
The next day, Hamas told Reuters that the men were members of its military wing. Though no group immediately claimed responsibility for the ambush and kidnapping, Hamas released a statement urging the Egyptian interior ministry to free them.
For a year, there was no information on their fate. In August 2016, Al Jazeera reportedly obtained a leaked photo from a Cairo detention facility that allegedly shows Abu Libdah and Zannoun. The photo shows about a dozen men sitting and slouched over in a filthy hallway.
A video also purportedly shows the two men.
Zannoun's and Abu Libdah's families say the photo and video do show the two men.
"When I saw the photo, I screamed 'Abdeldayim is still alive,'" his mother told The Electronic Intifada last year.
"Implicit blackmail"
In August 2016, a Hamas official reported that Egypt had set "difficult demands" for their release when a Palestinian delegation visited the country.
They reportedly included handing some men over to Egypt and battling the Islamic State in the Sinai.
According to the Hamas official, Salah al-Baradwil, Egyptian authorities suggested they were holding the men by asking the delegation, "Why do you assume that they did not commit any transgression?"
Al-Baradwil told The Electronic Intifada last year that Egypt is engaging in "implicit blackmail."
Human Rights Watch emphasizes that Egypt's obligation under international law to acknowledge the men's status cannot be negotiated by making demands on Gaza authorities.
Tags