Warning: This article contains graphic videos and images of violence.

Two more Palestinians were shot dead Wednesday following alleged knife attacks, while the Israeli army and government began implementing a rash of new measures approved by the so-called security cabinet late Tuesday night.

Among the decisions made, Israeli police and Border Police will enforce closures on Palestinian neighborhoods in occupied East Jerusalem.

Human rights groups, meanwhile, have raised the alarm about an Israeli policy of extrajudicial killing aimed at Palestinians.

The security cabinet also decided the army will deploy its military police to assist civilian police in major cities throughout present-day Israel, and 1,400 Border Police reservists have been called to reinforce Israeli occupation forces in Jerusalem.

As part of the Israeli crackdown, homes belonging to Palestinians who are alleged to have taken part in an attack will be demolished within two weeks of the attacks – a significant shortening of the time previously allowed for families to appeal such orders.

This collective punishment is reserved exclusively for the family members of Palestinians and has never been used against Jews.

The cabinet also ruled that families will not be allowed to rebuild their destroyed homes, and alleged attackers may have their residency permits revoked.

Human Rights Watch condemned the demolition policy.

The group's country director Sari Bashi stated that "exacerbating the punitive policy of home demolitions is an unlawful and ill-considered response."
Extrajudicial killings
Thirty-two Palestinians have been killed since escalated violence began on 1 October.

At least 17 were killed while protesting.

Others have been killed in what Amnesty International has described as extrajudicial killings.

On Wednesday night, 20-year-old Basil Bassam Raghib Sidr was shot dead by a police officer at the Damascus Gate of the Old City in occupied East Jerusalem.

Israeli officials claimed Sidr tried to stab the officer, but no injuries were reported.

Later that evening, Ahmad Shaaban, 23, from the Ras al-Amud neighborhood in East Jerusalem allegedly attacked a woman at the central bus station in West Jerusalem.

Shaaban was killed on the spot, while the woman is reported to have sustained light to moderate wounds.

However, the Israeli account has been disputed.

Qpress, an online Palestinian outlet for news about Jerusalem, published a recording it said was an Israeli eyewitness telling media that Shaaban was unarmed and doing nothing when shot. It provided no other details about the purported eyewitness.

Speaking excitedly in Hebrew, the person states: "Central bus station in Jerusalem, just now a terrorist was eliminated in front of my eyes. In front of my eyes. Ten rounds they fired at him. What chaos! He didn't touch anyone. He didn't have a knife. Everyone shouted 'terrorist' and the security guard fired. In front of my eyes. Ten rounds! My head hurts."

Qpress also published a video it says shows Shaaban being killed. The brief, grainy clip shows a person standing over what appears to be a motionless body and firing a gun at close range three times:

Qpress published this image it says shows Shaaban after he was killed:
"Shoot to kill"
Nine human rights organizations in present-day Israel, including B'Tselem, the Association for Human Rights in Israel and Amnesty International, jointly condemned what appears to be an Israeli "shoot to kill" policy for any Palestinian suspected of involvement in attacks on Jewish Israelis.
"No one disputes the serious nature of the events of recent days," the joint statement reads, "nor the need to protect the public against stabbing and other attacks. However, it seems that too often, instead of acting in a manner consistent with the nature of each incident, police officers and soldiers are quick to shoot to kill."
While not an official stated policy, high profile politicians have endorsed the summary executions of Palestinian.
Israel's police commander for Jerusalem Moshe Edri has stated: "Anyone who stabs Jews or hurts innocent people is due to be killed," and Israel's public security minister Gilad Erdan asserted that "every terrorist should know that he will not survive the attack he is about to commit."
Edri and Erdan echo comments made earlier by Yair Lapid, the leader of the ostensibly centrist Yesh Atid party.
Military deployed
The Israeli army has deployed several more units in the occupied West Bank and surrounding the Gaza Strip, leading to a 50 percent increase in military presence since 1 October.
Boy beaten
Video footage published by Middle East Eye shows young Palestinians fleeing Israeli soldiers in Surif, a village north of Hebron in the West Bank.

One soldier manages to tackle a boy, knocking him to the ground before several soldiers start kicking and punching him. They then drag his bloodied body away.

Protests in Gaza continue, with Israeli forces shooting and injuring three Palestinians east of the al-Bureij refugee camp, where Palestinians have been confronted by Israeli soldiers for the sixth day in a row, according to the Palestinian health ministry in Gaza.

The Tel Aviv newspaper Haaretz reported that the recent protests at Gaza's boundary with Israel will likely prompt the state to build a massive fence similar to the one on its border with Egypt, even further isolating the 1.8 million Palestinians sealed into the besieged territory.

The Israeli army announced that it will not investigate its soldiers' shooting at protesters that killed nine Palestinians in Gaza since last Friday.
Militarizing East Jerusalem
Israel's Shin Bet secret police and its army have again ruled out the possibility of enforcing a general closure on the West Bank which would ban Palestinians with permits to enter occupied East Jerusalem and present-day Israel from crossing checkpoints.
Officials reportedly told the security cabinet meeting Tuesday night that no attack has been carried out by a Palestinian with a work permit in Israel and indicated that a general closure would be condemned as collective punishment.
However, the Israeli police have been authorized to seal off Palestinian neighborhoods in East Jerusalem.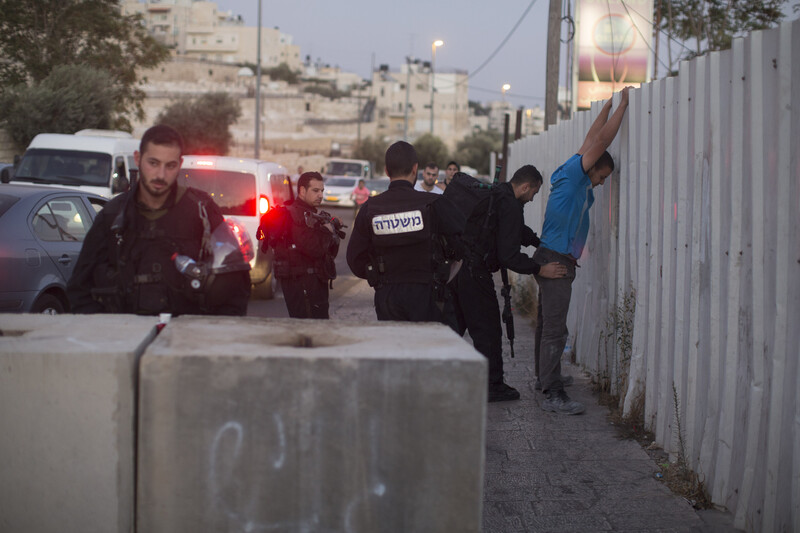 On Wednesday occupation forces began placing checkpoints at the entrances of Palestinian areas.

Jabal al-Mukabir has been completely closed, with neither people nor vehicles allowed in or out, according to Israel's Ynet.

Israeli ministers Naftali Bennett and Yisrael Katz demanded that Prime Minister Benjamin Netanyahu "enforce the Israeli sovereignty in East Jerusalem" and "clean up" Palestinian neighborhoods.

No country in the world recognizes Israel's claim to East Jerusalem and the UN Security Council has declared its assertion of sovereignty in the city "null and void."

Acting police commissioner Bentzi Sau boasted that every night "we conduct arrest raids in every neighborhood or refugee camp in East Jerusalem."

Meanwhile, thousands of Palestinians attended the funeral of 27-year-old Mutaz Ibrahim Zawahreh, who was shot dead by Israeli forces at a protest in the Dheisheh refugee camp in Bethlehem.
Tags