A widely reported statement by UNRWA Commissioner General Filippo Grandi that merely noted the health conditions of hunger striking prisoners and the validity of their demands has been removed from UNRWA's web site without explanation.
The statement, originally available at http://unrwa.org/etemplate.php?id=1340, was published earlier today and removed soon after. It read in full:
10 May 2012
Jerusalem

The Commissioner-General of UNRWA, Filippo Grandi, expressed his grave concern about the current medical and health conditions of the thousands of Palestinian political prisoners on hunger strike in Israeli prisons.

The Commissioner-General appealed to the Israeli government to find an acceptable solution, noting that the hunger strikers' demands are generally related to the basic rights of prisoners, as stipulated in the Geneva Conventions.

Filippo Grandi reiterated the call of the Secretary-General of the United Nations that those under administrative detention be brought to trial or be set free, noting that two of the administrative detainees are in serious condition after more than 74 days, and are in imminent danger of death.

For more information, please contact:

Sami Mshasha
UNRWA Arabic Spokesperson
Mobile: +972 (0)54 216 8295
Office: +972 (0)2 589 0724
s.mshasha@unrwa.org
Filippo Grandi's comments were aggregated by UNISPAL and are still available in that system. UN Radio reported his statement. Notable journalists also have mentioned it.

The disappearance of the Commissioner General's statement from UNRWA's web site is a mystery. Original screen captures are included below.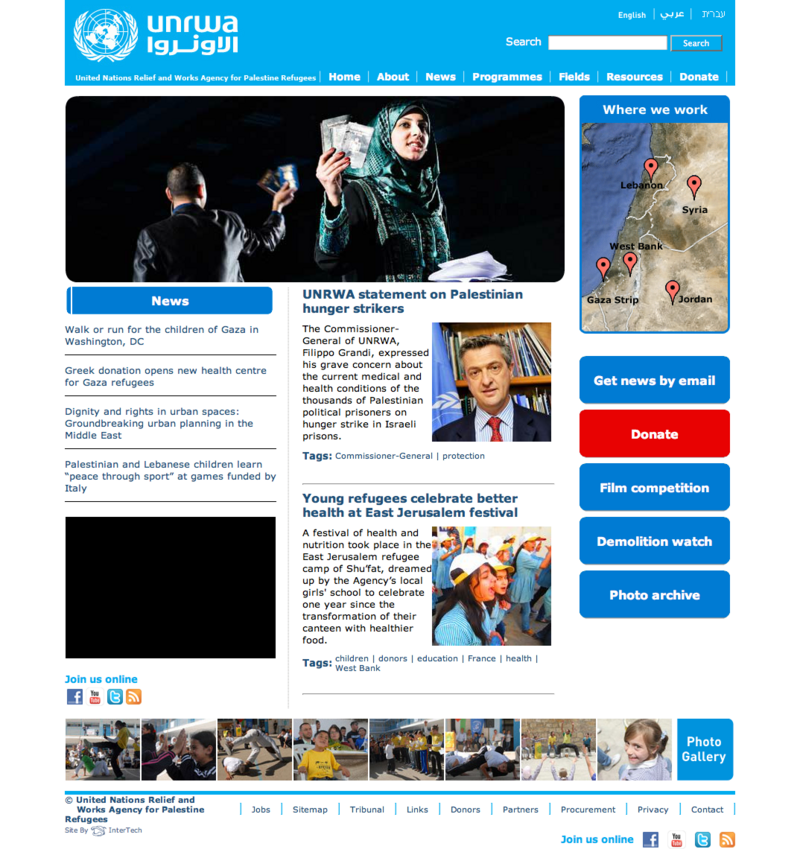 Update
Soon after this post was published, UNRWA added a new statement to its web site which reads in full:
The statement on prisoners on hunger strike has been removed because it contained some inaccuracies, which are being checked.
Tags