In March 2012 while Israel was bombing Gaza, users on social media misrepresented war photographs as if they portrayed current events. Attention focused on two users believed to be the originators of the false photos: Khulood Badawi and Maissam Nablussi.

A scandal erupted when it was discovered that Khulood Badawi was a United Nations employee, though the photograph was posted to her personal account. For weeks Israeli propaganda organizations and government officials campaigned against Badawi, and used the episode to try to discredit reports about harm caused to Palestinian civilians in Gaza by Israeli attacks, even though an investigation by Ma'an News Agency later found that indeed the girl in the picture, Raja Abu Shaban, aged 2, had died during an Israeli strike in 2006.

Maissam Nablussi however was never mentioned again. This is because compelling evidence indicates that Maissam Nablussi is an Israeli man named Ofer Engel working on a Ph.D. about online social networks at the London School of Economics.

Engel has now resurfaced as a player in the controversy following Greta Berlin's tweeting of racist material from the Twitter account of Free Gaza movement.

This episode is an example of how social engineering and deception can be used to infiltrate activist communities.
First interactions with "Nablussi"
I first interacted with the Maissam Nablussi persona in April 2012 on Twitter where she used the account @nablussi. She tried to persuade me that online hasbara activist Romeu Monteiro, a Portuguese man whose pro-Israel article in Ynet was being promoted in Israel advocacy circles, was credible and could be persuaded to be anti-Zionist.
This was dubious, so I began to investigate Maissam Nablussi for evidence of a real life existence. I found none.
Furthermore, I found that she had previously used the profile picture of noted blogger Bushra Burney, and her current one is a professional art photograph . When I confronted @nablussi with this information, she claimed she needed to mask her identity to protect her right to enter Palestine and to avoid offending her family.
The Nablussi persona sent these messages to me between 11 April and 12 April 2012:
not at all Benjamin you are right to be suspicous. The avatars are not a picture of myself. I'm a hijabi girl though, studying at harvard

I say things that might put myself in danger with the Israel authorities, that's why I prefer to use an avatar that looks close enough to me

But I really have to protect myself somehow otherwise I will be in big trouble - not only w my family but also if I want to return 2 elquds
Ofer Engel enters the picture
At the time, the stakes were not very high, so I lost interest in verifying her identity. Nonetheless, she offered someone who could vouch for her:
here are a couple of people who met me in person, such as @engelo and @oBethlehem. I come from Sheikh Jarah but live in Boston
At this point, I followed @engelo – the Twitter account used by Ofer Engel – and he soon sent me a direct message:
Maissam just asked me to tell you - yes, I know her personally, she is a very intelligent young girl
Nablussi later added:
I'm a graduate student, studying collective action on online social networks. But I've only started my studies this year
Curiously, as we shall see, Nablussi's supposed research sounds very similar to Engel's. The Maissam Nablussi persona stopped updating all social media accounts on 26 July 2012 and vanished. Also on this date, Ofer Engel stopped posting on his Tumblr .
Engel has been asked numerous times about what happened to Nablussi and has failed to provide any answers.
The other person who she named was @oBethlehem a Twitter account identified with a Walid Jabari in Bethlehem. This account disappeared a few hours prior to publication. Preliminary efforts to verify the identity of Walid Jabari with multiple sources in Bethlehem produced no leads.
Greta Berlin controversy
Over five months later on 30 September 2012, Greta Berlin of Free Gaza movement posted a video featuring Eustace Mullins, known for virulent anti-Semitic conspiracy, to the organization's Twitter account.
Her explanation for the offensive tweet is that she didn't know that the @freegazaorg Twitter account was linked to her Facebook page and that she meant to share the anti-Semitic content with a private group that was having a discussion about racism and propaganda.
Berlin has been unwilling to identify the private group or its members, but 16 people claiming to be members of this private group have come forward to defend Greta Berlin's intentions. Their statement has been published on +972 magazine.
When I first saw the list of signatories to the group statement, I recognized only three names: Mazen Qumsiyeh, Mary Hughes Thompson and Ofer Engel.
The fact that Ofer Engel's name is among the signatories led me to inquire about the authenticity of everyone on the list. Engel, according to Ali Abunimah, is also the person who emailed a copy of the same statement to The Electronic Intifada asking that it be published.
I found some of the other names listed as donors on the recently launched website Peace Architects:
Adam Rawat
Fadwa Othman
Yani Haigh
The name "Manuela Breitmayer-Affaneh" is also listed as a donor on that site, and online databases show this to be an associate or alias for Mona Affaneh who signed the statement.
I was able to verify Robby Martin with a Palestine solidarity activist in Ireland. Mike Burch is the name of an American poet.
This leaves the following people as unverified:
Ian Raven. Leicester,

UK

Kyle O'Laughlin, Chicago, Illinois,

USA

Moe Tamim, Montreal, Canada
Nadia Mansour, Los Angeles, California,

USA

Rim Selmi, Tunis, Tunisia
Sam Siddiqui, Mumbai, India
Walid Jabari, Bethlehem, Palestine
Roles in Facebook groups
I have reviewed weeks of content posted to a private Facebook group called "Our Land" that Greta Berlin takes an active role in administering. It is not the group Berlin claims to have tried to post the Eustace Mullins video to but is a group where it was posted by someone else on 28 September 2012, as noted by Ali Abunimah.
All of the names on the statement by alleged members of the secret Facebook group are also members of the group I reviewed. That group has over 1000 members. Greta Berlin, Fadwa Othman, Mike Burch, Ian Raven, Rim Selmi, Sam Siddiqui, Nadia Mansour and Moe Tamim are among the group's 13 administrators and its very few active members.
Many names have been particularly troublesome to find any information about. Most of these personas appear to only have an existence on Facebook.
Activity in the group is currently being scrubbed. One particularly active user, Sam Siddiqui, has deleted his or her account and re-joined Facebook, which effectively purges all evidence of his or her participation in groups, although much of this evidence has been archived with screenshots.
What are these groups?
Yani Haigh has published a diagram that shows a relationship among different groups on Facebook. Some of them appear to be operated as a project of Peace Architects.
Rich Siegel, Greta Berlin, Yani Haigh, Esther Riley and others are listed as participants or administrators in this project. It is unclear who is behind this project, what purpose it serves, whether any of the people named are aware of their inclusion in this "project" or are being manipulated, and for what reason the Facebook groups appear in these diagrams.
Administration
Managed groups - "Groups use a common standard for establishing moderation and administration"
Specialist groups
Attempts to contact Yani Haigh received no response.
Who is Ofer Engel?
Ofer Engel is a graduate student at the London School of Economics. His subject area is online social networks — similar to what the Nablussi persona told me she studied at Harvard. His thesis title is "The micro-foundations of email communication networks" and his work is supervised by Carsten Sørensen and Peter Abell.
According to a 2010 Ph.D. thesis poster, Engel is interested in understanding "how … events explain the structure of ties." In mathematical sociology, ties "are defined as information-carrying connections between people."
A 2009 paper Engel wrote is titled "Clusters, recipients and reciprocity: Extracting more value from email communication networks" which appears to be about how scientists can use information about how individuals send and receive email to determine and predict their real life relationships and associations with groups and networks.
Another paper, "Four factors influencing effectiveness in email communication networks" prepared for a 2010 workshop in Whistler, British Columbia indicates that Ofer Engel was "visiting at Harvard Faculty of Arts and Sciences (unofficial status)."
I spoke to a Palestine solidarity activist who met Engel in person in 2007. At the time, Engel claimed he was from Germany. The activist has a vivid recollection of Engel being nervous during their conversation.
Five years later, in an effort to establish bona fides in the Palestine activist community, Engel claimed to be an Israeli Jew active with Anarchists Against The Wall and Boycott From Within. Extensive inquiries with long-term members of these organizations indicate that Engel had at best a fleeting and marginal association with them and was largely unknown to well-informed activists in those circles.
What is the relationship between Free Gaza movement and Ofer Engel?
In the summer of this year, members of a "secret" Facebook group of which Greta Berlin is a member became suspicious of Ofer Engel who had been nominated to join the group by another member claiming to be a Palestinian living in Bethlehem.
Members of Berlin's group were already suspicious that the man in Bethlehem was a fake persona. In order to allay their doubts, members of the group reached out to Palestine solidarity activists to verify Engel's story. An activist who was contacted in this way by a member of Berlin's group was unable to vouch for Engel. Despite this, Engel was allowed to join the group anyway.
"Walid Jabari" is a Palestinian who allegedly lives in Bethlehem who signed the statement in defense of Greta Berlin from the private Facebook group. He is also the only person named by the Maissam Nablussi persona who could vouch for her existence besides Ofer Engel.
The Free Gaza Twitter debacle unfolds
After Greta Berlin posted the Eustace Mullins video, she claimed that her personal Facebook account had been connected to the @freegazaorg Twitter account without her knowledge.
The first tweet to appear on @freegazaorg through Facebook was posted on 11 August 2012, very soon after Ofer Engel requested access to the small, secret group on Facebook.
On 8 October 2012, Ofer Engel provided a photograph to me depicting Greta Berlin, Ofer Engel and a man identified as Adam Rawat. The identity of the photographer is unknown.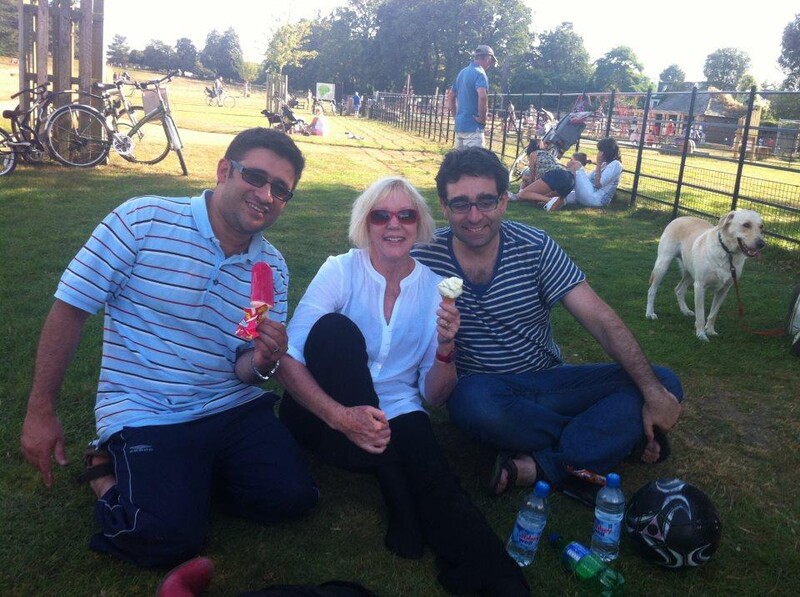 Ofer Engel responds
On 9 October 2012, after refusing several requests over several days for an interview in person with The Electronic Intifada or by Skype, I asked Ofer Engel by email the following specific questions:
Did you operate the Maissam Nablussi accounts on Twitter and Facebook in March and April 2012?

Do you operate any other Facebook or Twitter profiles that do not carry the name Ofer Engel?
Engel's entire answer consisted of four words:
No I do not.
His answer in the present tense evaded the question of whether he operated the Maissam Nablussi account in the past.
His failure to deny that he operated the Maissam Nablussi account must be seen in the light of his earlier failure to respond to inquiries about her present whereabouts and the fact that the Nablussi persona had provided Ofer Engel as her only verifiable reference, as well as the other coincidences in their stories.
Meanwhile, Ofer Engel continues to edit the Greta Berlin article and its discussion page on Wikipedia.
What happened?
The evidence leads me to the conclusion that Walid Jabari and Maissam Nablussi are sockpuppets operated by Ofer Engel. I believe he used the Walid Jabari persona to build trust among Free Gaza movement leaders and gain access to the group as Ofer Engel.
There are unanswered questions about what role certain Facebook groups play in a larger scheme that may be intended to manipulate, produce or disrupt activist networks, and who operates this scheme.
Ultimately, Greta Berlin is responsible for her words and deeds. But the security practices of certain Free Gaza movement leaders allowed a dishonest person with no verifiable reputation and unclear motives to gain access to what they believed to be a secure group.
Ofer Engel has lied to Palestine solidarity activists. He impersonates Palestinian men and women online. And he has played a very strange and ongoing role in the scandal surrounding Free Gaza movement and Greta Berlin.
With thanks to the numerous people who assisted me with this investigation.
---
Update: More evidence corroborates that Israeli Ofer Engel faked Palestinian activists online, 16 October 2012
Tags