Last week I participated in a debate at the University of Birmingham. It was a great success, but was also notable for the attempts to attack the legitimacy of discussing apartheid in the context of Israel/Palestine.
Over the weekend, I blogged about the controversy, and revealed that the Jewish Society, in the lead up to the debate, had pressured the Debating Society to prevent my book being available for purchase at the event.
On Monday, a member of the student J-Soc, responded to my post on Twitter:
I asked for clarification about any errors I had made - but without reply.
Now the Debating Society has issued a statement which confirms the same version of events I described.
The background…is that, prior to the event occurring, there were some objections to Ben White selling his book "Israeli Apartheid" after the event. This objection was given on the grounds that the word apartheid in the title of his book and the issue itself was offensive and that as the event was co-hosted by the three socieities, by association this would legitimise the author's work.
Revealingly, another member of J-Soc responded to concerns about freedom of speech with (predictable) insinuations. Commenting on another student's Facebook wall, Alex Green wrote: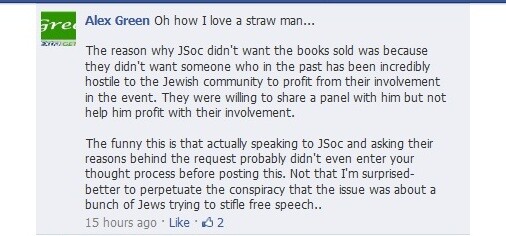 Later, he added:
Thus Alex Green told other students that, contrary to the statement of events put forward by the Debating Society, the problem wasn't with the term 'apartheid', but with my "constant harassment of Jewish community organisations" and because I have been "hostile to the Jewish community".
Finally, the Debating Society statement also backs up my reference to the impact of the discredited 'EUMC working definition of antisemitism':
Further, there was some alarm with regards to the EUMC definition of anti-semitism, which a Guild Council motion passed last year as a guiding document when considering cases of anti-semitism. It was a cause of worry that potentially, under the terms within this document, discussion arising from the issue of apartheid could result in anti-semitic statements being said; as a result of which The Debating Society may face problems.
Yet more proof of the consequences when an imprecise, politicised definition becomes policy - a Debating Society is worried about problems it could face if there is a discussion of Israeli apartheid.
Tags