Earlier this week, I blogged about efforts by the Board of Deputies of British Jews (BoD) to pressure the Church of England to reject a proposed motion supporting human rights workers and peacemakers in Palestine/Israel.
While the focus of their lobbying is the motion's support for the Ecumenical Accompaniment Programme in Palestine and Israel (EAPPI), the BoD did not tell their supporters that the text also expresses support for the Parents Circle – Families Forum, as well as "aid agencies" and "Israelis and Palestinians in all organisations working for justice and peace in the area".
The hypocrisy has deepened further with an opinion piece in this week's Jewish Chronicle by BoD chief executive Jon Benjamin, in which he attacks the author of the motion, Dr John Dinnen, as "the same Dr Dinnen who campaigned for Synod to support divestment from Caterpillar, due to their alleged complicity in Israeli 'crimes'."
Yet in an effort to cast aspersions on the motivations of the motion's author, Benjamin does not tell the whole story – ironic, given that the BoD insists the problem with EAPPI is their "lack of balance" and "one sided-view of a situation".
For the BoD chief executive neglects to share that Dinnen organised a General Synod fringe meeting in February this year focused on the Parents Circle Family Forum, inviting two of its patrons – including Rabbi Jonathan Wittenberg, to speak.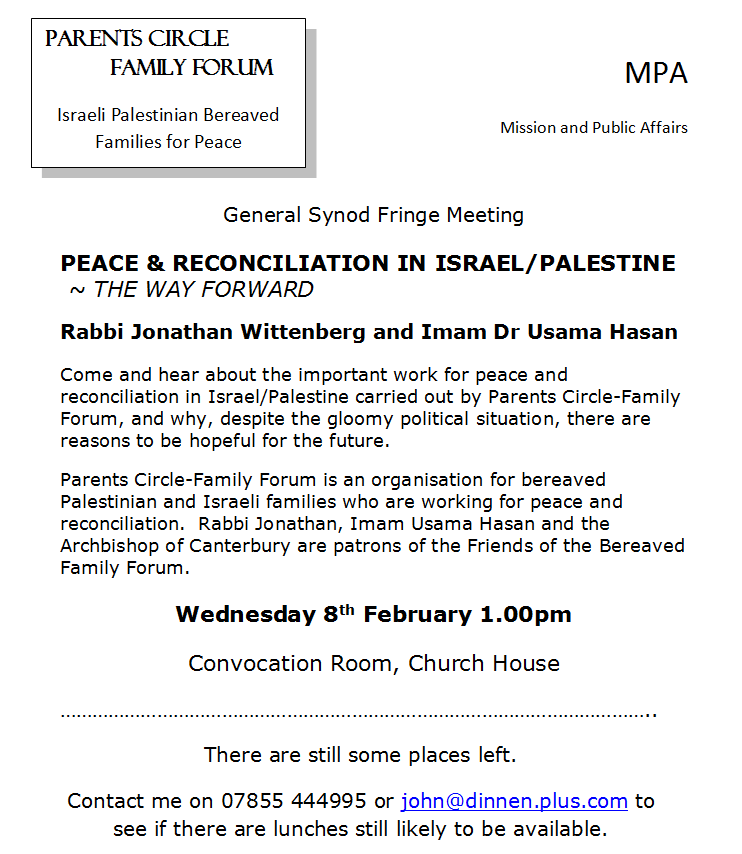 This is the same Parents Circle supported by the BoD themselves in a 2007 event, and praised by the then-Board vice president as an organisation who "should be fully supported". The BoD have even previously cited the Parents Circle as an example of "initiatives that promote education, dialogue and reconciliation".
But in their desperation to silence the stories from the Occupied Territories, the BoD are seemingly content to mislead about the nature of the motion.
Benjamin also seems unaware of the Church of England's pre-existing support for EAPPI, when he warns of the consequences of this motion being passed. Perhaps the BoD have not yet consulted the motion's accompanying briefing paper, prepared by the Chair of the Mission and Public Affairs Council. There they would read that:
[The Mission and Public Affairs Division] has assisted in organising fringe meetings for a number of Ecumenical Accompaniers (EAs) on their return. Several bishops have also provided direct support by meeting with EAs and by circulating vacancy notices in diocesan publications. Parishes and Church of England schools have also provided platforms for EAs to share their reflections. This level of activity and support probably exceeds that envisaged in para (a) of this PMM.
In other words, the proposed motion formalises something that is already taking place: support from members of the Church of England for groups like EAPPI and Parents Circle.
Events this week show that behind the BoD's protestations about "balance" is an intolerance for any perspective – whether Palestinian, Israeli or international – that faithfully represents the daily reality under military occupation.
Tags