Earlier today, IDF Spokesperson Avital Leibovich tweeted a link to a video she says was prepared for the American Jewish Committee's (AJC) recent Global Forum conference.
This 'Rhythm of Israel' clip was made by Project Interchange, which describes itself as "an educational institute of AJC" and "brings opinion leaders and policy makers to Israel for a week of intensive travel and learning".
It's fairly standard hasbara fare, highlighting the "diversity" and "creativity" of Israel so that it is not associated with anything unpleasant like occupation or apartheid.
Unfortunately for this particular rebranding exercise, the video - presumably accidentally - includes a reminder not only of the ethnic cleansing through which the "Jewish and democratic" state was established, but also of its ongoing systematic racial discrimination. About a minute in, we see this.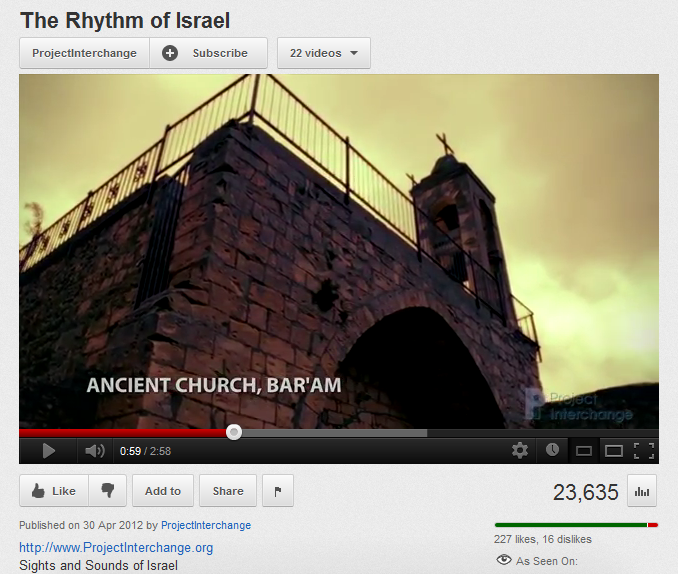 Bar'am is a kibbutz in northern Israel, on the border with Lebanon, built on the land of the ethnically cleansed village of Kafr Bir'im, whose Christian Palestinian inhabitants were expelled in 1948. They, like many other Palestinians, became internally displaced 'present absentees', receiving Israeli citizenship but prevented from returning to their homes and lands.
The depopulated village was declared a 'closed area' by the military, and then, in 1953, after the Israeli government had confiscated the land on the pretext that it was 'abandoned' and 'uncultivated' by the owners, the houses were destroyed.
The ongoing refusal to respect the rights of Kafr Bir'im's refugees is instructive with regards to Israel's ethnocratic policies that keep Israel a 'Jewish state', rather than a genuine democracy. And that's something no amount of YouTube clips can hide.