Activists occupied the Israel pavilion at the SIAL 2014 food industry trade fair in the Paris suburb of Villepinte on Tuesday.

As the video above shows, the activists held up signs condemning Israeli abuses of Palestinian rights and chanted slogans including: "No trade with apartheid," "Boycott Israeli apartheid" and "Gaza, Gaza, We won't forget!"

The dozen or so protestors belong to Campagne BDS France and a group called les Désobéissants (The Disobedient Ones).
"This action aimed to challenge the SIAL organizers and management and demand that in the future they cease to accept the participation of companies involved in Israel's colonization, apartheid and war crimes," Campagne BDS France said in a statement.
The video shows the activists being forcibly removed from the exhibition hall. Although police took down the names of the protestors, none were arrested. French activists have frequently faced prosecution for protests calling for the boycott of Israel.
Occupation profiteers
The high-profile SIAL trade fair, which was visited by French Prime Minister Manuel Valls on Monday, bills itself as "the world's largest food innovation" exhibition.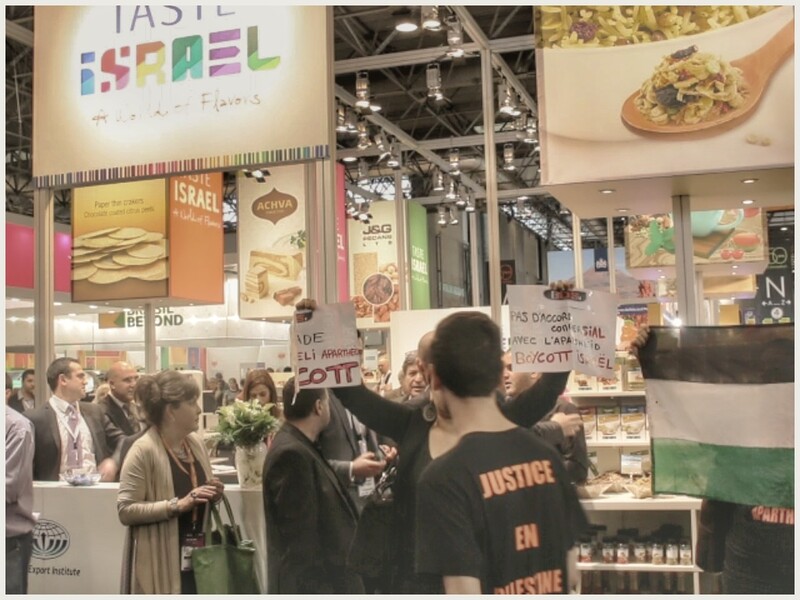 Among thousands of exhibitors are about twenty Israeli firms present under the auspices of the Israeli government's official Israel Export & International Cooperation Institute.
The Palestinian Boycott National Committee calls for a boycott of all Israeli consumer goods, not just those made in colonies in the occupied West Bank.
It is notable, however, that SIAL exhibitors include firms that operate in illegal colonies in the West Bank, a trade practice which even militantly pro-Israel governments like France's and EU official bodies claim to oppose.
According to Who Profits, one of the exhibitors, Achva Ltd., operates several confectionary factories in the occupied West Bank, including in the Barkan Industrial Zone where it is based.
The company is a "major provider of tahini for the Israeli army," according to Who Profits, a watchdog of the Israeli occupation.
Another exhibitor, Adanim Tea Company, was originally established in the occupied West Bank colony of Ofra and still uses organic herbs from the Jordan Valley, an area where Palestinians face a relentless Israeli campaign of ethnic cleansing.
SIAL bills itself as a "civic-minded" exhibition committed to the "the environmental, economic and social aspects of sustainability."
These values would seem to be totally at odds with welcoming Israel and its firms that participate in and profit from occupation, colonization, apartheid and illegal pillage of other people's land and resources.
Tags