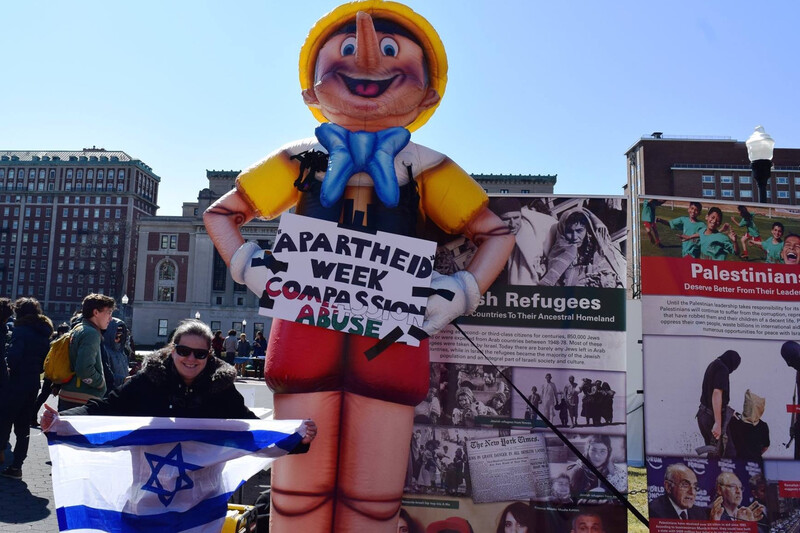 Students at Columbia University have expressed concern to administrators about what they see as racist and demeaning displays on campus from a group led by a soldier involved in Israel's 2014 massacre in Gaza.
The Columbia University chapter of Students Supporting Israel this week put up large placards on College Walk, a central thoroughfare at the prestigious New York institution.
The display was meant to counter a model of Israel's separation wall erected by Columbia Students for Justice in Palestine and a Jewish Voice for Peace information table as part of Israeli Apartheid Week.
Students Supporting Israel is funded by a prominent Islamophobe.
Its Columbia University chapter is led by Rudy Rochman, who was a member of the Israeli army during its November 2012 assault on Gaza dubbed "Operation Pillar of Defense."
During the eight-day long assault, Human Rights Watch documented numerous Israeli air attacks that were "in apparent violation of the laws of war" and which killed at least 43 Palestinian civilians, including 12 children.
Human Rights Watch, which investigated only a subset of Israel's attacks, found that its forces used "indiscriminate means or caused disproportionate harm to civilians."
Overall, according to the Palestinian Centre for Human Rights, the Israeli assault killed 171 Palestinians in Gaza, almost two-thirds of them civilians and one-third children. The vast majority of the 648 wounded were civilians, half of them women and children.
Now a continuing education student in general studies, Rochman posted a video on Facebook of himself and members of his unit dancing and singing "The Jewish people lives."
According to Rochman's own description, the video shows him and his comrades "while we were preparing ourselves to enter a war zone in Gaza" during the November 2012 assault.
More recently, Rochman has championed revenge against Palestinians. In the context of the upsurge in confrontations since late last year between Palestinians and Israel's occupation in the West Bank, Rochman called on the Israeli goverment to "please take out the trash already, the smell is unbearable!"
Rochman also posted a photo of himself with Sheldon Adelson, the billionaire casino mogul who bankrolls Israeli Prime Minister Benjamin Netanyahu and the US Republican Party.
Rochman is also a member of Alpha Epsilon Pi, a right-wing Jewish fraternity with close ties to Israel lobby groups.
The fraternity's University of Chicago chapter recently made headlines over leaked emails revealing members' racist views of African Americans and Muslims.
Another member of Students Supporting Israel at Columbia is Alexandra Markus, a continuing education student who has referred to Jewish Voice for Peace activists as "kapos," a term used to describe Jews who collaborated in the Nazi genocide during the Second World War.
Markus has also offered to help Canary Mission, the shadowy McCarthyite group that collects information about Palestine solidarity activists on campus with the aim of harming their future careers.
Rudy Rochman and Students Supporting Israel at Columbia University did not respond to requests for comment from The Electronic Intifada.
"Racist and reductive"
Shezza Abboushi Dallal, a member of Columbia Students for Justice in Palestine (SJP), told The Electronic Intifada that her group wrote to Melinda Aquino, the associate dean for multicultural affairs, to express concern at Students Supporting Israel's display of "heavily racist and reductive imagery" in a prominent campus location.
"This is not free exercise of political speech, but blatant incitement – not only against Palestinians, but Arabs and Muslims," Abboushi Dallal, a fourth-year student at Barnard College, Columbia's sister institution, added.
Columbia University Professor Joseph Massad saw the Students Supporting Israel displays on Tuesday and described them to The Electronic Intifada.
"As I was walking to class, I spotted two large placards on College Walk facing Columbia's Low Library – the university's administration building where the president's and the provost's offices are located," Massad said.
"One had the headline 'Jewish Refugees' printed on it in large letters with a large picture under it showing what appeared to be Jewish refugees from the mid or late 1940s, and next to it another placard with the heading 'Palestinians' under which appeared two hooded men getting ready to execute a third."
"I was shocked by these racist depictions," Massad stated. "There seemed to be other smaller script and smaller photographs below the large pictures on both placards, but I could not make them out."
Massad believes the juxtaposed displays were supposed to send a message that Jews are always only sympathetic victims while Palestinians are murderous savages.
"Imagine if a pro-Palestinian group on campus would put up a poster with the heading 'Jews' and under it would show two Israeli soldiers killing, torturing and beating up Palestinian children, as the only visible picture and text from a distance," Massad said.
"Such a poster would be rightfully condemned as an outright anti-Semitic picture of Jews who would be reduced to the criminal Israeli soldiers in the picture," he added. "I am shocked that such racism can be depicted on campus by pro-Israel groups without a swift official response."
Massad said that as he walked – at a distance – past the other side of the Students Supporting Israel stand, he could see many other smaller placards and another large one, headlined "Israeli Arabs."
It depicted "a large picture of an old Palestinian peasant man with his keffiyeh [traditional checkered scarf] on his head grinning, which immediately brought to my mind racist depictions of happy African American slaves in pro-Ku Klux Klan propaganda."
According to Massad, the images serve to whitewash the dozens of Israeli laws that discriminate against non-Jewish Palestinian citizens of the state.
Airbrushing violence
One of the posters compares Ze'ev Jabotinsky, the founder of Revisionism, the most violent and radical school of Zionism, today followed by Israeli Prime Minister Benjamin Netanyahu's Likud Party, with Eldridge Cleaver, an early leader of the Black Panther Party.
In later life, Cleaver renounced his support for anti-colonial struggles and became a Republican, evangelical Christian and a Zionist.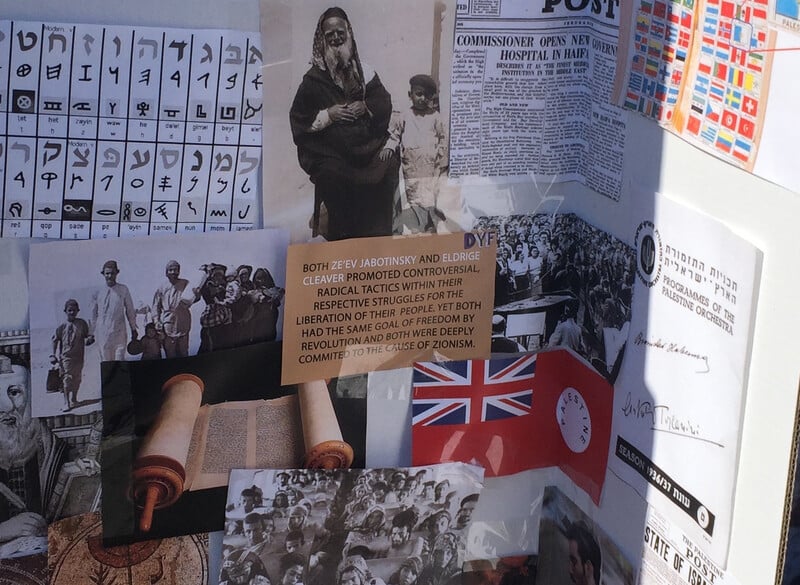 While depicting all Palestinian resistance to Israeli occupation and colonization as "terrorism," Students Supporting Israel papers over the record of Cleaver, who ambushed and shot two Oakland police officers.
Comparing Zionist colonial violence employed to conquer the land of the indigenous Palestinians with the Black struggle against white supremacy, one of the posters stated: "Both Ze'ev Jabotinsky and Eldridge Cleaver promoted controversial tactics within their respective struggles for the liberation of their people, yet both had the same goal of freedom by revolution and both were deeply committed to the cause of Zionism."
Double standards?
SJP's Abboushi Dallal says her group complained to administrators about the Students Supporting Israel display.
Abboushi Dallal recalled that in 2014, Barnard administrators moved quickly to remove a banner put up by her group even though it had been authorized.
The banner simply said "Stand for Justice in Palestine" and depicted a historically accurate geographic outline of Palestine.
At the time, Columbia SJP said the banner was "taken down by the administration of Barnard College after they caved to pressure from other groups," violating free speech rights.
"There's no parallel how they treat our student group and how they treat supporters of Israel," Abboushi Dallal now says.
"Every time there is the slightest complaint or backlash from Zionists on campus, their parents or donors, that something be brought down or addressed, it immediately happens," she added.
Abboushi Dallal said that her group respects free speech for all and, unlike pro-Israel groups, rarely files complaints about the activities of political opponents.
But Abboushi Dallal believes that Students Supporting Israel has crossed a line.
"To put a big billboard in the middle of campus saying 'Palestinians' and show an image of two men killing a third, and to make that the most visible representation of Palestinians, that's hate speech," Abboushi Dallal added.
Eva Kalikoff, a fourth-year student and chair of the Columbia/Barnard chapter of Jewish Voice for Peace (JVP), described the displays as "incredibly racist and horrifying images to present" and told The Electronic Intifada her group is also planning to make a formal complaint to the university.
Kalikoff said she noticed Students Supporting Israel suddenly become visible after the launch of a campaign last month calling on Columbia to divest from companies profiting from Israel's occupation of Palestinian lands and other human rights abuses.
The Columbia University Apartheid Divestment campaign received a boost this week with the endorsement of more than 50 members of the faculty.
Anti-Semitic puppetry
The largest and perhaps most bizarre element of the Students Supporting Israel display was a large blow-up doll of Pinocchio.
Massad said that the doll "struck me as most odd given the anti-Semitic echoes of the Pinocchio figure."
"As a Jewish person I've been brought up with the idea that Pinocchio is an anti-Semitic trope," JVP's Kalikoff said.
"This idea of a character whose nose grows with the lies he speaks uses an anti-Semitic caricature," she added, noting that anti-Semitic propaganda has historically depicted Jews as liars with grotesquely large noses. "I would say it's an explicitly and overtly anti-Semitic image to parade on College Walk."
Abboushi Dallal said that Students Supporting Israel was eventually asked to deflate the Pinocchio doll by campus security, but she believes this is because it violated safety regulations and not because of its content.
This is not the first time a pro-Israel group has used anti-Semitic puppets. In 2011, the Israel lobby group Iran180 drove a float in the San Francisco Pride Parade on which a giant effigy of Iran's then president Mahmoud Ahmadinejad was depicted as being sodomized.
Commentator Scott Long, who likened the float to a rape scene, noted the "grossly anti-Semitic imagery" in the depiction of Ahmadinejad as big-nosed, beady-eyed and effeminate.
Iran180 later apologized for the grotesque display.
Funded by Islamophobe
Students Supporting Israel bills itself as a "grassroots" initiative to counter the growing movement for Palestinian rights on US campuses, particularly campaigns for boycott, divestment and sanctions.

But it looks more like astroturf backed by well-funded Israel lobby groups closely tied to the Israeli government.

Registered as a US nonprofit organization, Students Supporting Israel says it was founded in Minneapolis in 2012 by brother and sister Ilan Sinelnikov and Valeria Chazin.

It says it has 45 chapters across the US.

Along with another founding member, Naor Bitton, Sinelnikov and Chazin received an award for their work from the Israeli consulate in Chicago in 2015.

Bitton was until recently an advisor to the Israeli diplomatic mission at the United Nations in New York.

Sinelnikov previously held a Hasbara Fellowship, a position in a program backed by the Israeli government and aimed at "creating Israel's ambassadors on university campuses."

Chazin has said Students Supporting Israel aims to "build coalitions" with students "interested in women's rights, LGBT rights, or green technology," and across Democrat and Republican political divides.

Yet the group's leaders are clearly aligned with Israel's far-right government and with Islamophobic figures in the US.

Students Supporting Israel is funded and endorsed by Adam Milstein, a convicted felon who surreptitiously bankrolled student elections at UCLA in order to promote pro-Israel candidates.

Milstein has a history of making anti-Muslim statements, including accusing President Barack Obama of "cuddling up to Islam."

Students at Columbia are concerned that Students Supporting Israel is a vehicle to bring this sort of well-funded hatred onto their campus.

"Most individuals were not even students," Abboushi Dallal said of the people she observed milling around the Students Supporting Israel display. "They were older members, yelling at students who were trying to question the use of the Pinocchio doll or some of the posters."

"It is my understanding that my university is responsible for ensuring that hateful messaging, individuals or groups do not wield the authority or power to create a threatening environment," Abboushi Dallal wrote to Melinda Aquino, the dean for multicultural affairs.

"This political and social climate in this country is increasingly hostile towards Muslims and Arabs, but there should be absolutely no space for this type of stereotypical, violent incitement in this academic institution," she added.

It remains to be seen if and how Columbia University will respond.

The university acknowledged a request for comment from The Electronic Intifada but failed to deliver a reply by an agreed deadline.

Editor's Note: An earlier version of this article misstated that Rudy Rochman participated in Israel's summer 2014 assault on Gaza, in which numerous war crimes and other serious violations have been alleged by human rights investigators. In fact, according to Rochman's own social media postings, he participated in Israel's November 2012 assault on Gaza, in which numerous war crimes and other serious violations were also alleged by human rights investigators.
Tags