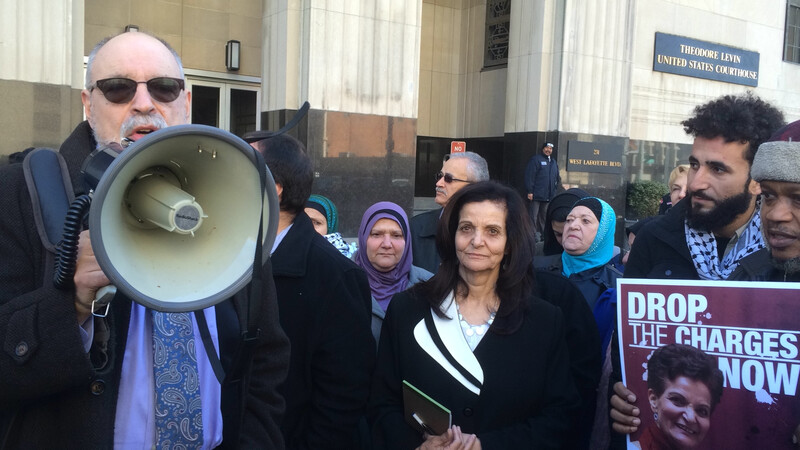 Palestinian American community leader Rasmea Odeh was today sentenced to eighteen months in prison and a fine of one thousand dollars for lying on an immigation and citizenship application.
US District Judge Gershwin Drain pronounced the sentence after an intense two-hour hearing during which Odeh told the court "I am not a terrorist, I am not a bad woman."
Her US citizenship has also been revoked and she faces deportation to Jordan. The 67-year-old remains free on bond and can stay in the United States pending her appeal, which is likely to take at least six months.
Following the hearing, Odeh's lead attorney Michael Deutsch told supporters the prison sentence was "unjust" and "unnecessary" and confirmed that the conviction and sentence would be appealed.
But there was also palpable relief among the dozens of people who rallied outside the courthouse in downtown Detroit, and a broad smile on Odeh's face, given that the judge rejected a government request to impose a lengthy sentence of five to seven years and allowed her to remain free on bond.
About two hundred people came to the court to support Odeh. Forty packed the wooden benches in the court room, with the rest filling an overflow room where they could watch proceedings by video.
More than forty women from the Arab Women's Committee, founded by Odeh as part of her community development work at the Arab American Action Network, made the five-hour drive from Chicago.
"Terrorism hysteria"
The government argued that the sentence should be particularly harsh because Odeh had failed to disclose a 1969 "terrorism" conviction in an Israeli military court on her immigration application.
Odeh has always maintained that she was forced to confess to involvement in two bombings, one of which killed two people at the SuperSol supermarket in Jerusalem, after weeks of prolonged torture and sexual assault by Israeli interrogators.
Assistant US Attorney Jonathan Tukel put on a video and slide presentation which he told the judge would contain "absolutely conclusive proof that [Odeh] was involved in the SuperSol supermarket bombing."
It included brief clips from documentaries made in 1993 and 2004 which the government claimed show associates of Odeh making statements implicating her in the attack.
But none of the clips played by prosecutors, in Arabic with English subtitles, offered any such clear proof as far as The Electronic Intifada could see or hear.
Tukel claimed that captions added by the filmmaker to one of the videos had identified Odeh as taking part in the bombing.
He also repeatedly brought up the name of Leila Khaled, the Palestinian fighter known for a series of hijackings in the early 1970s, and said one of the clips showed Odeh and Khaled reminiscing about their past.
No clip showed Odeh taking credit for the supermarket attack.
Tukel noted that a group of Popular Front for the Liberation of Palestine (PFLP) militants, including Khaled, had named their unit "Task Force Rasmea Odeh, a Palestinian woman prisoner."
But even Tukel acknowledged that naming an operation or a group after a prisoner was a way to "honor and respect them," like "the US Navy naming a ship after Abraham Lincoln."
It offered no proof in and of itself that Odeh, who was in an Israeli prison at the time of the hijackings, was in any way involved in the actions of that group.
Deutsch said that Odeh had been part of a political struggle and it was no more incriminating for her to talk to Khaled in a documentary about the history of that struggle than it would be for South African liberation heroes Nelson Mandela and Walter Sisulu to reminisce about their past.
When Odeh spoke, she said that she had only ever seen one of the video clips previously. "I did not do that operation and I'm not responsible for what that girl said about me," Odeh said in reaction to one of the clips.
Odeh's attorney Michael Deutsch had anticipated the government's arguments, and in his opening remarks urged the judge not to be swayed by "terrorism hysteria."
Deutsch urged the judge to give Odeh no extra prison time, taking into account her age, her ill health – including Post-Traumatic Stress Disorder (PTSD) – and her exemplary record in the US.
A life of service
Several times, Judge Drain expressed skepticism at the government's arguments, calling the video presentation "a little far afield" and affirming that he was "not giving it a whole lot of weight."
But Drain was clear about what he thought: "Ms. Odeh's history does include some terrorist activities. She was a member of the PFLP forty-five years ago."
"I think technically back then she was a terrorist," he said.
"But looking at Ms. Odeh's recent history, she's been involved in a lot of good works," Drain said. He referred more than once to the dozens of letters he had received from "people from all walks of life, from all over the country" attesting to Odeh's social contributions.
"I have no doubt in my mind that if she was a terrorist, she has changed or reformed, and that's a good thing," Drain said, acknowledging her "life of service."
But Drain also said he believed Odeh had lied in her trial testimony about how she filled out her US immigration forms, and admonished her for violating his orders not to mention to the jury her torture and mistreatment in Israeli custody.
Because of this "obstruction of justice," he increased the possible sentencing range by three months.
Rasmea speaks
After the attorneys made their presentations, Odeh addressed the court. In a strong voice, alternating in English and Arabic – there was an interpreter present – she recounted the difficulties she had faced in her life.
Odeh explained that she had rejected a plea deal that would have seen her deported without jail time "because I wanted to come here and tell my story."
"I came here to find justice," she told the judge.
Odeh said she had never meant to violate the judge's orders during her testimony and if she had uttered a few words that went over the line, it was because she was "under pressure" and trying to explain her situation.
Odeh said that during her life she had suffered many hard blows, but "every time I rebuilt my life, something else from outside would put me back to zero."
Less than a year after her 1947 birth, her family was expelled from their home during the Nakba, Israel's ethnic cleansing of Palestine. When she went to university in Lebanon, Israel cut short her education by not letting her return to Beirut after a visit home.
The family was displaced again during Israel's 1967 occupation of the West Bank.
"I was in an occupied territory and everyone was working against the occupation," Odeh said. "I am one of my people."
After the 1969 arrest and military court conviction, she spent a decade in prison before Israel released her in a 1979 amnesty. She said was able to rebuild her life in Jordan – going to university, finding a home and a job. But then in the 1990s her father, who was living in the US, got cancer and asked her to come and care for him.
"In the US, it was the first time I felt I was in a secure place," she said. "During twenty years I built my life with the people I love and who love me."
The prospect of losing that community through deportation, she said, is "like a death sentence."
"Before I was young, I could rebuild my life," Odeh said. "Now I'm at the door of seventy years old."
"Think about my age, my situation and my history over twenty years," she urged Drain. She said that during the five weeks she spent in a freezing county jail following her November conviction, often in isolation, she thought she would die.
"Not political"
In his summation, Drain acknowledged that he had "struggled" with the case. "This case has spun off in so many different directions," he said.
"This isn't a political case," the judge insisted, despite the fact that the statements from prosecution and defense had been dominated by the question of Palestine.
"It's about being truthful to get into the country. This case is not about the Israeli-Palestinian conflict and freedom fighters and all that," the judge said.
Drain said that given the high profile of the case, he had to impose a "deterrent sentence" and settled on eighteen months.
Odeh will receive credit for time served.
The judge's insistence that the case is not political can ironically be seen as a kind of victory for the defense.
By taking that position, Drain effectively dismissed the government's effort to make it about "terrorism" and standing with Israel.
From the beginning however, Odeh's defense attorneys have argued that the reason she was indicted in the first place was because of a political witch hunt against the Palestinian American community.
"You were there, you heard what I said, you heard what Rasmea said, you heard what the judge said, you heard what the government said," Michael Deutsch told supporters after the sentencing.
"You think it was a political case? I certainly do. You think she's a terrorist or a reformed terrorist? I don't," he added. "Obviously people are going to fight for their freedom against occupation. They're going to fight for national liberation organizations. They're going to resist torture. So it is a political case."
"We're going to continue to fight and we're going to look for justice somewhere else," Deutsch said. "But don't expect justice in these cases."
Appeal
Odeh will be appealing nonetheless. Deutsch said that the grounds for the appeal would incude the severe limitations the trial judge imposed on Odeh's defense, such as preventing her from discussing her PTSD and torture.
The appeal will also argue that the government's reliance on Israeli military court documents violated Odeh's constitutional due process rights.
"We had close to two hundred supporters in Detroit for the sentencing and all of us are going home happier because Rasmea is with us," Hatem Abudayyeh, executive director of the Arab American Action Network, told The Electronic Intifada.
"We know there is a lot of work still to do and we will continue to educate people about the case, and about Palestine support work in the cause of liberation."
Tags