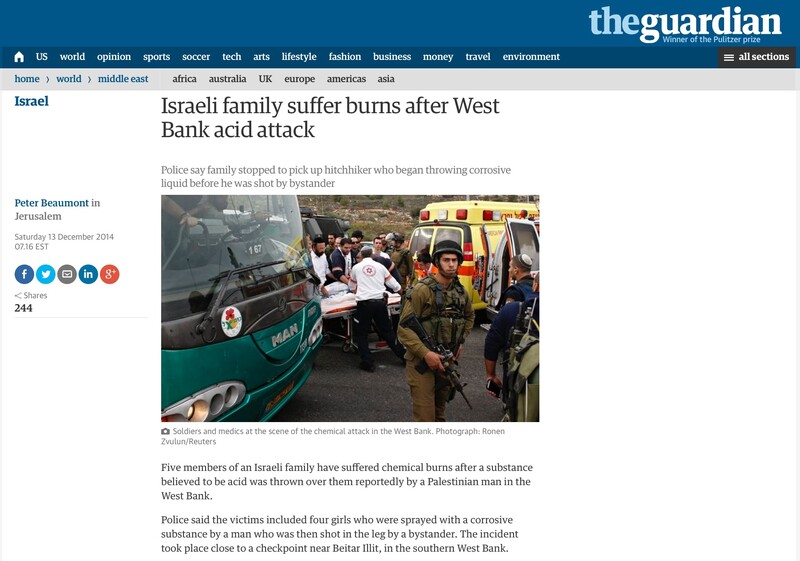 This post has been updated since publication.
On 13 December, The Guardian ran an article with the headline "Israeli family suffer burns after West Bank acid attack."
The article by its correspondent Peter Beaumont makes these alarming claims:
Five members of an Israeli family have suffered chemical burns after a substance believed to be acid was thrown over them reportedly by a Palestinian man in the West Bank.

Police said the victims included four girls who were sprayed with a corrosive substance by a man who was then shot in the leg by a bystander. The incident took place close to a checkpoint near Beitar Illit, in the southern West Bank.

Paramedics who treated the family – including three children aged between about eight and 10 – said the wounds appeared to be acid burns affecting their limbs.
Some reports said a sixth bystander was targeted in the attack.

Israeli occupation forces claim the alleged assailant was running after another person with a screwdriver when he was shot. Israel alleges he is a Palestinian and former "security prisoner" from the occupied West Bank village of Nahalin, close to where the alleged incident took place.

Ma'an News agency cited area residents saying that the man, Jamal Abd al-Majid Ghayatha, 45, "was mentally unstable and had received treatment at a mental health clinic in Bethlehem."

Other media, including Haaretz, The Washington Post and NBC, ran similar reports to the one in The Guardian..

Ruth Eglash, the correspondent who wrote The Washington Post's report, also tweeted:

The Israeli army posted claims of the alleged "acid attack" on its official blog, along with a photo of the children's school bags in the back of the car.

And Israel's official propagandists, including the Jewish Agency's Avi Mayer, were quick to jump on it:
Vinegar
Except there's one problem. The "acid attack" didn't take place quite as reported. The liquid allegedly thrown at the settler vehicle was vinegar, as Israeli media reported just hours later. Household vinegar is indeed a weak acid, but wouldn't cause severe or life-threatening injuries or "chemical burns" – that's why people are able to put it in salads, on their french fries or even use it as a treatment for skin conditions.
But more than ten days later, neither The Guardian nor The Washington Post have amended their stories, and, of course, Mayer never followed up to explain that there were no horrific burns or injuries. (As noted in the 23 December update below, The Washington Post has now amended its story and cites Israeli authorities claiming that the substance was "likely" to have been "concentrated vinegar," which can cause irritation.)
Eglash never tweeted a follow up either. (Eglash, as The Electronic Intifada revealed last year, has a major conflict of interest: her partner is a public relations professional with deep ties to Israel's government and official overseas propaganda apparatus.)
"The attack that wasn't"
This is a case where Israeli media were more accurate than international publications.
The Israeli news website Mako put this posting on its Facebook page on 13 December with the status: "The attack that wasn't: A Palestinian pours a substance on a car with 5 passengers. Only after great tension did it become clear that it was vinegar."
The Facebook post links to a longer Mako report in Hebrew debunking the claims of an "acid attack."
"They were concerned at first that it was acid," the report states, "but after a hospital test it transpired that it was vinegar, and the women were discharged."
That same day, The Jerusalem Post ran a "breaking news" brief, citing Israel's Channel 2, that "The acid used in the Palestinian attack on six Israelis Friday in the West Bank was actually vinegar."
It added that the "victims were taken to Hadassah University Medical Center with light injuries and released from the hospital the next day."
Given that neither the Israeli army, nor the journalist-scribes who took its version for fact, bothered to correct this story, all of it must be taken with a pinch of salt.
For instance, the claim that the alleged attacker was going after other civilians with a screwdriver is reminiscent of many previous dubious, unverifiable or outright false claims that Palestinians held or brandished weapons when they were shot.
The lesson here is that many journalists are prepared to take Israel's claims as fact and run sensational stories. At the same time, claims made by Palestinians are routinely treated with utmost skepticism, if they're reported at all.
The question also arises whether journalists were predisposed to accept the initial Israeli claims because of pervasive Islamophobic stereotypes and propaganda associating Muslims or Arabs with "acid attacks" using industrial substances like sulphuric acid that can cause severe disfigurement or death.
But there are frequent attacks in the occupied West Bank where noxious chemical agents that cause irritation to eyes, skin and respiration are sprayed into family homes and cars. It's just that Israel is doing it.
Neither The Guardian's Peter Beaumont nor The Washington Post's Ruth Eglash immediately responded to emailed requests for comment.
This post will be updated if they do.
Update: 23 December
Following the publication of this post, The Washington Post amended its above-referenced story.
The article now states (emphasis added):
Seven Israelis were injured Friday when a Palestinian man threw an acid-like substance at a family that had stopped to pick up a hitchhiker at a busy intersection in the West Bank, the Israeli military said.

Israeli military and police spokesmen later said the liquid was likely "concentrated vinegar," which contains a higher percentage of acetic acid than table vinegar and can cause burns.
It also states that: "A paramedic from the Israeli first-aid agency Magen David Adom said all of those injured, including the four daughters, ages 10 to 18, were conscious. They were taken to hospitals, and all but one was released by early evening."
At the end, the Post added a note stating:
The article has been updated to include additional information about the substance used in the attack, which the Israeli military initially reported was acid. Authorities later said the substance used was "concentrated vinegar."
Tags