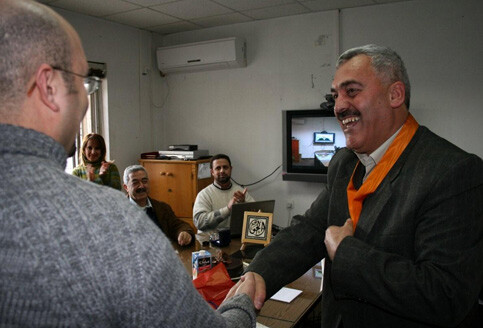 Shawan Jabarin, director of human rights group Al-Haq, is to be allowed to travel to Geneva for a meeting with Frank La Rue, the UN Special Rapporteur on Freedom of Expression, for the first time since Israel imposed a travel ban on him six years ago.
Jabarin has not been allowed to travel outside the Israeli-occupied West Bank ever since the ban was imposed in 2006, shortly after he was appointed director of Al-Haq, based on "secret evidence" from Israel's General Security Service that neither Jabarin or his lawyers have been allowed to see or challenge.
The decision to allow him to go to Geneva came after an appeal hearing against the ban in Israel's supreme court today. According to a deal with the Israeli authorities, Jabarin will be allowed to travel only to Geneva under severe restrictions and will have to pay a financial guarantee. The travel ban, however, will remain in place. But, Al-Haq, tweeted, "This is just the first crack in the dam."
A statement from Al Haq provided more detail:
An agreement was reached at the Israeli High Court of Justice earlier today which allows the exception to the existing travel ban on certain conditions, namely that Mr. Jabarin will travel to the United Nations offices only to meet with Mr. La Rue. As part of the agreement, Mr. Jabarin will sign a guarantee to uphold the travel conditions, on penalty of 5,000 NIS should he fail to do so. The agreement was proposed by the State Prosecutor after Michael Sfard, Mr. Jabarin's attorney, brought a petition to the Israeli High Court seeking to overturn the arbitrary travel ban imposed by the Israeli occupying authorities
Al-Haq live tweeted some of the proceedings at the hearing this morning, noting, "Referring to the state's secret evidence, the defence concludes by asking how they can argue the case without knowing the charges."
Jabarin has not been charged with any crime, and Israeli human rights groups today urged Israel to lift the travel ban completely.
"Arbitrary restrictions"
The ban has been jointly condemned as a violation of Jabarin's fundamental rights and due process by Amnesty International, B'Tselem and Human Rights Watch, which dismissed Israel's claims that it was necessitated by "security" as ludicrous.
The groups said that the restriction on Jabarin's travel was "emblematic of the arbitrary restrictions placed on Palestinian human rights defenders and civil society activists," by Israeli authorities.
In 2009 the Dutch government urged Israel to lift the travel ban so that Jabarin could travel to the Netherlands to receive the prestigious Dutch Geuzenpenning award for human rights defenders, but to no avail.
The travel ban is reminiscent of those imposed on human rights and anti-apartheid activists by the former apartheid regime in South Africa.
Tweets from Al-Haq of Israeli court hearing
Tags