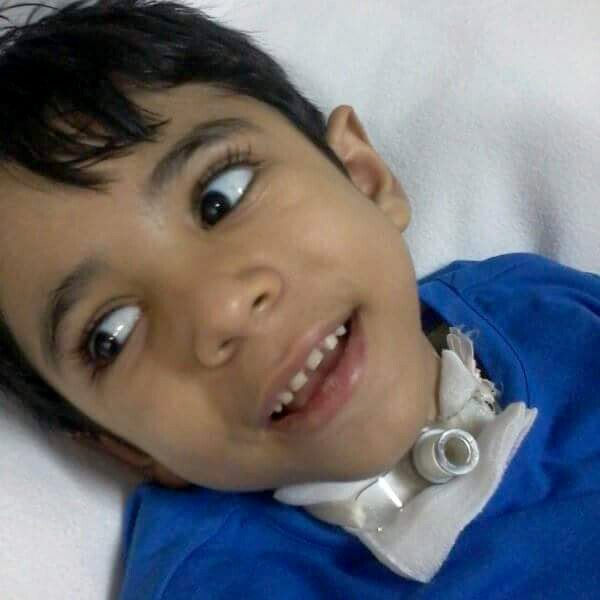 When 9-year-old Muhammad Abu Haddaf died in hospital in the early hours of 6 December 2017, his mother Nisrin could not be at his bedside as she was nine-months pregnant.
Muhammad's father, her husband Saleh, was too afraid to tell her the news. But when she found out from relatives later that morning, "I couldn't control myself," Nisrin said. "I cried and screamed for my son."
"I lost my son Muhammad. It was decided by God," Nisrin said. "Then I praised God and prayed for God to have mercy on him and forgive him."
Muhammad died of injuries he sustained during Israel's 2014 assault on the Gaza Strip.
This week, the Israeli human rights group B'Tselem published a detailed account of what happened to Muhammad's family during the attack and in the years after.
Two missiles
When Israel's assault began, Saleh and Nisrin took their five children and moved from their home in al-Qarara village to Saleh's sister's home in Khan Younis, in southern Gaza.
On 8 August 2014, when a ceasefire was supposed to be in effect, the parents and children went back to al-Qarara to pick up some belongings from the ruins of their home that had been bombed by Israeli forces.
While they were there, the Israelis fired two missiles that "were presumably targeted at three members of the larger Abu Haddaf family, who were standing at their own doorstep nearby and were not taking part in the fighting," B'Tselem states.
These missiles killed three people, including two children. According to Defense for Children International-Palestine, the two children were Mahmoud Muhammad Saleh Abu Haddaf, 8, and Mahmoud Khalid Musa Abu Haddaf, 15, and their adult relative was Suleiman Samir Abu Haddaf.
Saleh and Nisrin and four of their children were injured and taken to hospital in Khan Younis.
Muhammad, 6 at the time, was wounded in the abdomen and spine. Doctors at the European Hospital in Rafah – near Gaza's border with Egypt – had to resuscitate him and he suffered lack of oxygen to his brain. During his 15-day stay in the hospital, they also found his legs were paralyzed.
Muhammad was taken to Turkey for treatment, where he was joined by his then 5-year-old brother Ayash, who was also partially paralyzed.
During their months in Turkey, the boys were separated from their parents. "I can't describe how terrible I felt. I was wounded and so were my sons," Nisrin said. "On top of that, Muhammad was far away and I didn't know exactly how he was doing."
"My sons needed me, but I was physically and emotionally exhausted," Nisrin said.
Living in "wrecked house"
Months later, the family returned to their home in al-Qarara, which Saleh managed to partially rebuild, and Muhammad was hospitalized again in Gaza in December 2014. The following year he underwent stomach and throat surgery at Hadassah hospital in Jerusalem.
But his condition continued to deteriorate; after he returned home, he lost his eyesight and ability to speak. He required intense care costing hundreds of dollars a week that the family could not afford.
"I worked on and off and spent everything I earned on Muhammad," Saleh said. "My father, my sister and my brothers gave me money, but they're all clerks and they don't have a lot to give."
And through it all, in the cold of winter and heat of summer, "we lived in a wrecked house, without real walls, windows or doors," Saleh added.
In October last year, the family moved into a new home built with the help of relatives and UNRWA, the UN agency for Palestine refugees.
Muhammad was readmitted to the European Hospital in November 2017 but after two unsuccessful surgeries for abdominal swelling he died there the following month.
"Muhammad's condition remained serious the whole time, until we lost him on Wednesday at two in the morning," Nisrin said following his death.
Attacking civilians
"Bombing and shelling densely populated areas was one of the most horrifying aspects of Israel's conduct in what Israel called Operation Protective Edge," B'Tselem states. "This policy led to the killing of at least 1,055 Palestinians – almost half of those killed in the operation – of which 405 were children and 229 were women."
B'Tselem dismisses as "entirely unfounded" Israel's claim that its bombing of civilian areas in this manner was lawful.
Israel's assault destroyed or badly damaged 18,000 houses, leaving more than 100,000 Palestinians homeless. According to UN figures cited by B'Tselem, almost 30,000 remained homeless three years after the attack.
And from the more than 11,000 persons wounded, most "had to make do with the deficient medical services available in Gaza and to pay for many of the treatments themselves, without compensation from Israel for the damage it caused."
In Muhammad's case, B'Tselem says, "his family and doctors fought for his life, as he was transferred from one hospital to the next – in Gaza, Turkey and Israel – paralyzed, blind and unable to speak."
Muhammad's life and death is just one story of the horrific and lasting impact of this systematic and massive Israeli violence for which there has yet to be any accountability or justice.
Tags