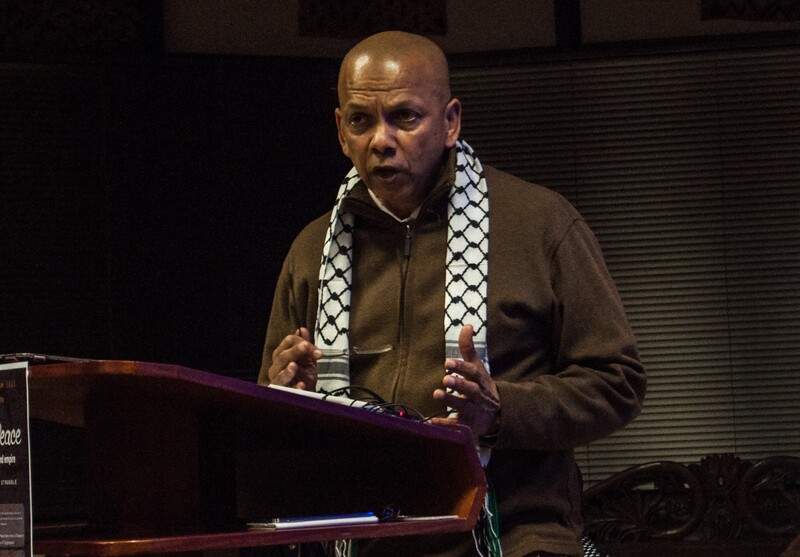 I have to speak out against the smear campaign waged in Germany against Farid Esack, an Islamic studies professor from South Africa.
When Israel's supporters learned that Esack had been given a teaching post at the University of Hamburg, they made baseless allegations of anti-Semitism against him.
The smears were spread by members of Angela Merkel's Christian Democrats, the right-wing populist party Alternative für Deutschland, the Green Party's Volker Beck and Katharina Fegebank, as well as by Israeli diplomats.
I have to speak out because my parents suffered under the German occupation of the Netherlands. One lesson I learned from their past is that I should never remain silent when the rights of others are trampled upon.
That is why I supported the South African people in their fight against apartheid and that is why I defend the rights of the Palestinians today.
I am deeply disturbed about how academics such as Eleonora Roldán Mendívil, Farid Esack and Norman Finkelstein have come under attack in Germany because they criticize Israel's violations of Palestinian rights. The pro-Israel lobby is waging smear campaigns against defenders of Palestinian rights, with a view to excluding them from German universities.
The lobby's tactics remind me of the witch-hunting McCarthy era in the US.
The tactics remind me, too, of the Radikalenerlass ("Radicals Decree") in 1970s Germany. It banned thousands from working as civil servants because of accusations that they held "radical views."
Defying apartheid
I have known Farid Esack since the 1980s when I worked with the Holland Committee on Southern Africa. Our committee organized boycott, divestment and sanctions (BDS) campaigns against South Africa and provided political and material support to the liberation movement, the African National Congress (ANC).
Esack fought apartheid as a leading member of the Call of Islam organization and the United Democratic Front (UDF).
The UDF was founded in the 1980s – at a time the ANC was banned by the apartheid regime. It brought together trade unions with various grassroots organizations, including the Call of Islam.
The aim of these organizations was to make South Africa ungovernable by mobilizing people in campaigns to defy the apartheid regime. For example, Esack was among the organizers of a 1989 peace march in Cape Town. Around 30,000 people took part in that protest, defying the state of emergency.
Slandered
Ten years after South African apartheid was defeated, our paths crossed again. We were both speaking out against Israel's violations of Palestinian rights and supporting the Palestinian people in their fight for freedom, justice and equality.
In recent months, Esack has been a guest professor at the Academy of World Religions in Hamburg University. Pro-Israel lobbyists have attacked the university for hiring Esack and slandered him personally.
The accusations against him were first published in the German newspaper Die Welt.
Esack is the chair of BDS South Africa, which urges nonviolent activism against Israeli apartheid.
"It should be clear to everyone of goodwill that Israel-hatred is anti-Semitism," Daniel Killy, a spokesperson for Hamburg's Jewish community, has told The Jerusalem Post.
But criticism of Israel's policies and practices is not the same as Israel-hatred or anti-Semitism. False accusations of anti-Semitism are frequently used to stifle criticism of Israeli state violence.
Embassy lies
In the same Jerusalem Post article, the Israeli embassy in Berlin makes an unsubstantiated accusation that Esack is "a man who expressed anti-Semitic statements and who is sympathetic to Holocaust denial."
That is a lie. Esack has described the Holocaust as a "crime against humanity of unspeakable proportions." At a 2013 Holocaust Remembrance Day event in Johannesburg, Esack said that he felt "ashamed – bloody ashamed" whenever he heard Muslims expressing a hatred of Jews.
The Jerusalem Post also claims that Esack has helped raise funds for the Popular Front for the Liberation of Palestine.
I asked Esack about this allegation. He replied that neither he "nor anyone else in BDS South Africa raised money for any organization designated as a terrorist organization by anybody."
Esack was also quoted in The Jerusalem Post as saying that "the idea of an Islamic state must be allowed to be represented in Germany."
The newspaper was apparently referring to what Esack told a conference about Islamophobia in Europe that was held in Hamburg last month.
"I defended the right of various communities to argue the case for their own political utopias," Esack told me. "Coming from South Africa, this included the right for people to argue for a state inspired by Islamic values, or, for that matter, for vegans to make the case for a society where all meat consumption is banned. In fact, I am not well disposed towards any state founded for any particular religious or ethnic community."
I am proud to have known Farid Esack for so long and I highly respect his consistency in opposing injustice and all forms of racism – including anti-Semitism.
The pro-Israel lobby must not be allowed to prevent academics who defend Palestinian rights from visiting German universities. It is vital that the universities themselves stay calm when they come under attack.
If these smear campaigns continue, then academic freedom will be at risk.
Tags