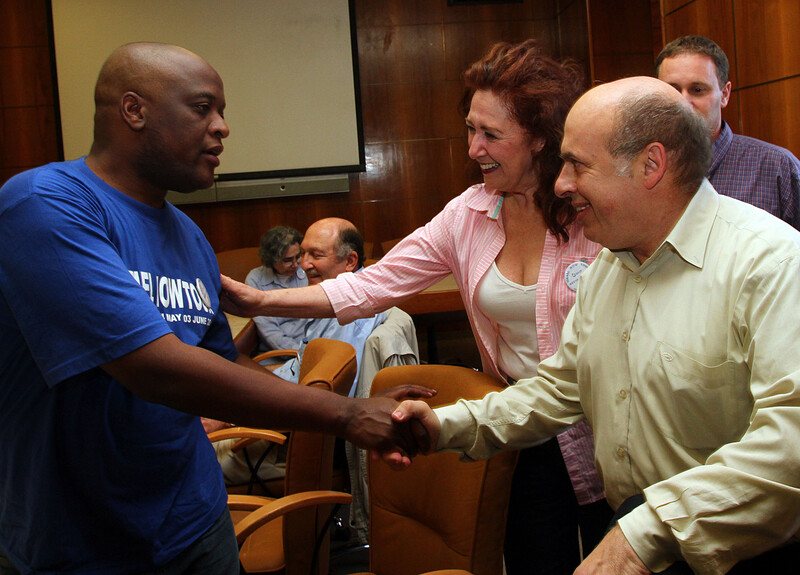 Pro-Israel groups have invited South Africa's "finest young leaders" on a trip to the Middle East next month.
An email message about the tour states that participants will listen to "unbiased keynote speakers" and learn about "the concerns and achievements faced in safeguarding the rights and freedoms of the diverse communities living in Israel."
Hosted by the South African Zionist Federation and South Africa Friends of Israel, the trip has been heavily criticized by youth activists. A statement issued by the youth wing of the ruling African National Congress and several other groups likens the trip to junkets organized by supporters of South Africa's apartheid regime in the 1980s.
This is not the first such trip targeting South Africa's "young leaders" that pro-Israel groups have organized. Last year the South Africa Israel Forum and the South African Union of Jewish Students arranged a similar trip.
Its itinerary included a visit to an artist village in the Golan Heights — part of Syria under Israeli military occupation. The village was founded by the Jewish Agency, an organization that was involved in planning the Nakba, the 1948 ethnic cleansing of Palestine.
Unbiased?
Participants in that trip were also brought to a number of locations in the occupied West Bank, including Jerusalem's Old City, Bethlehem and Kalia, an Israeli settlement beside the Dead Sea.
Rather than ensuring that participants heard "unbiased" speakers, the organizers of that trip arranged meetings with soldiers enforcing Israeli apartheid.
Both that itinerary and the invitation for next month's trip can be viewed below.
I phoned the organizers of the July trip, seeking details of its program.
Following my call to the South Africa Friends of Israel office, I was contacted by Benji Shulman, one of its representatives. Shulman claimed that South Africa Friends of Israel had "nothing to do" with the trip.
His denial lacks any credibility. Both South Africa Friends of Israel and the South African Zionist Federation, with which Shulman is also involved, are clearly named as organizers on the invitation.
Buying influence
The comparison with the tactics employed by South Africa's apartheid regime and its supporters is apposite.
When South Africa was under white minority rule, its government organized similar junkets in an effort to counter what it called the "hate South Africa crusade" by anti-apartheid activists. Groups based in Britain, the US and elsewhere tried to entice politicians, writers, artists and students to participate in free visits with the promise they would discover the "real" South Africa.
Some of these junkets targeted Israelis.
Sasha Polakow-Suransky's book The Unspoken Alliance documents how South Africa's regime tried to buy influence in the Israeli media by providing all-expenses-paid trips to journalists in the 1980s.
As a Dutchwoman active in the anti-apartheid movement, I was aware of trips targeting people deemed influential in the Netherlands.
The South Africa Foundation, which had an office in The Hague, hosted such trips. It was not clear where that foundation received its funding or who pulled its strings.
But we knew it had a lot of money at its disposal to try and portray the racist regime in Pretoria in a positive light.
Pro-Israel groups operating in today's South Africa remind me of that foundation.
Dan Brotman, director of the South Africa-Israel Forum, states on his entry to the LinkedIn network that his group facilitates "experiential trips to Israel and the Palestinian territories for South African business, political and civil society leaders."
The forum's trips are funded by "various private individuals, trusts, foundations and companies," Wayne Sussman, its former director, has told South Africa's Mail & Guardian newspaper.
In the Netherlands, we did what we could to expose the groups promoting South African apartheid. Our efforts bore fruit.
As South Africa became a pariah state, politicians and other public figures decided against going there on junkets. They feared that doing so could harm their careers.
I am greatly encouraged that youth activists in South Africa are displaying the same determination to fight pro-Israel propagandists. I have no doubt that their work will ultimately prove successful.
Additional research: Erik van den Bergh and Trineke Weijdema.
Tags