This month Israeli police arrested three human rights defenders working in the South Hebron Hills area of the occupied West Bank.

The arrests put a spotlight on the struggle of Palestinians in the isolated region to resist Israel's efforts to force them out.

Two Israelis, Ezra Nawi and Guy Butavia, and Palestinian Nasser Nawaja, were arrested after Israeli television aired a video filmed by the settler-funded right-wing organization Ad Kan which had infiltrated their group Ta'ayush.

Two agents for Ad Kan concoted a fake land deal in which Nawaja's family land was supposedly sold to Israeli settlers.

They used this set-up to record Nawi allegedly making incriminating statements that anyone selling land to settlers would suffer retaliation from the Palestinian Authority.

Nawi and Butavia were released to house arrest on Sunday after a court ruled that police had not presented sufficient evidence to hold them.

Police are nonetheless proceeding with an investigation into a wide variety of accusations against the pair, ranging from conspiracy in attempted murder to possession of a knife or brass knuckles.

After six days in custody, Nawaja, a field worker for the Israeli human rights organization B'Tselem, was released from Israel's Ofer military prison.

A military judge found that authorities failed to produce sufficient evidence that Nawaja was involved in any crime.

In a courthouse video last week, Butavia characterized the arrests as political.

It has also emerged that just two weeks before their arrests, Nawi and Butavia filed a lawsuit against Israeli police over an April 2014 traffic stop as they went to do solidarity work in the South Hebron Hills.

The stop resulted in eight hours of interrogation and a raft of charges that were later dropped.

Their lawyer told Haaretz that the incident was part of a "deliberate policy" of persecuting human rights activists.

The activists believe that they are being targeted because of their work, through the joint Jewish-Palestinian group Ta'ayush, to stand with Palestinians resisting the settler takeover of the South Hebron Hills.
South Hebron Hills
Around 4,000 Palestinians live in some 30 small villages in the South Hebron Hills region, according to B'Tselem.
Just over 1,000 of them live in 19 villages and hamlets in the Masafer Yatta area, near the village of al-Tuwani.
Most of the families try to earn a living as farmers and shepherds. They have lived in the area for generations, even before Israel occupied the West Bank in 1967.
A recent Electronic Intifada photostory by Palestinian journalist Mohammad Alhaj profiles some of the families living in the area.
All of these villages are in "Area C" – the 60 percent of the West Bank that remains under full Israeli military control under the terms of the 1993 Oslo accords.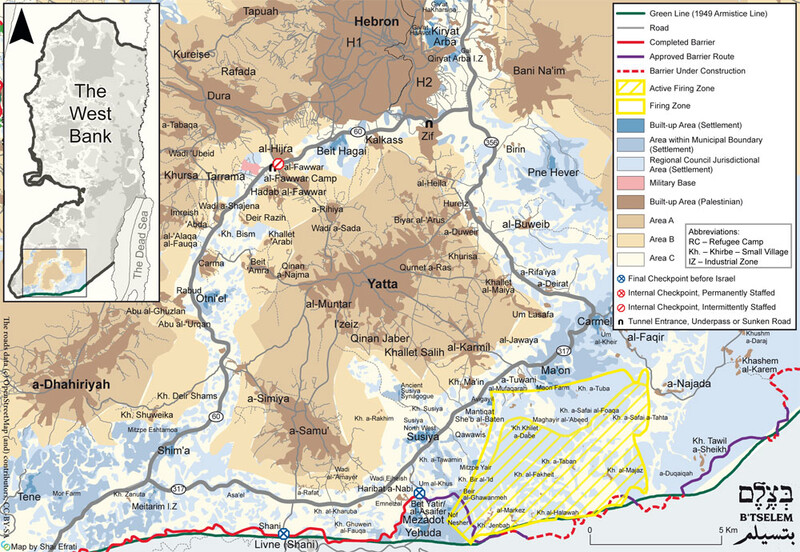 Israel also declared much of the area, including some 14 villages, a "closed military zone" as far back as the 1980s, imposing even more control.
Israel then evicted most of the residents to create a "firing zone" for the army. Some were allowed to return after a court case, but in 2012 Israel announced it plans to destroy the remaining nine communities.
Another South Hebron Hills village under threat of demolition is Susiya, home to more than 300 Palestinians, including the recently arrested Nasser Nawaja.
Even the US issued rare criticism of the Israeli plans to demolish Susiya. A State Department official, seen in the brief AJ+ video at the top of this article, says the planned demolitions would be "harmful and provocative."
Nasser Nawaja can be seen in the video affirming that if the homes are demolished, residents are determined to rebuild.
Denying development
According to B'Tselem, Israel imposes arcane procedures, some dating back to British rule in the 1940s, that effectively prevent construction of housing and public buildings such as schools and medical clinics in nearly all Palestinian villages in the South Hebron Hills.
Palestinians cannot pave roads or hook up to either the electricity grid or the water pipelines that Israel has laid in the area.
Even collecting rainwater is not allowed: Israeli forces often demolish the cisterns Palestinians build to store it.
Because Palestinians are not able to build "legally," families must live in sub-standard housing, the UN monitoring group OCHA reported in 2013.
Favoring settlers
Meanwhile, Israel has allocated large tracts of land to the Ma'on settlement that sits east of the village of al-Tuwani.

Israel set aside the British rules it imposes on the Palestinians to allow the settlement to expand, and of course the settlers – including in outposts not authorized by Israeli authorities – are provided with water and electricity.

Because Israel won't let them build roads, Palestinian residents in the area have no proper road to connect them to Yatta, the major regional town.

This video, published by Christian Peacemaker Teams, shows Palestinians and international volunteers fixing the dirt track from al-Tuwani to Yatta in 2014.

The Palestinian narrator says that if Palestinians had attempted to do that alone – without cameras or international witnesses present – they would face immediate arrest by the army.

Last week, however, Israeli soldiers prevented Ta'ayush volunteers from assisting Palestinians repairing a rocky road in the area.

After filling three potholes in a section near a settler outpost, an Israeli soldier ordered the activists to stop, because "this is the State of Israel and the road needs to remain with holes," Amira Hass reported in Haaretz.
Settler attacks
Besides the ongoing threat of home demolitions and the denial of basic services, Palestinian families in the South Hebron Hills are also vulnerable to attacks by Israeli settlers.

B'Tselem provides numerous examples of settler violence, including vandalizing crops, chopping down olive and fruit trees and stealing or harming livestock.

The unchecked violence has continued for years. This 2008 B'Tselem video, for instance, shows masked settlers armed with bars attacking Palestinian shepherds as they attempt to access their pastures:

In general, Israeli forces do not intervene, allowing settlers to act with impunity.

Palestinians in the South Hebron Hills are already among the most vulnerable in the West Bank.

The recent arrests of Nawi, Butavia and Nawaja reveal that Israeli forces want to isolate them even further from the activists who support them in defending their rights.
Tags