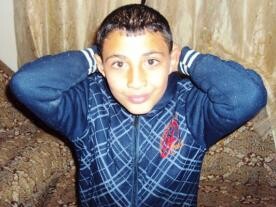 Israeli soldiers used nine-year-old Mustafa Wahdan as a human shield during confrontations with Palestinian demonstrators on 17 February, Defence for Children International-Palestine Section has reported. The soldiers forced the boy at gunpoint to walk among them to protect themselves from the anger of the protestors.
Mustafa testified that he was on his way home from his brother's car-wash service, which is located about 300 meters from a checkpoint near Ofer, an Israeli prison in the West Bank, when clashes intensified. After he took shelter in a nearby store, Israeli soldiers rushed after him.
Mustafa was taken into custody and ordered to raise his hands behind his head. The soldiers allegedly used him as a human shield for several hours while firing tear gas canisters and rubber bullets at stone-throwing protestors, according to DCI-PS. All the time, one of the soldiers kept his rifle pointed at Mustafa's back. 
"Whenever they wanted to fire tear gas or shoot bullets at the protesters, they would take me with them. I was really scared that a stone might hit me or something," said Mustafa.
Mustafa was released after his father, Mohammad, arrived on the scene and pleaded with the soldiers for his son's release. "At home, Mustafa was still very scared. He was silent and did not have his dinner. In the morning, my wife told me that Mustafa was shaking while he was sleeping. The following night, he wet himself," Mohammad Wahdan told DCI-PS.
The use of human shields is prohibited by international humanitarian law. Since 2004, DCI-Palestine has documented 20 cases of Palestinian children being used as human shields by Israeli forces. Nineteen of these cases occurred after 2005, the year the Israeli high court prohibited the practice under Israeli domestic law.
Settler injures nine-year-old boy in Hebron
Meanwhile, the video above shows images of another nine-year-old called Yassin, who was attacked recently by  Israeli settlers. DCI-PS has reported that a settler pelted Yassin and his younger brother with rocks on 12 March after spotting them on the roof of their home in Hebron.
One stone hit Yassin near his eye and caused him to fall on the concrete below him. The same day, Yassin was admitted to hospital with a severely swollen face. Yassin's younger brother was unharmed. Eyewitnesses described the perpetrator as a tall, bearded man in his thirties, who was crouching behind a plastic bin filled with stones on a nearby rooftop in the al-Qazazin neighborhood of Hebron's old city.
According to Ayed Abu Eqtaish, DCI-PS' accountability program director, a small, but extremely violent, settler presence in Hebron routinely torments the Palestinian residents, subjecting them to all forms of abuse and harassment. "This highly abnormal situation instills a deep-grounded fear in children who grow up witnessing settler attacks carried out with complete impunity."
Detentions increase
Islam, a nine-year-old girl, was the target of settlers' violence last month. On 13 February, a group of approximately six female settlers attacked the girl and her mother while they were standing on the sidewalk at Salfit junction close to Zaatara checkpoint near Nablus.
Islam and her mother tried to flee but the settlers chased them, pushing and knocking Islam's mother to the ground. The February Violations Bulletin, published by DCI-PS notes:
As the settlers kicked her mother, Islam screamed and tried to push them away. Two more settlers soon arrived and shoved Islam against a fence. Then one of them grabbed her by the neck and choked her while the other slapped her in the face. She was then shoved to the ground.

"I was shaking because I was very scared and worried about my mother," said Islam. "I burst into tears." The settlers ran off as a Palestinian man approached to help. Israeli soldiers in military jeeps arrived shortly after and ushered the settlers back to Tappuah settlement.
DCI-PS has documented more than 100 cases of settler violence such as stone throwing, beatings, shootings and destruction of property since 2005.
The number of child detainees held by Israel is increasing, DCI-PS has found. In September last year, 189 Palestinian children were in detention.  Although this figure dropped to 164 in October, it then began to climb again. In November, the number stood at 178, rising to 195 in December 2012 and to 223 in January this year. 
A total of 236 Palestinian children were behind Israeli bars last month. 
Tags