Israeli forces were caught on camera when they blocked Palestinian roads in the south Hebron hills area of the occupied West Bank using Caterpillar armored bulldozers.

Caterpillar is the subject of an international divestment campaign because its equipment has been routinely used by Israel to demolish Palestinian homes and other illegal activities.

Rachel Corrie, the American peace activist, was crushed to death in Gaza on 16 March 2003 by an armored Caterpillar D9-3 bulldozer as she sought to protect a Palestinian family home from destruction.

The videographer wrote to me that most of the video was filmed on 21 June on Road 317 near Bani Naim and Zif. The last part was filmed on 21 August near Shaab al-Butum. 

The video shows Israeli occupation forces using bulldozer to move large stones to block lanes coming from the Palestinian villages onto the main highway, effectively isolating them. The Caterpillar logo is visible on the bulldozers.

An Israeli court recently rejected an appeal against a military order to demolish eight Palestinian villages in the south Hebron hills so that the Israeli army could seize their land as a firing range. Such military use of Palestinian land has historically been a prelude to settlement.

.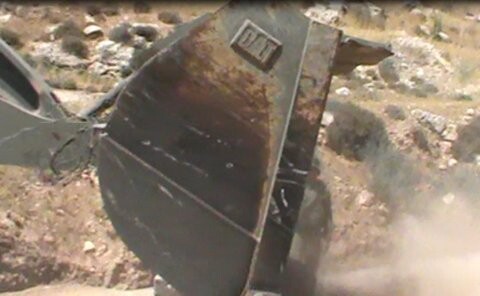 Systematic blocking of movement and access
The UN Office for the Coordination of Humanitarian Affairs in the occupied Palestinian territory reported last year in a fact sheet on movement and access in the West Bank:
522 roadblocks and checkpoints obstruct Palestinian movement in the West Bank, compared to 503 in July 2010.
So far in 2011, an additional 495 ad-hoc 'flying' checkpoints obstructed movement around the West Bank each month (on average), compared to 351 in the past two years.
200,000 people from 70 villages are forced to use detours between two to five times longer than the direct route to their closest city due to movement restrictions.
122 closure obstacles shut off the Old City of Hebron from the rest of the city.
Israeli roadblocks in the occupied Palestinian territory are an obstacle for Palestinians to enjoy their basic rights, for example the right to freedom of movement and choice of residence, the right to an adequate standard of living, adequate housing and access to education and healthcare.
The role of Caterpillar machines in Israel's violations of the basic rights of the Palestinians is yet another reason for socially responsible investors to divest from the company.
Tags