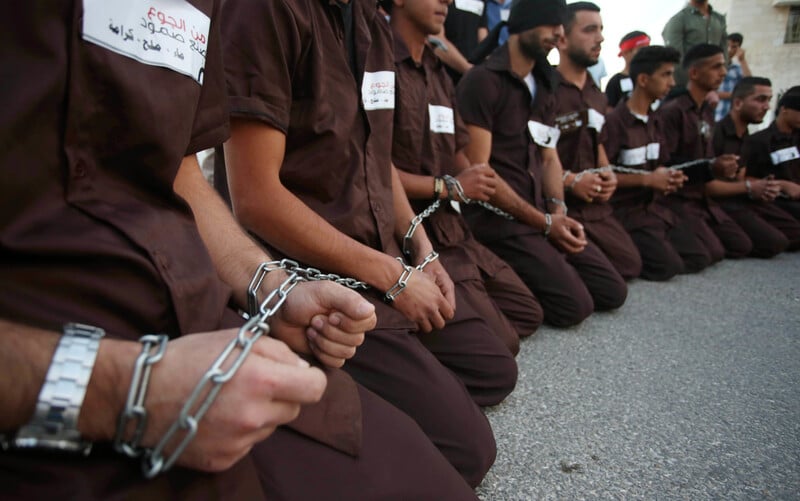 On 15 May, many South Africans fasted in solidarity with more than 1,300 Palestinian prisoners who have been on hunger strike in Israeli prisons to demand their basic rights.
Deputy President Cyril Ramaphosa, more than a dozen members of the government, trade union leaders, icons of the liberation struggle, celebrities and others joined the one-day fast, sending a powerful message of support to imprisoned Palestinians.
During apartheid, South African political prisoners also used hunger strikes to protest their inhumane conditions.
The prisoners on Robben Island, where Nelson Mandela, Ahmed Kathrada and other leaders were held, were forced to work in a lime quarry in all weather with unsuitable clothing, insufficient food and violent prison guards.
Mandela and his fellow prisoners launched a protest hunger strike in 1966.
Their prison commander felt compelled to address the grievances after only a week, former Robben Island prisoner Sunny Singh recalls.
But now, even as the Palestinian mass hunger strike approaches 40 days, many prisoners have been hospitalized, and yet Israeli prison authorities are refusing to negotiate.
Instead, Israel has reacted with punitive brutality, including placing leaders in solitary confinement.
Struggle "for every imaginable thing"
The situation of the Palestinian prisoners reminds the older generation in South Africa of their past.
Singh, who participated in the 1966 hunger strike, spent 10 years on Robben Island for his involvement in Umkhonto we Sizwe, the military wing of the African National Congress.
I worked with Singh when he acted as the ANC's representative to the Netherlands.
The demands of the Palestinian prisoners are the same as the political prisoners on Robben Island, Singh wrote in an article for the South African newspaper Sunday Tribune.
"For us on Robben Island in the early 1960s, there was a struggle for every imaginable thing – against abuse, and for clothing, blankets, medicine, visits – but most importantly, it was a constant struggle for food," Singh recalls.
"We were beaten by our captors, but never experienced the type of abuse and torture that some of the Palestinian prisoners complain of. It was rare that we were put in solitary confinement, but this seems commonplace in Israeli jails," Singh adds.
Singh recalls that the hunger strikes were "always successful" and never lasted more than a week before prison authorities addressed the grievances.
He observes that when so many Palestinian prisoners have engaged in such a protracted hunger strike, it means that "they are not only resolute, but they are desperate."
Singh urges Israel and the world to listen to the prisoners' demands: "Even political prisoners have basic human rights."
Robben Island prisoners also shared their grievances with International Committee of the Red Cross representatives.
But the "Red Cross never seemed to take the grievances seriously, which made us quite suspicious," Singh writes. His criticism may sound familiar to Palestinian prisoners and their families.
Global solidarity
My friend and colleague Dr. Bangani Ngeleza grew up under South African apartheid.
"I am a child of an ANC freedom fighter who was imprisoned on Robben Island for 10 years by the apartheid regime," he wrote to me. "I join millions of freedom-loving people around the world in supporting the stance taken by Palestinian freedom fighters languishing in Israeli jails to embark on a hunger strike."
Ngeleza added that the decision to go on hunger strike "represents the highest level of commitment and bravery in asserting one's dignity and human rights."
He urges Palestinians to "find solace in the knowledge that there can be no permanence to a system that's based on injustice and subjugation."
Meanwhile, solidarity fasts and events are being organized in many countries to draw attention to Israel's continued violations of the basic rights of Palestinian prisoners.
And the Palestinian BDS National Committee (BNC), which spearheads the global boycott, divestment and sanctions movement, has renewed its calls for urgent action in support of a comprehensive military embargo on Israel.
The BNC states: "As long as military ties continue, the international community is effectively sending Israel a clear message of approval to continue its severe violations of international law, including its violations of basic prisoners' rights."
Tags