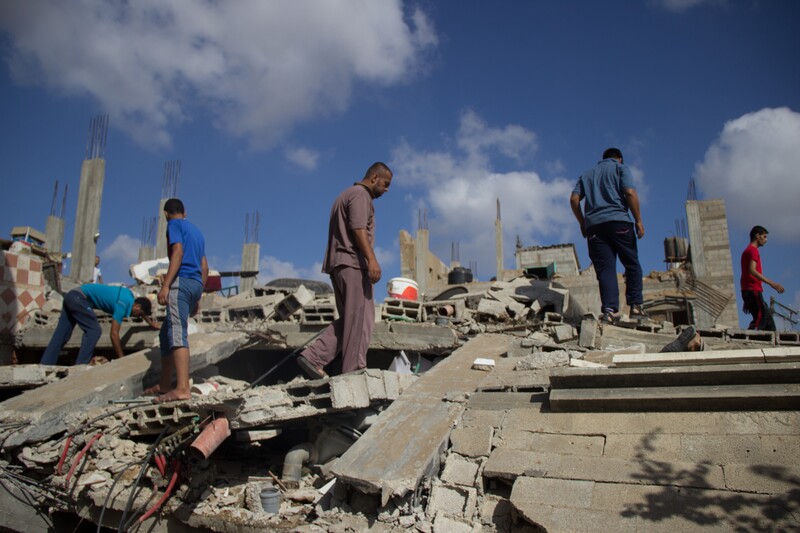 Israeli occupation forces today killed the father of Issam Younis, the director of Al Mezan Center for Human Rights in Gaza.
Meanwhile, Israel also continues to obstruct the work of international human rights organizations by denying entry to Gaza, and Israeli occupation forces have ordered the forced internal exile of a prominent Palestinian politician who is a board member of a prisoners' rights group.
A statement from Al Mezan said that Hassan Hussein Younis and his wife Amal Ibrahim Younis Al Bilbisi "were both killed in an Israeli bombardment of a house next to their house in the town of Rafah at 2:30 am today."
These are only the latest killings to directly affect human rights organizations. Anwar al-Zaaneen, an aid worker at Al-Mezan, was killed by a missile from an Israeli drone on 10 August.
The 41-year-old al-Zaneen wanted to check with a municipal water maintenance crew if his house could be reconnected to the water network. He was attacked just after reaching the crew on his motorcycle. 
Two weeks earlier, on 25 July, an Israeli sniper killed human rights defender Hashem Abu Maria. Abu Maria worked with Defence for Children International-Palestine (DCI) on constructive child participation throughout the occupied West Bank and Gaza Strip.
DCI human rights defender Abu-Maria was murdered while participating in a march for Gaza in the occupied West Bank village of Beit Ommar.
Israel, Egypt block international rights groups
As it continues its bombardment that has killed more than two thousand Palestinians in Gaza since early July, Israel is actively denying access to Gaza to international human rights investigators. Amnesty International and Human Rights Watch told Reuters that Israel's years-long travel ban to Gaza hinders their capacity to investigate the violence.
With no international researchers and munitions experts on the ground, the two organizations are hindered from collecting first-hand evidence of potential war crimes committed by Israel during its ongoing assault.
Egypt's military regime, which is closely allied with Israel, has also denied entry permits to workers from the two groups. Amnesty International said in a press release that Egyptian authorities had not replied to requests to enter Gaza via the Rafah crossing.
Earlier this month Egypt denied entry to Kenneth Roth, the director of Human Rights Watch, who had traveled to Cairo to present the organization's findings on the Egyptian military regime's massacre of more than eight hundred unarmed civilian protestors one year ago.
Unlawful forced transfer
Israeli occupation soldiers surrounded the home of Palestinian Legislative Council member Khalida Jarrar in Ramallah to hand her a military order in the early hours of 20 August.
Jarrar was ordered to leave Ramallah and travel to the district of Jericho where she would be required to stay for six months. The military order is supposedly based on secret information and states that Jarrar "poses a threat to the security of the region, so she must be put under special monitoring."
Jarrar — who is a senior member of the Popular Front for the Liberation of Palestine (PFLP) and a board member of Addameer Prisoner Support — refused to sign the order. Forced transfers are a violation of international law.
In an urgent appeal, Addameer recalls that Ramallah is under full Palestinian Authority control, according to the 1993 Oslo accords. In the context of so-called "security coordination," the Palestinian Authority allowed Israeli occupation forces to enter Ramallah to hand the order to Jarrar.
It is striking that lawmaker Jarrar has continuously called for an end to such collaboration between occupier and occupied.
Israel's track record of persecution
Israel has built an impressive and revolting track record of persecuting Palestinian human rights defenders and their organizations.
For example, Addameer Prisoner Support has been a target of the occupation forces, in particular after it supported the mass hunger strike of Palestinian political prisoners held in Israeli jails in 2012. Israeli occupation forces raided Addameer's office in Ramallah on 2 December 2012.
Addameer researcher Ayman Nasser was arrested in October 2012 and released one year later.
The organization's accountant Samer Arbeed was arbitrarily detained on 23 September 2013, again on the pretext of so-called secret evidence, which means not even the pretense of due process. Two months later he was released. His lawyer told an Israeli occupation court that the detention only aimed to obstruct Arbeed's work.
On 15 September 2013, Israel detained human rights lawyer Anas Barghouti who had worked for Addameer between 2009 and 2013. He defended many Palestinian prisoners and detainees who were held by Israel.
Co-founder and chairperson of Addameer Abdullatif Ghaith has been subjected to a travel ban since October 2011. He is not allowed to travel from Jerusalem to other parts of the occupied West Bank.
The Electronic Intifada has also reported the arrest and detention of Stop the Wall coordinator and human rights defender Jamal Juma' in December 2009 and of his colleague Mohammed Othman one month earlier.
Palestinian human rights defenders in present-day Israel are also persecuted. In May 2010, Ittijah director Ameer Makhoul was arrested and sentenced to nine years imprisonment.
This is only a partial list of incidents in Israel's relentless assault on Palestinian human rights defenders and organizations that challenge its illegal and oppressive practices.
UN Declaration on Human Rights Defenders
Human rights defenders are persons who play an important role in promoting the cause of human rights through, for example, documenting violations, providing support and assistance to victims seeking remedies and combating cultures of impunity.
The UN Declaration on Human Rights Defenders provides for the support and protection of human rights defenders in the context of their work. It mentions existing rights in a way that makes it easier to apply them to the role and situation of human rights defenders.
The declaration includes the right to conduct human rights work, to collect information relating to human rights, to criticize the functioning of governmental bodies, to offer legal assistance and advice in defense of human rights, as well as the right to attend public hearings, proceedings and trials to assess compliance with national and international law. It also includes the right to receive resources — including from abroad — for the purpose of protecting human rights.
Given the scale of the killing of civilians Israel is perpetrating in Gaza, it is more urgent than ever that Israel be required to respect these rights and stop obstructing the work of human rights defenders.
Tags