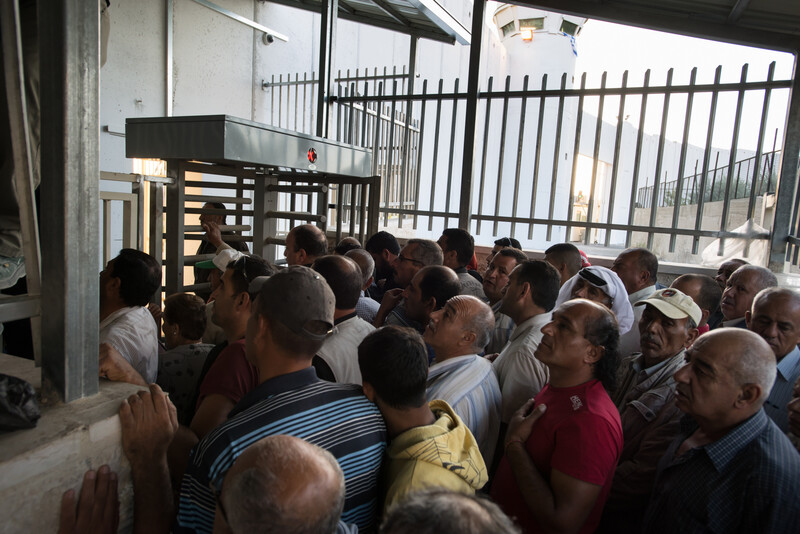 For years, the US-based information technology giant Hewlett-Packard has been successfully targeted by the boycott, divestment and sanctions (BDS) movement over its material support for the Israeli occupation of Palestine.
The company supplies products and services to the Israeli "Ministry of Defense" and the Israeli Navy, and maintains a presence in an illegal West Bank settlement.
It also supplies and maintains a high-tech system of ID controls at Israel's brutal and sadistic network of racist checkpoints in the West Bank.
The US Coalition to Stop Hewlett-Packard and the HP Boycott Campaign have held the company to account by calling for divestments and a boycott. In May, for example, students at DePaul University in Chicago voted in favor of divestment from HP, along with other companies that profit from the Israeli occupation.
In June, the Presbyterian Church USA voted in its general assembly to divest itself of stock from companies including HP, due to their role in Israeli occupation.
Despite the Israeli embassy dismissing the move as a "symbolic measure," it has emerged that the company was concerned enough to write a seemingly-desperate letter to the church's Committee on Middle East Issues ahead of it general assembly in June.
The Electronic Intifada has obtained a copy of the letter and publishes it in full below.
Despite trying to put a PR spin on its role, Zoe McMahon, HP's director of "Global Social and Environmental Responsibility and Human Rights," confirms its intimate connections to the Israeli occupation of the West Bank.
No freedom of movement
The Israeli Ministry of Defense contracted EDS Israel to develop, execute and maintain the BASEL system, an automated biometric identification system installed at Israeli military checkpoints in the occupied West Bank (EDS Israel was bought out by HP, and in 2009 renamed HP Enterprise Services).
The BASEL system severely harms the right to freedom of movement of the Palestinians. In its June letter to the Presbyterian Church, HP confirmed its role in the BASEL system.
Extraordinarily, they spun the system as "reducing friction between Palestinians and Israeli soldiers at barrier checkpoints while expediting the passage process."
In reality, all residents of the occupied Palestinian territory must apply to the Israeli military authorities for a biometric ID card which is needed for any travel permit. Although most of the permits are denied, the Israeli authorities store all the collected information in the database.
Population registry
Hewlett-Packard plays a crucial role in Israel's system of population registration in Israel and occupied Palestine.
This population registration system is operated and maintained by HP and is stratified by ethnicity and religion. It is used as a primary tool in the systematic discrimination Israel employs between Jews and Palestinians — including inside Israel.
All ID cards are issued by the Israeli database, Palestinian Authority ID cards included.
HP further manufactures the new biometric ID cards for all citizens and residents of Israel, including the Palestinian residents of occupied East Jerusalem. The company has systematized the biometric and photographic data and installed it in the offices of the population authority which issue the IDs.
Settlement profiteer
HP operates a development center in the illegal West Bank settlement of Beitar Illit, according to Who Profits. HP also provides services and technologies to the large Israeli settlements of Modi'in Illit and Ariel. 
In the letter, HP confirmed the involvement of a "subsidiary of HP Israel" in a Beitar Illit office. Using similarly Orwellian language, HP justifies this as "part of a diversity program targeting ultra-orthodox women."
It also confirms that HP Israel does business with customers in "municipalities in the West Bank through commercial partners and general governmental tenders." It says it does so because Israeli anti-boycott law prohibits it from "discrimination" against West Bank settlers.
Increase pressure
The Palestinian BDS National Committee has called on consumers not to buy HP laptops, printers or ink cartridges. Their most recent call came in response to Israel's summer assault on the Gaza Strip killing 2,154 Palestinians – the majority of whom were civilians.
In October, HP announced its intention to separate the personal computers and printer business from its services to governments and corporations (including services to the Israeli military and prison service) into two different companies.
This announcement should not be accepted at face value. For example, French multinational Veolia has announced several times it would distance itself from Israel's Jerusalem light rail project. But in reality the company remains deeply involved in the project, which is hated by Palestinians as a manifestation of Israeli occupation.
But if HP does complete the split in two companies it does not mean it will end its contracts with the Israeli government.
The detailed Hewlett-Packard file in the Who Profits research project database explains more on the company's role in Israel's surveillance, control and oppression of Palestinians.
In 2012, former UN Special Rapporteur Richard Falk called on the UN General Assembly and civil society to boycott several companies for their involvement in the Israeli settlements and in Israel's violations of international law – including Hewlett-Packard, Caterpillar, Veolia Environment, G4S, Elbit Systems and Motorola.
Falk called on the companies to immediately suspend all operations which aid the Israeli settlements, including the supply of products and services. He called on civil society to "vigorously pursue initiatives to boycott, divest and sanction the businesses" mentioned in his report until they act in line with international law.
HP's announcement that it may bring its services to governments through a supposedly new company does not mean it will end its services to Israeli ministries and government bodies — including in the illegal settlements.
Speaking to me, Dalit Baum, the director of economic activism at the American Friends Service Committee, said the company's announcement should not be taken at face value: "nothing changes until we can see a change in their practices."
Therefore, we should increase our boycott campaigns. You can support the Stop Hewlett-Packard campaign by boycotting HP products and by signing the petition.
Tags