Today, on the occasion of Palestinian Prisoners' Day, the Palestinian Centre for Human Rights has released the short documentary "Palestinians Behind Bars: Prisoners Without Human Rights." The film addresses the inhuman and degrading treatment of Palestinian prisoners held in Israeli jails. It also highlights the human rights violations related to family visits and the Israeli abuse of administrative detention.
Palestinian Prisoners' Day will be marked this year by the release Khader Adnan, if Israel keeps it promise. Palestinians in the occupied territory will welcome Khader Adnan, who this year went on a historic 66-day hunger strike, and attend marches and rallies in all the main towns and cities to remember the 4,700 Palestinian political prisoners being held by Israel.
Adnan's hunger strike brought worldwide attention to Israel's practice administrative detention — detention without charge or trial — and the ill-treatment of Palestinian political prisoners. "It is time the international community and the UN support prisoners and force the State of Israel to respect international human rights and stop treating prisoners as if they were not humans," he declared. Almost 80 organizations responded to Khader Adnan's outcry and supported the call to make 17 April, Palestinian prisoners day, a day of international action. I wrote in my blog about the worldwide events that will take place on Palestinian Prisoners' Day.
Palestinian prisoners start mass hunger strike in Israeli jails
This year's Prisoners' Day will also be marked by the start of a massive indefinite hunger strike by around 1,600 Palestinian prisoners in Israeli jails. Prisoners from a number of different political currents have released a statement to announce the 'Karameh' (Dignity) Hunger Strike. The prisoners agreed to escalate the ongoing hunger strikes in order to achieve the human rights which Israel have denied prisoners for many long years. They will begin an indefinite hunger strike which means they will refuse all forms of food and liquid (with the exception of water) until their demands are met. The hunger strike has been initiated because it is the only tool that the Palestinian prisoners have left to achieve their rights. They aim to put pressure on the occupying government and to hold it responsible for the health of all prisoners. Palestinian prisoners are calling on free people across the world to do everything in their power to support them in their struggle for rights.
The demands of the Karameh Hunger Strike are:
1. An end to the policy of solitary confinement and isolation which has been used to deprive Palestinian prisoners of their rights for more than a decade.
2. To allow the families of prisoners from the Gaza Strip to visit prisoners. This right has been denied to all families for more than six years.
3. An improvement in the living conditions of prisoners and an end to the 'Shalit' law, which outlaws newspapers, learning materials and many TV channels.
4. An end to the the policies of humiliation which are suffered by prisoners and their families such as strip searches, nightly raids and collective punishment.
Amnesty International calls for action on Palestinian Prisoners Day
The international secretariat of Amnesty International has called on its sections around the world to join in a global Twitter campaign on the occasion of Prisoners' Day and the expected release of Khader Adnan. Amnesty is concerned about the Israeli practice of administrative detention and the ill-treatment of detainees and prisoners who use hunger strike as a means to protest administrative detention. The Dutch section of Amnesty International wrote yesterday in an email that messages on Twitter concerning administrative detention have generated a lot of attention and responses from the Israeli authorities' official Twitter accounts. They suggest to also "Tweet @ your TV station, newspaper, or other media outlets" and Israeli public figures.
Here are some suggested tweets and hashtags from Amnesty:
[Insert target address] everyone has the right to fair trial #Israel must end use of administrative detention #stopad
[Insert target address] #Israel must release or charge Palestinian administrative detainees #stopad
[Insert target address] #Israel do not punish Palestinians on  #hungerstrike protesting administrative detention #stopad
[Insert target address] #Israel must immediately and unconditionally release prisoners of conscience held in detention #stopad
[Insert target address] #Israel must immediately and unconditionally release prisoner of conscience Ahmad Qatamesh  #stopad

  Useful hashtags:   #StopAD; #hanashalabi; #khaderadnan; #palestine; #israel; #hungerstrike; #humanrights;  #BilalDiab; #ThaerHalahleh
Amnesty International recommends to tweet statements and articles that are published on their website. The websites of The Electronic Intifada and Addameer also provide useful info.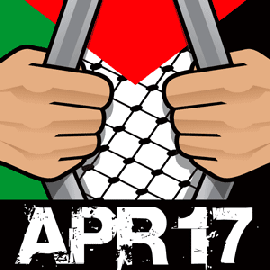 Artist and activist Catherine Byrne developed social media avatars for supporters of Palestinian prisoners to use on their Twitter, Facebook and other social media profiles and pages, drawing attention to Palestinian prisoners' cause. The avatars can be downloaded here.
Take action and make 17 April, the international day of action in support of the Palestinian political prisoners, a success. Support their call for freedom!
Tags